6 November, 2013
Butter Cereal Chicken | Cereal Prawn Singapore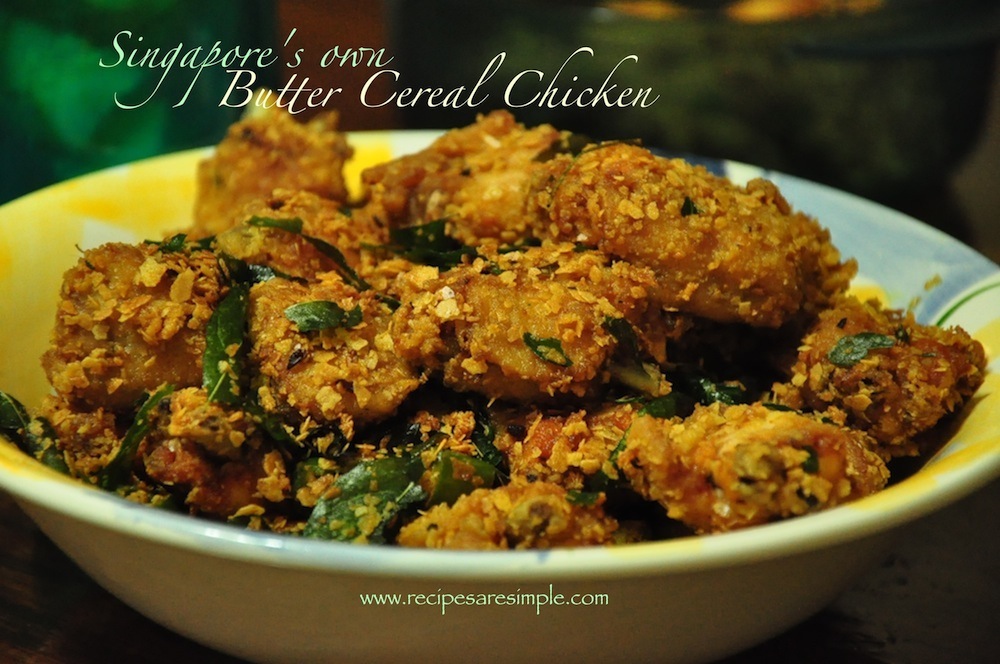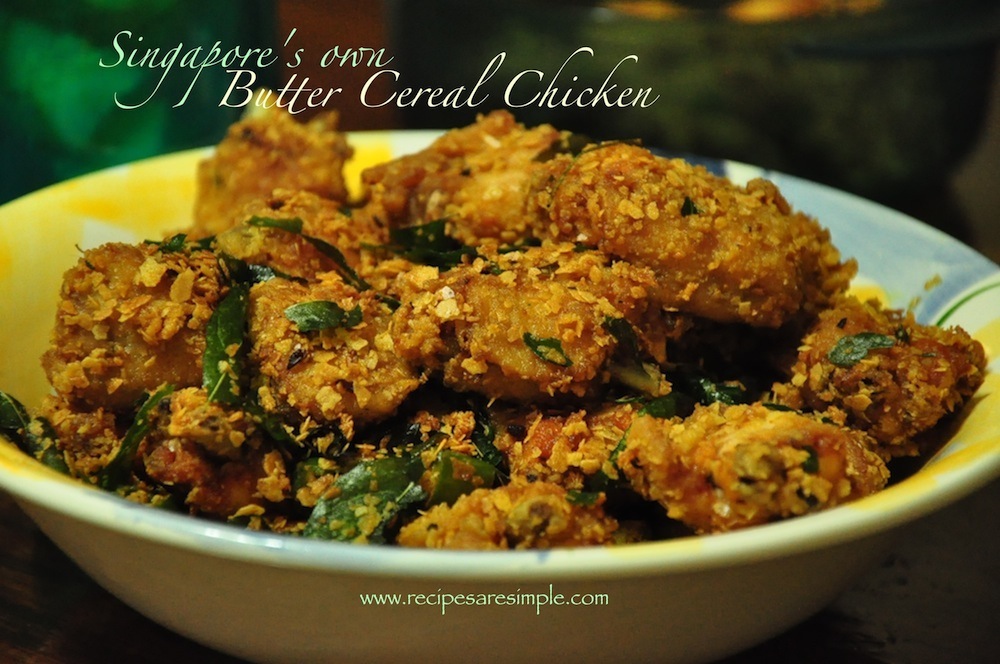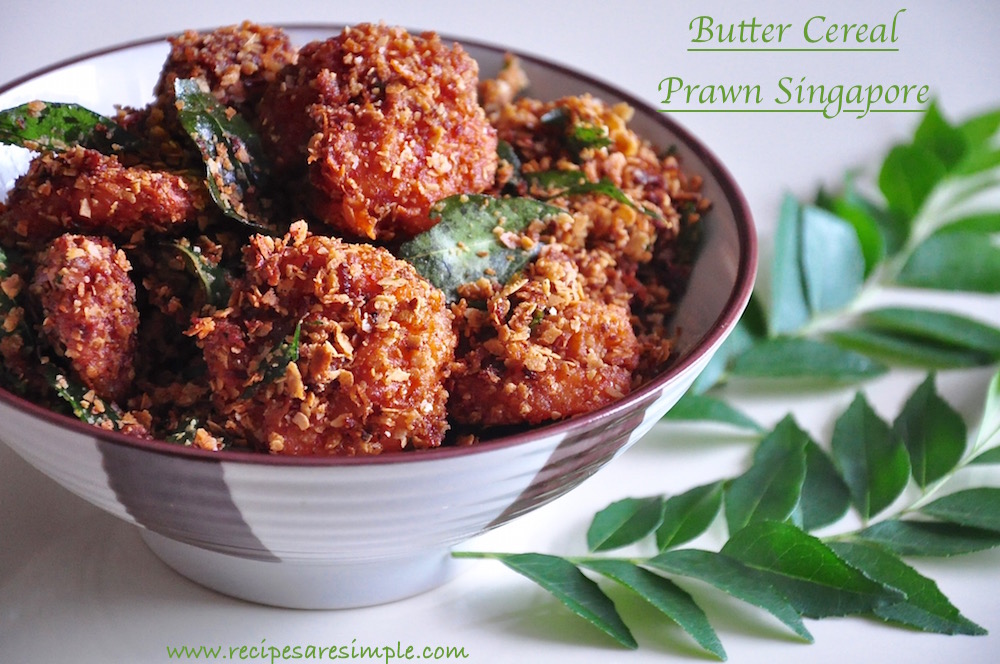 Butter Cereal Chicken | Cereal Prawn Singapore
If you are from Singapore you have probably had 'Nestum' Cereal growing up. It is a common ready to make cereal popular in Singapore and Malaysia. It's available in other countries too but this Dish is native to Singapore.
Nestum, for those who have never had it, is a mild cereal, the flakes are crispy just ever so slightly sweet  and tastes a bit like baby cereal or ' Cerelac'. You must only use the  'ORIGINAL' Nestum for this dish as opposed to one of the flavored types.
Incorporating prawns (shrimp) or chicken with cereal, curry leaves & mild chili makes for a great tasty dish! And best of all, it's done in 15 minutes. Here is my recipe for Butter Cereal Chicken / Prawn Singapore, adding an extra hint of flavor to the dish.
Scroll down for Video.





Butter Cereal Chicken / Prawn Singapore
Recipe Type: Chicken Starters

Author: Recipes 'R' Simple

Prep time: 

Cook time: 

Total time: 

Serves: 6
Ingredients:
1 kg prawns , cleaned and deveined OR 1 kg chicken, breasts or mid joint wing cut into bite size pieces
½  rounded Tbsp Coriander powder
6 mild dry chillies, boiled and ground to a chili  paste (without water)
2 Tbsp ginger, paste
1 tsp lime juice
4 Tbsp Grated Coconut
²⁄3 cup plain flour
1 Tbsp milk powder or non dairy creamer (powder)
²⁄3 cup Nestum Cereal (Original flavor) – If you cant get this, use cornflakes that has been crushed to very small flakes either alone or  mixed with a Tbsp of  Childrens Cereal powder (like Cerelac – plain flavored)
1 red or green chili, sliced
2 Tbsp Butter
a large bunch of curry leaves (essential for this dish)
sunflower oil for deep frying
Method:
 If using mid joint wings, chop each into half, if using boneless breasts, cut into bite size pieces.
Rinse well and Drain.
Marinate the prawns / chicken  with  the coriander powder, chili paste, ginger paste and salt (about 1 tsp) – allow to sit  a while.
To a bowl, add the plain flour, milk powder and a dash of salt. Mix well.
Heat oil for frying.
Add some lime juice to the marinated prawns or chicken.
Coat the marinated prawns /chicken with the flour mixture and toss well to coat  LIGHTLY with the flour.
Add to the oil and fry in batches till cooked through.
Add the Coconut when almost done . Fry till a crispy crust is formed.
In a non stick pan or wok, Heat the butter. Add the curry leaves and sliced chili. When the leaves are crisped add the cereal and stir fry on medium heat till the cereal is golden brown and crispy.
Add the Fried chicken to this and toss well for two minutes till the chicken is coated with a crisp layer of cereal.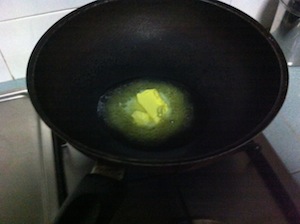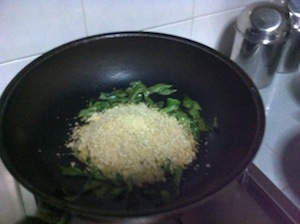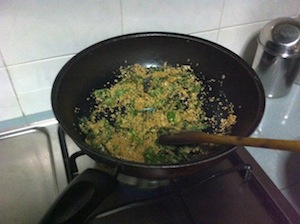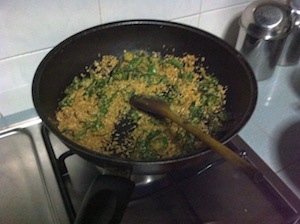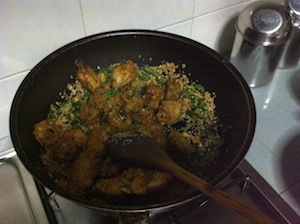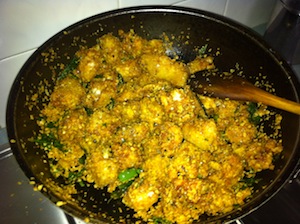 Serve hot with rice and stir fried vegetables.
Butter Cereal Chicken / Prawn Singapore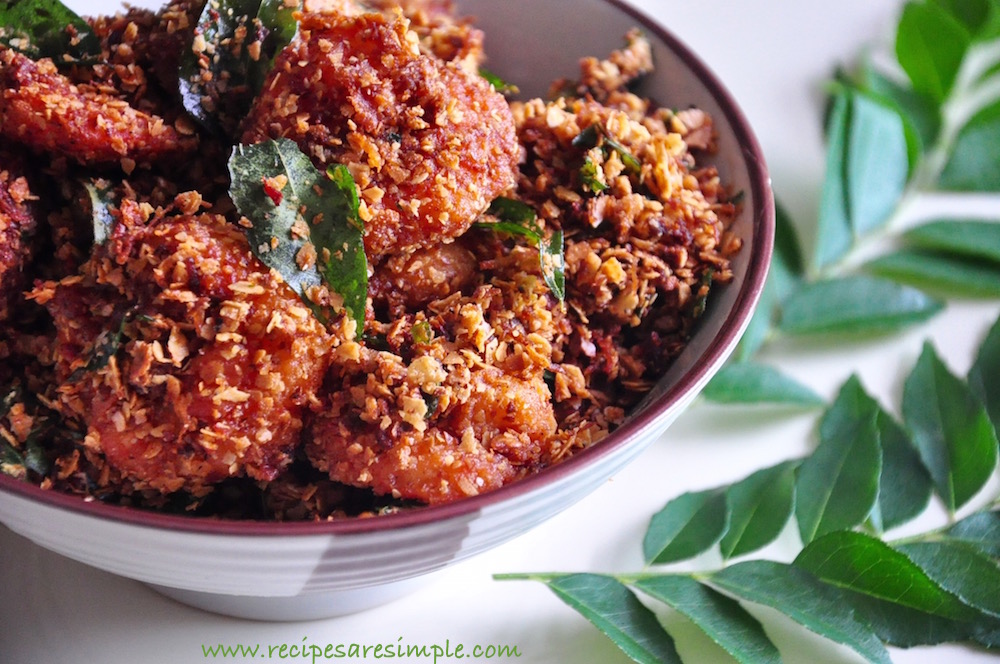 Did you enjoy our Butter Cereal Chicken / Prawn Singapore ?
Use fresh chicken, this dish is rather unforgiving if using frozen chicken.
Serve Immediately!
This dish can be made with prawn as well: peel and devein first.
Do not use flavored Nestum Cereal.
To make the staple hawkers variety, an even simpler version of this recipe. Omit the chili paste, ginger and coconut altogether  and proceed with the remaining steps. Also omit the coriander and chilipowder marinade. This will  produce a very simple Cereal Chicken , the cereal taste will be the star. This is how they serve it in most Hawkers centers. I do however like a bit of the mild spices and ingredients as it enhances the dish.