30 September, 2014
Brown Onion Chicken Curry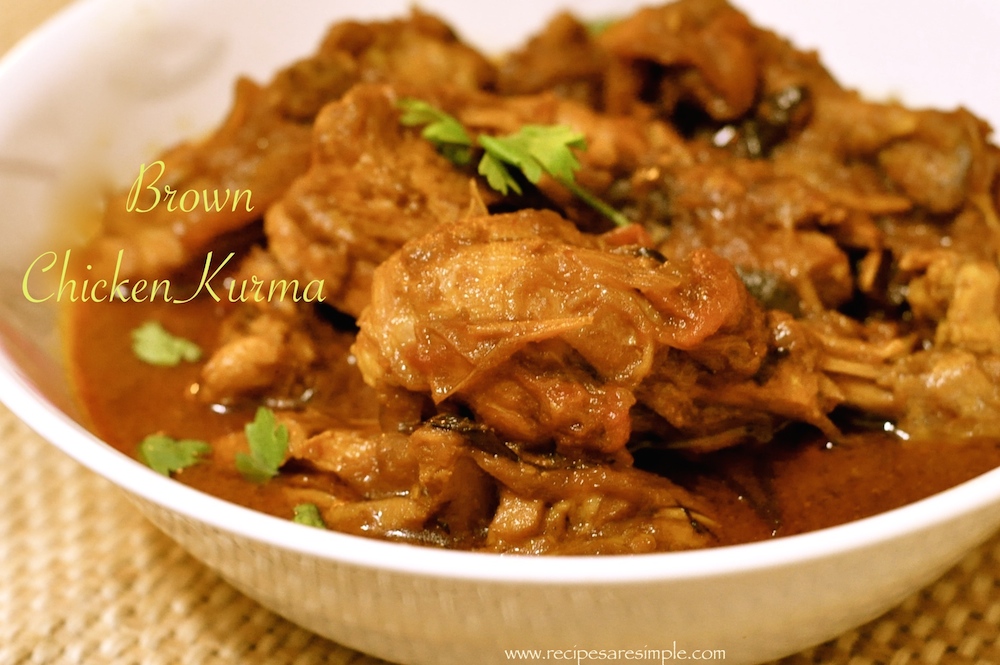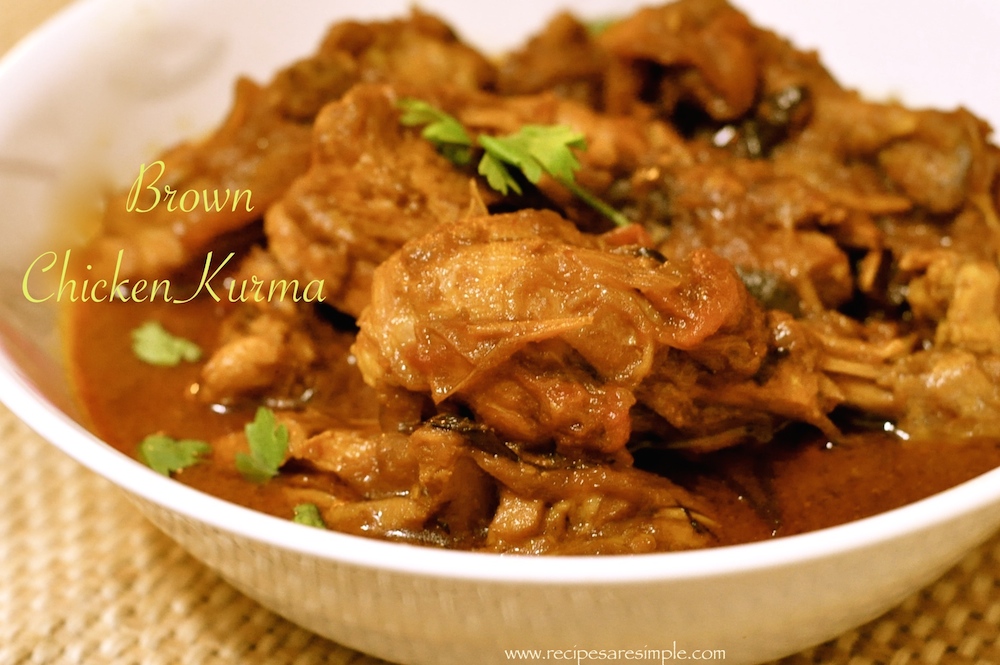 Brown Onion Chicken Curry
This  – Brown Onion Chicken Curry ... has a nice thick gravy – finger licking good!  The special fried onion and spice paste is what makes the gravy  coat the chicken so superbly and keeps the chicken moist and flavorful in every bite! Sometimes called a Brown Chicken Kurma, this curry is especially splendid with flatbreads, chapathi etc.
Brown Onion Chicken Curry
Recipe Type: Main / Chicken

Author: Recipes 'R' Simple

Prep time: 15

Cook time: 30

Total time: 45

Serves: 6
Ingredients:
1½ kg chicken ( skinned with bone cut into medium sized pieces)
5 red onions, sliced thinly (about 3 ½ cups sliced onion)
1 Tbsp coriander powder
½ Tbsp kashmiri chilli powder
½ tsp turmeric powder
1 rounded Tbsp ginger, sliced julienne
4 small, hot green chillies, left whole
¾ cup oil for frying the onions (I use coconut oil)
2 large tomatoes, chopped
salt to taste ( about 1 ¼ tsp)
Method:  (number in brackets to references the pictured steps below)
Heat the oil for frying in a

medium sized wok.

Add

half

the sliced onions

(1)

and fry patiently till the onions are golden and just crisp.

(2&3)

Do not allow to turn dark. Quickly strain the fried onions from the oil.
Lightly heat the spice powders ( coriander, chili and turmeric) in a dry pan and add to a small mixer grinder 

(4)

along with the fried onions 

(5)

and a splash of water.
Grind to a paste

(6)

.
Now take

no more than 2 Tbsp

of the oil used for frying the onions and (strain) into a heavy bottomed pot or cooker.
Add the remaining onions, ginger and green chilli

(7)

. Saute till softened. Add curry leaves.
When light golden in color and reduced considerably

(8)

, add the ground onion and spice paste

(9)

and stir fry till the oil separates

(10)

.
 Add the chicken

(11)

and toss in the mixture till nicely coated and the chicken changes in color

(12)

.
Now add the tomatoes and  toss in with the chicken along with salt

(13)

.
Add ½ cup of boiled hot water and bring to a simmer. Cover tightly and cook on low for 10 to 15 minutes till chicken is cooked tender OR pressure cook on high for 1 steam whistle. Lower heat and continue to cook for 2 more steam whistles.
Garnish with finely  chopped fresh coriander (optional).
Allow to sit as long as possible till serving for the flavors to develop.
(This curry tastes even better then next day).
Serve with Chapathi, Roti etc.
Brown Onion Chicken Curry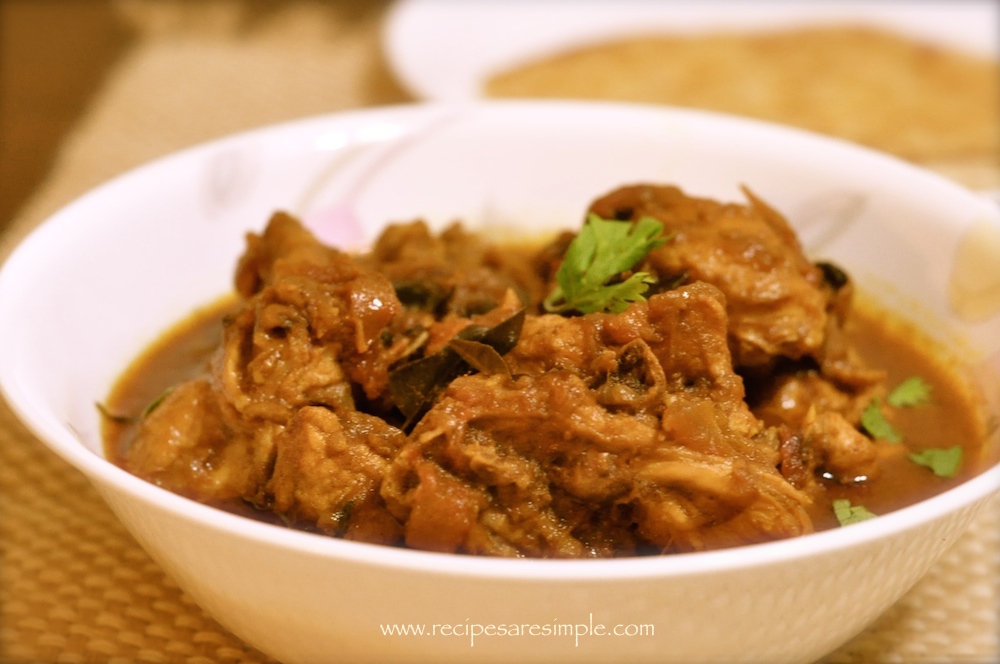 Try it and let us know – Brown Onion Chicken Curry .
We do not require more than ½ cup water for  chicken, because some liquid is released from the chicken as well. The gravy for Brown Onion Chicken Curry should be thick. If using pressure cooker, you may find that there is more liquid of loose consistency in the curry. Just cook on high for 5 minutes or so, the gravy will thicken.