7 November, 2016
Brik | Delicious Tunisian Pastry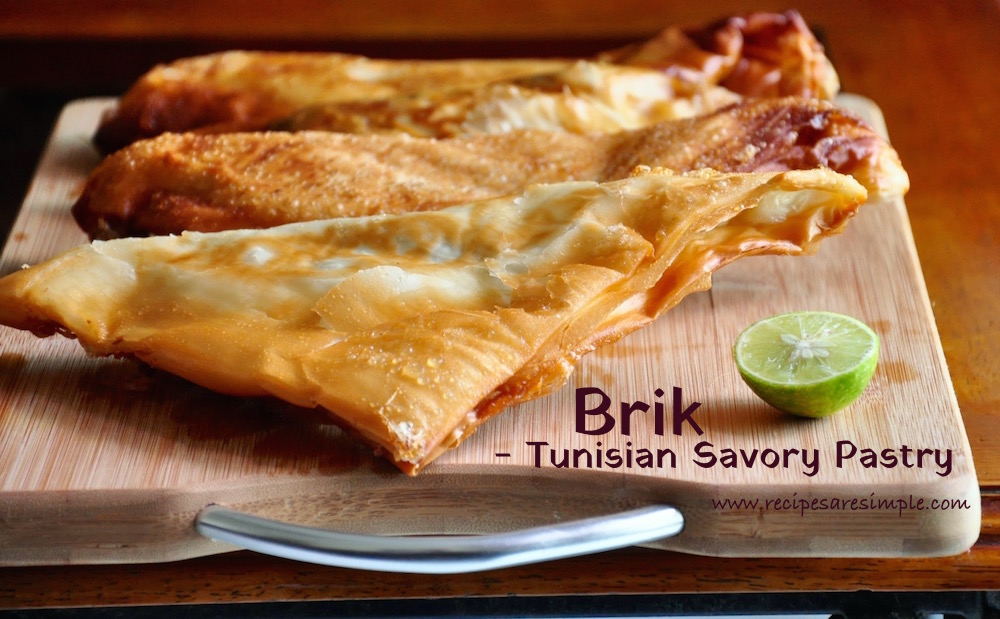 Brik | Delicious Tunisian Pastry
No No, we are not into eating brick!  Brik (بريك) is a famous Tunisian  deep fried pastry. This is absolutely scrumptious, if you've never tried it before. This version (one of the more popular ones), has a filling of whole egg , seasoned tuna, onion, parsley and capers. Some versions add Harissa to spice things up, but here I  use the Tunisian spice mix 'Tabil'.  You might compare it with a samosa, but the filling is entirely different … imagine cutting into the pastry and getting delicious oozilicious egg!! My kids are bonkers for oozy egg yolk, so they adore Brik!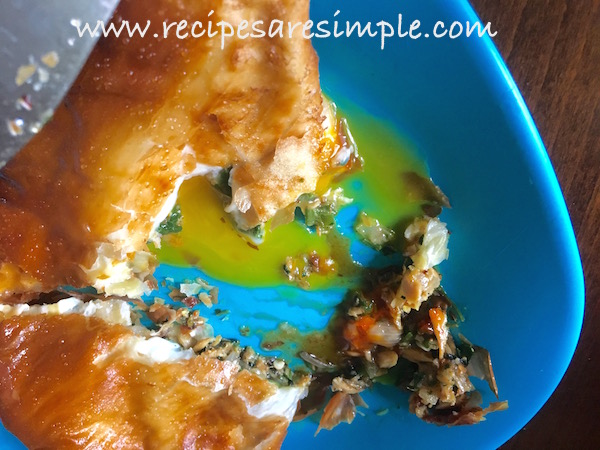 Brik pastry is known as Malsouka ملسوقة  or Warka.Brik pastry is a very thin pastry that comes wrapped in cellophane. The thin, round sheets are made by slapping a sticky dough onto a hot non-stick surface in overlapping circles  and cooked for a short amount of time.
The tuna filling may be substituted with chicken, or minced meat. I will also be adding the recipe for 'Swebaa Brik' – Brik Fingers, soon which is finger sized spring roll shaped pastry with minced meat, egg and cheese filling. Thanks again to my friend Nadege for helping me with My Tunisian recipes.
Enjoy the Video.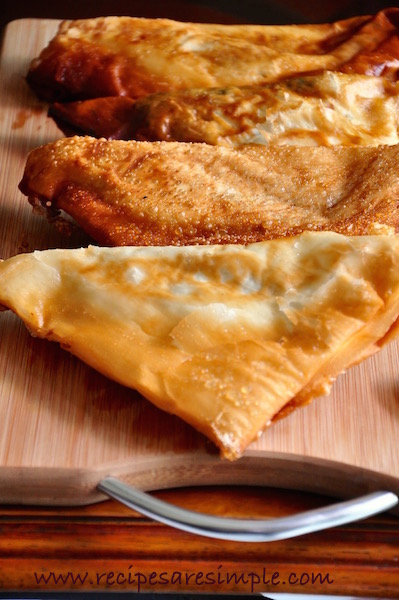 Brik | Delicious Tunisian Pastry
You are here: Home > Snacks  > Brik | Delicious Tunisian Pastry
 

Recipe Name: Brik | Delicious Tunisian Pastry

Recipe Type:  Snacks and Savories

Author: Shana c/o Recipes 'R' Simple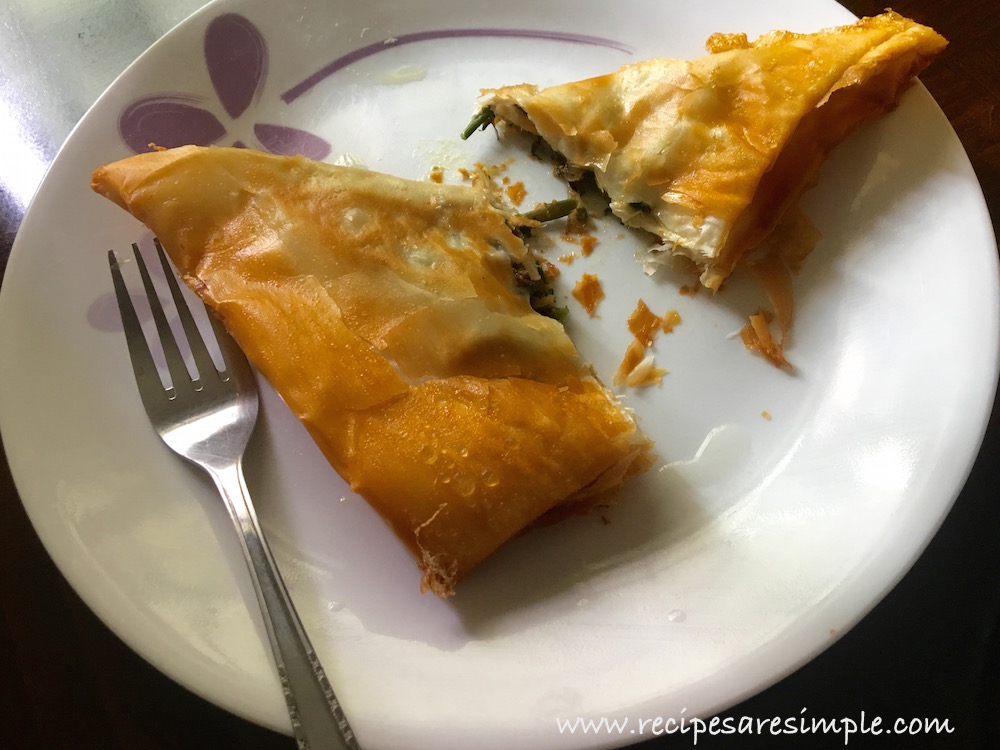 Ingredients:
1 can of tuna (packed in olive oil), drained well
1 red onion chopped
4-5 cloves garlic, chopped finely
2 Tbsp capers
2-3 Tbsp finely chopped parsley
1 ¼ tsp 'tabil' spice mix – recipe for Tabil here
¼-½ tsp chilli flakes
4 eggs
8 Filo pastry sheets
salt to taste
3 Tbsp vegetable oil +1 Tbsp olive oil




Method:
Remove the Filo Patry from the freezer and leave to thaw according to package instructions.
Heat the vegetable oil and olive oil in a skillet and add the chopped onion.
Sauté briefly and add the chopped garlic.
Sauté till lightly changing in color, and add the drained tuna.
Cook while stirring till any moisture evaporates.
 Add the 'Tabil' spice mix and a little salt to taste.
Add chilli flakes and mix in, followed by capers, green chilli and parsley.  I use more parsley.. kids usually prefer less – use 2-3 Tbsp only if you dont want too much bite of the herb.
Take 2 sheets of Filo pastry at a time. Fold in half and then fold the edges to make a SQUARE 'frame'.
Add some filling on one corner and gently break an egg on the opposite corner.

Keep the filling and egg within the folded rim.

 It's okay if a little egg white escapes, not to worry.. just make sure the yolk stays intact. Handle the folded pastry gently and do not press the surface.
Lift gently and lower into a shallow pan of hot oil. Y

o

u want just enough oil for deep frying but so that the top of the pastry is not submerged… to keep the egg yolk from over cooking.
As soon as the pastry is lowered into the hot oil, press the edges with a spatula to keep them sealed.
Fry very briefly, just till the pastry is light golden and then gently flip over. Remove with a slotted spatula or fish turner and drain on paper towels. Repeat with remaining pastry and fillings.
Remember you want, the egg just cooked with the yolk still runny.. this is what makes this pastry so awesome…

If you dislike soft boiled egg, you could replace the whole egg with soft scrambled egg instead, but I recommend trying the original version first.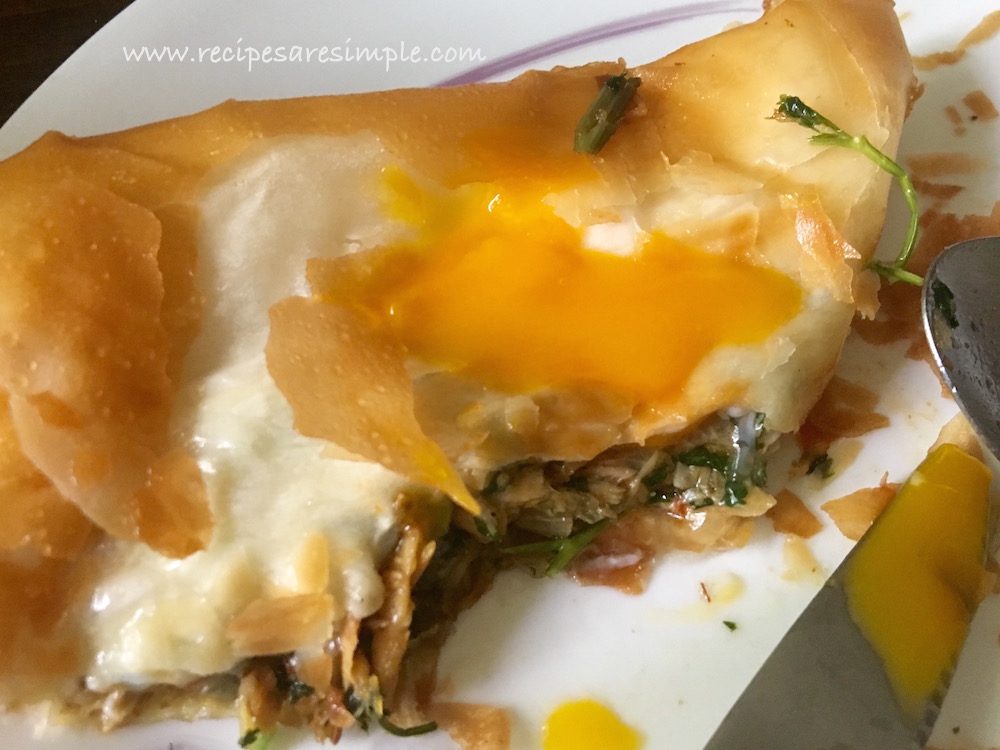 Brik | Delicious Tunisian Pastry
If you don't like tuna, you can use chicken or minced meat instead.. But the way the tuna is cooked it is easily mistaken for chicken!
Use tuna packed in olive oil for best results.
Filo pastry is a very thin frozen pastry (sheets) , that is used in Baklava. Not to be confused with puff pastry.
Key Ingredients: Pastry, Tuna, Onion, Garlic, Spice, Oil, Parsley, Capers, Salt.
Leave a comment if you tried – Brik | Delicious Tunisian Pastry.