29 October, 2015
Brie and Jam Puff Pastry Appetizer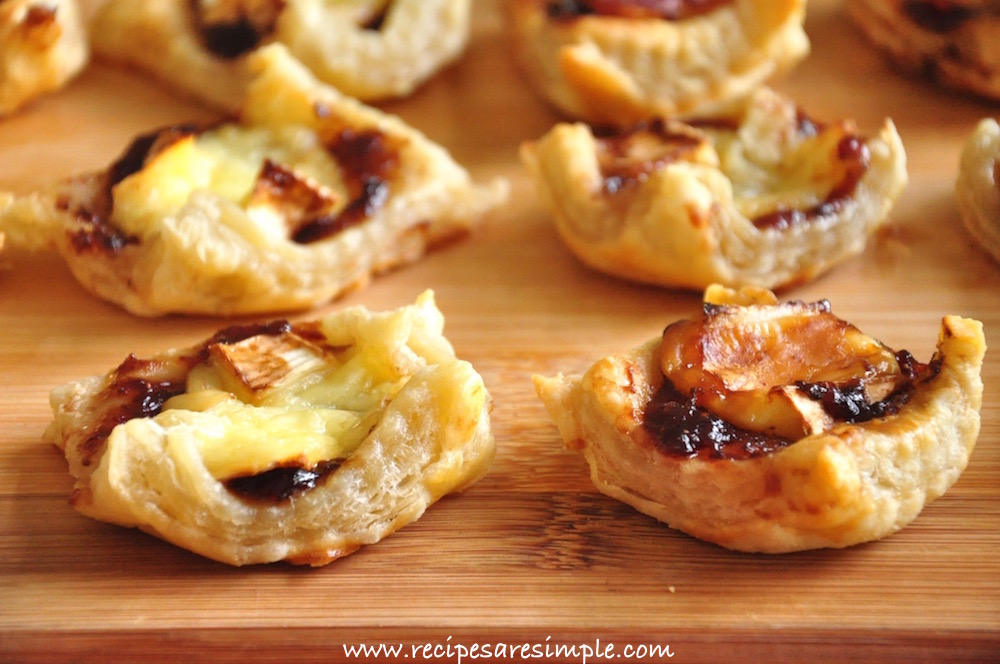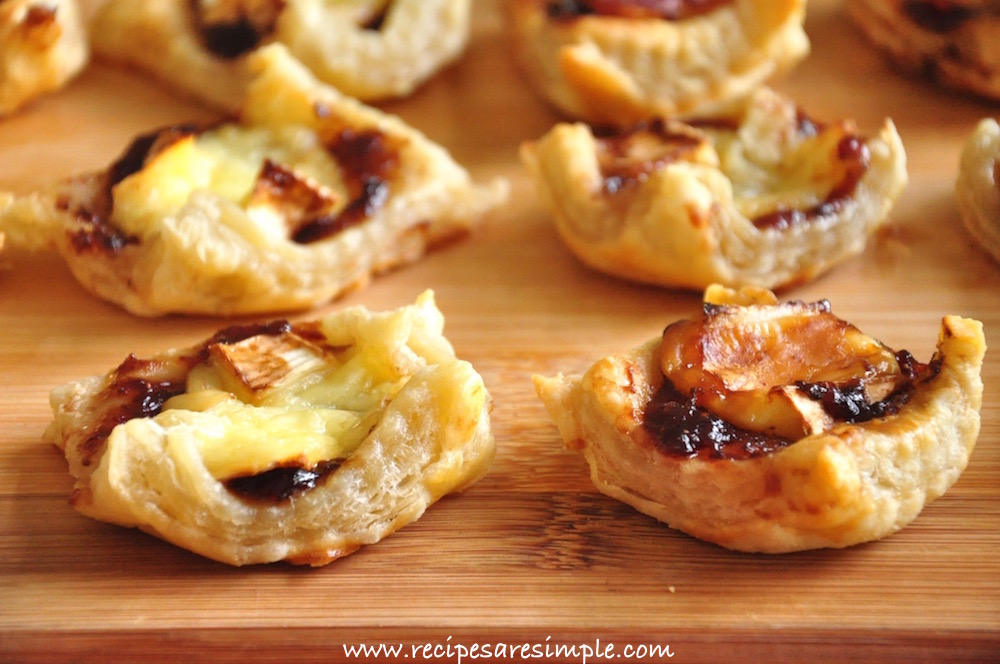 Brie and Jam Puff Pastry Appetizer
This appetizer is a bite sized take on the  classic 'Brie en Croûte'  or Brie (cheese) enclosed and baked inside puff pastry. This Brie and Jam Puff Pastry Appetizer combines, salt, sweet and tangy flavors in each buttery, flaky bite! Perfect for a party spread! Instead of the sweet jam you could also pair your Brie with Hot and Sweet Chutneys like Mango or Jalapeño. Brie is the perfect cheese for such 'en croute' recipes, because it melts just right in around the same time that it takes for the puff pastry to be baked perfectly.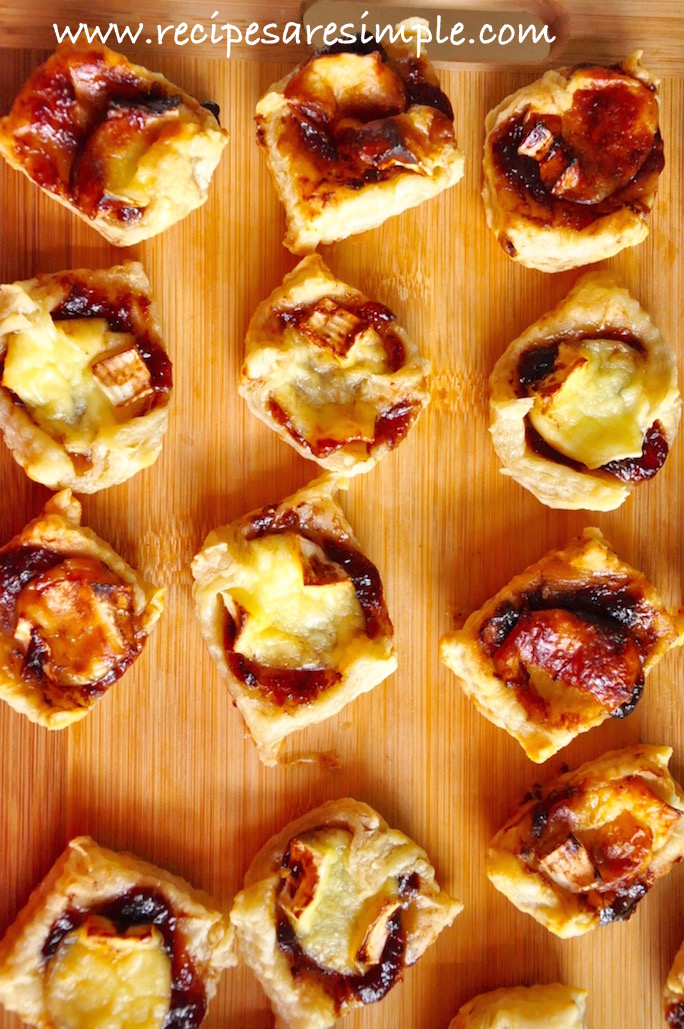 Brie and Jam Puff Pastry Appetizer
You are here: Home > Appetizers > Brie and Jam Puff Pastry Appetizer
 

Recipe Name: Brie and Jam Puff Pastry Appetizer

Recipe Type: Snacks / Appetizers

Author: Shana c/o Recipes 'R' Simple
Ingredients:
1 sheet of puff pastry (450 gms)
1 wedge of Brie Cheese (150 gms)

 20 tsp of your favorite jam / spread / preserve

1 egg, beaten with 2 Tbsp water (egg wash)
Method:
Thaw the puff pastry before hand according to package instructions.
Bring the Brie to room temperature as well.
Preheat oven to 200ºc / 400ºf.
Cut the Brie into small slices – about 20 rectangular slices.
Roll out the pastry sheet on a floured surface to roughly a 12 x 14 inch rectangle.
Cut the sheet into twenty 2 ½ inch squares (approximately).
Use a pastry cutter.
Place one slice of brie on the centre of each pastry square.
Use a tsp of jam for each sheet and use the cheese slice to help glide it onto the sheet. Place the jam under the cheese so that it doesn't slide over the top while baking.
Fold up the corners of the square and pinch together.
The pastry sheet will open up while baking. We only fold up the sheet so that the cheese does not ooze over the sides.

If you want to seal the pastries, you could fold into a triangle instead and seal the edges with a fork.

Place the pastries on a baking tray lined with parchment paper.
Brush lightly with the egg wash.
Bake in the preheated oven for about 25 minutes, till golden and puffed.
(Oven timings may vary – watch for golden puffed pastries).
Brie and Jam Puff Pastry Appetizer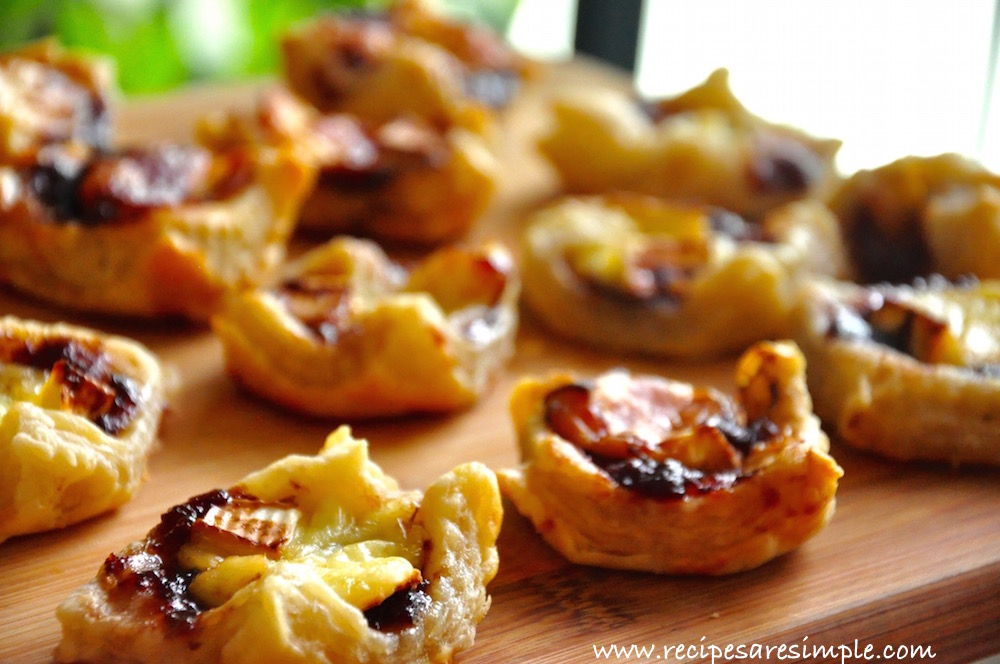 Key Ingredients: Puff Pastry, Brie, Jam/Preserve/Spread, Egg.
Leave a comment if you tried – Brie and Jam Puff Pastry Appetizer. Comments from you provides motivation to keep up the driving force behind this blog, bringing you more delicious and perfected recipes regularly.  Help us to Keep On Keepin' On (: !