2 May, 2016
Bombay Ragda Pattice | Potato Patties with Peas Chaat Recipe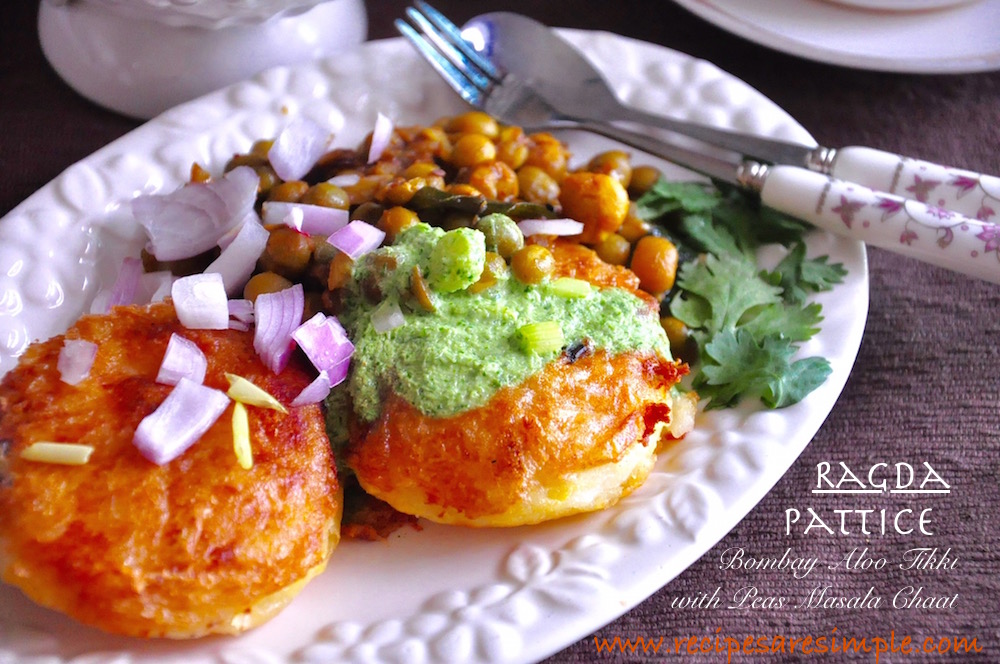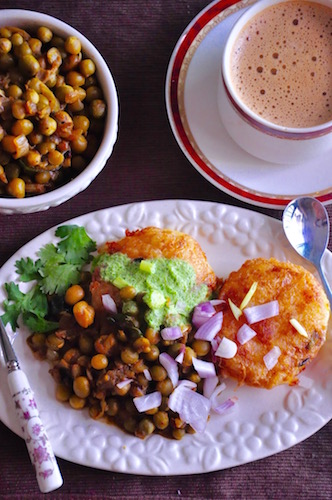 Bombay Ragda Pattice  – Indian Chaat Recipe
Bombay Ragda Pattice is a delicious 'Chaat' dish that is a meal in itself. The 'Ragda' is a peas based gravy that is poured over potato tikkis and garnished with Chutneys, Onion and Coriander Leaves. Usually, white peas (Vatana) is used, but they can be made with the dried green peas too. 'Pattice' is the strangely accepted Anglo Indian Spelling of 'Patties'. You will find all the Chat Stalls using this spelling for some reason. I feel this is one of those Chaat recipes that you can even make as weekend brunch. "Move over Hashbrowns and Eggs – It's time to chat over some Chaat!" For an evening snack, you can add 'Boondi' or 'Sev' ( which are chick pea flour based fried toppings), although I don't use them in the Ragda Pattice. Here is how I make this dish… with a little planning ahead and overnight soaking of the peas, it can be prepared very easily and quickly.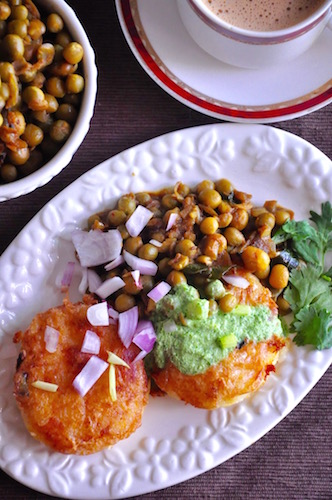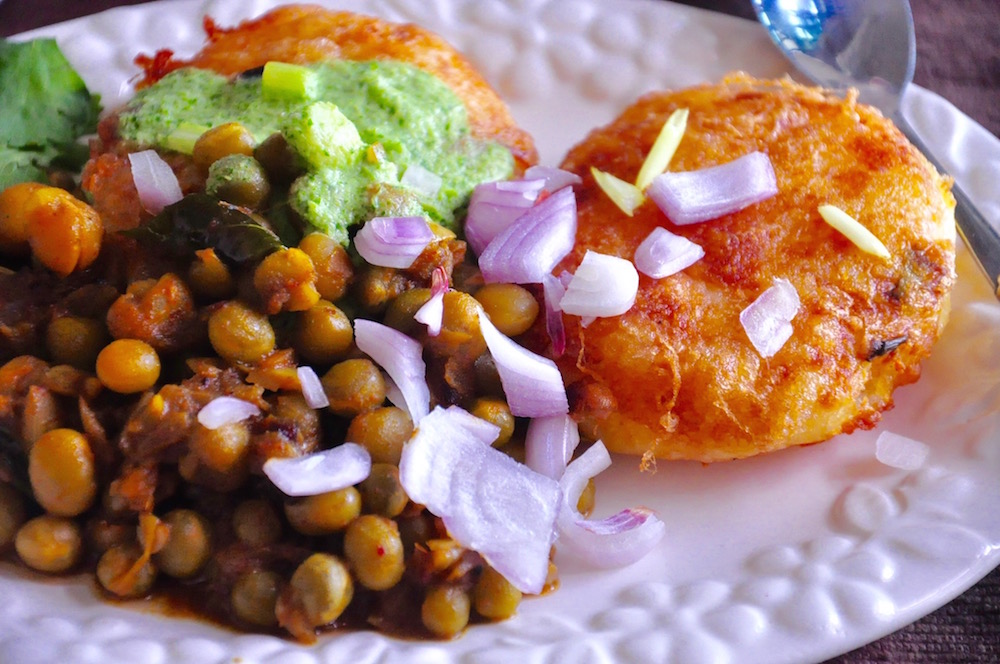 Bombay Ragda Pattice – Potato Tikkis with Peas Masala
You are here: Home > Snacks & Savories  > Bombay Ragda Pattice
 

Recipe Name: Bombay Ragda Pattice 

Recipe Type:  Snacks & Starters

Author: Shana c/o Recipes 'R' Simple
Ingredients:
For the Ragda (Peas Masala):
 ½ cup of dried green peas or white/yellow peas (katana) – soaked overnight
¼ tsp asafoetida
1 purple onion, chopped ( about ¾ cup)
4 large cloves of garlic
1 small knob of ginger
2 Tbsp curry leaves
2 tsp coriander powder
1 tsp kashmiri chilli powder
¾ tsp cumin powder
½ tsp  turmeric powder
¾ – 1 tsp salt (to taste)
½ tsp garam masala ( I use Everest Garam Masala)
2 Tbsp oil
For the Potato Tikkis /  Patties:
4 large potatoes (about ½ kg)
1 Tbsp corn flour
1 egg, beaten – optional
¾ tsp salt
3 Tbsp chopped spring onion greens
¼ cup ghee or oil
To Garnish / Serve:
Chopped fresh onion and coriander leaves
Green Chutney, Date and Tamarind Chutney ..
Method
The Pattice / Aloo Tikkis:
Boil the Potatoes and mash well with salt, cornflour and the garlic. Also add the chopped spring onion greens.
Form into about 9 -10 large patties.
Heat ghee in a non stick pan.
Dip each patty into the beaten egg mixture and lay to fry in the hot ghee.
when the first side is golden brown, turn over and fry the other side.
(Egg is optional – I love the lovely, crispy crust it creates).
The Ragda , Peas Masala:
Drain off all the water from soaking the peas, the night before.
Add the peas along with 1 cup of water to a pressure cooker. Cook till you hear the first steam, then lower heat and cook for 8 more minutes.

Remove from heat, cool the cooker under running water and open to prevent the peas getting overly mashed (Unless you like them extra mashed).

Crush the garlic and ginger together to a paste.
In a wok/ kadai, heat the oil. Add mustard seeds and allow to splutter.
Add the asafetida, followed by chopped onion and stir fry for 2 minutes on medium heat.
When the onions are very soft, add the garlic and ginger paste and curry leaves. Cook till the raw smell dissipates and the mixture turns golden in color.
Add coriander powder, chill powder, cumin powder, turmeric and toss well.
Add about ¾ cup water and, the boiled peas and salt.
Bring to boil, lower heat and Simmer for 8 minutes more.
Stir in Garam Masala just before removing from heat.
Serve hot patties with the peas ragda and green chutney.
 Also add chopped onions and coriander leaves over the top.
I often like to make it when I have some date and tamarind chutney already made. This is a standard / good addition too, although the green chutney is sufficient for my family.
Delicious Green Chutney (Dahi Wala Hara Chutney) – Add ½ cup chopped coriander

leaves, 

(¹/8 tsp) slice of garlic,  (¹/8 tsp)slice of ginger, 1 tsp fresh lime juice,¹/3 cup buttermilk ( or whipped yoghurt), 1 tsp sour cream, salt to taste to a small grinder and leave for 5 minutes (MIX WITH SPOON) before blending all together to a sauce like consistency. Yum!
 Bombay Ragda Pattice

When you boil the potatoes, make sure you don't over boil them so that they are already mashed up in the water. This will make our mashed potatoes to soggy. Potatoes should be cooked but

intact

when removing from the water, before mashing.
To make things easy, I add the potatoes and peas to separate pressure cookers, simultaneously. Things get done so much faster.
Key Ingredients: Potatos, Peas, Onion, Spices, Ghee, Herbs, Eggs(optional).
Leave a comment if you tried – Bombay Ragda Pattice