26 March, 2013
Bombay Mix Salad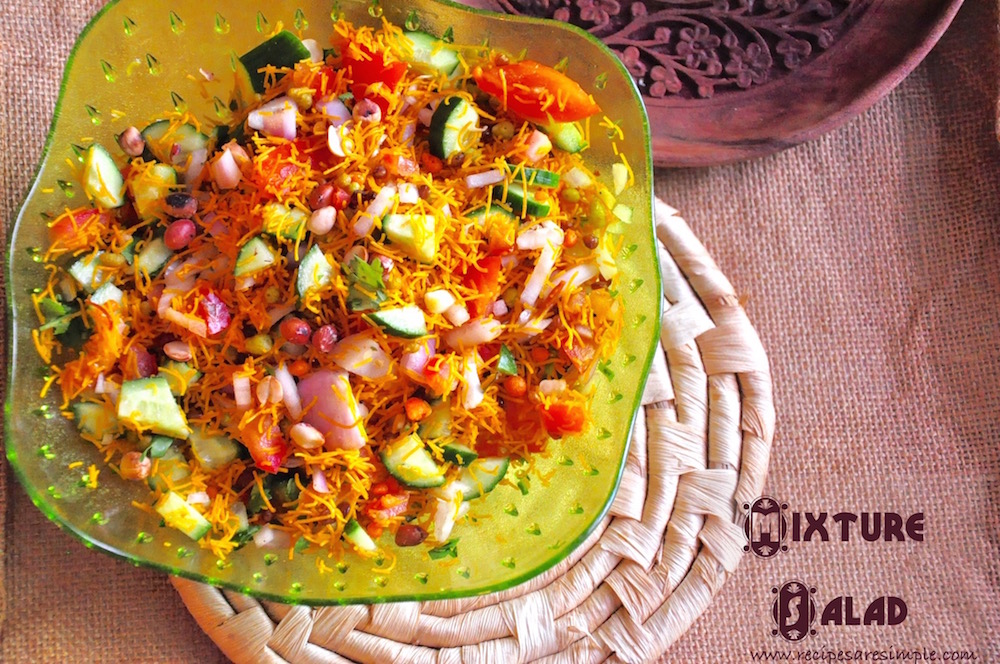 Bombay Mix Salad
Looking for a quick 'Desi' substitute for 'Popcorn'  to cuddle up with on the couch and watch a movie?  Or perhaps a quick entertainer?  Try this fresh, tangy and crunchy Bombay Mixture Salad. This crisp salad never lasts long and often you will be asked to make some more. And ofcourse it's healthier than just serving a bag of bombay mix by itself!!
Bombay Mixture  also known as (Bombay Mix, Bhuja mix, Punjabi mix Or Mixture) is quite varied. The fried/toasted snack comes spicy, regular and sweet, sometimes with toasted lentils, green peas or nuts.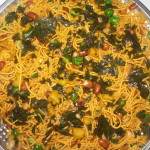 I prefer the one with peanuts and green/brown small lentils and not too spicy. Since the Salad i contains chopped tomato etc.. it must be mixed only immediatelyy prior to serving. This retains the crunchiness. It's also good to remember that the thicker 'sev' will stay crunchier, longer. I would avoid the super fine variety, as it absorbs moisture too quickly.  Use whichever type (Punjabi, Bombay, South Indian …)  you can find except the sweet variety.
Bombay Mix Salad
Recipe Type: Snacks N Salads
Author: Recipes 'R' Simple
Prep time: 10 mins
Total time: 10 mins
Serves: 4
Ingredients:
1 small cucumber deseeded and diced
1 large tomato deseeded and diced, and squeezed to remove juice.
1 onion diced

½cup celery, diced- optional

2 tsp lemon juice –  optional 
1-2 scup Bombay Mix
Dash of salt
½ tsp chat masala powder – optional 
2 Tbsp Corriander leaves chopped finely
Method:
Dice the onion, tomato, cucumber, celery and add into a bowl. (Squeeze out excess juice from tomatoes).
Add 1- 2 tsp lemon juice

only

if you like it sour.
Add chat masala if using.
Mix well with  a dash of salt.
Just prior to serving, add the Bombay Mix and Corriander leaves. Toss and serve.
Bombay Mix Salad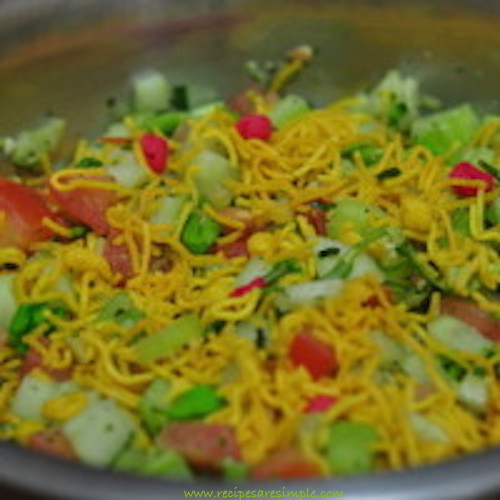 Chat masala chat or Chaat masala) is a spice mix, used in Indian and South Asian cuisines. It typically consists of dried mango powder( amchur), cumin, black salt , coriander powder, dried ginger, salt, black pepper, asafoetida (hing) and chilly powder.
You may also like Peanut Masala
Back to Recipe Finder