20 March, 2013
Bok Choy Chinese Stir-Fry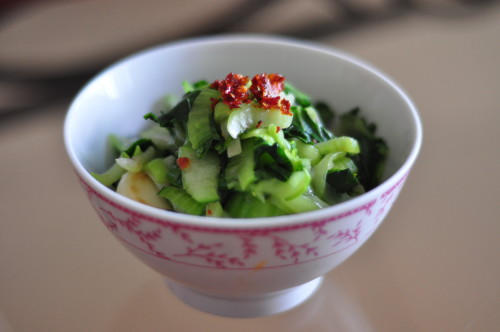 Bok Choy Chinese Stir-Fry
Bok Choy – The popular 'Go to' when you need a quick fix for dinner and lunch. Healthy AND couldn't get simpler than this!
Whip it up in a a jiffy!




Ingredients:
1 Packet Bok Choy or Baby Bok Choy (about 3 cups loosley packed)
3-4 cloves garlic lightly bruised
1 dry chilly (the not so hot variety)cut into 3 pieces
Soy sauce OR Knorr Hao Chi seasoning to taste around 2 tsp
1-2 Tbsp oil of your choice




Method:
Wash and clean the leaves of Bok Choy very well. Chop/Separate as desired.
Separate the stem parts from the leaf parts.
Heat oil in a wok till smoky. Add the chilly and garlic and stir fry till garlic turns golden.
Add the stem parts of the chopped up Bok Choy and stir for ½ a minute then add the leaves and stir-fry another minute or till the leaves are just softened. Remember there should be some crunchiness left. Add either soya sauce or Hao Chi seasoning to taste. Stir through and take off heat.
I like to garnish with some crushed dry chilly fried with salt.
Did you enjoy our Bok Choy Chinese Stir-Fry ?