28 April, 2015
Blueberry Lemonade
Blueberry Lemonade
I remember being young and going out for bike rides with my friends on hot summer days.. We would come home and always needed that Pitcher of Lemonade or Kool aid to cool off………..

This is a Perfect Home Made Summer Cooler. This Blueberry Lemonade is fruity, tangy and sweet –  on the spot!

A simple homemade blueberry syrup, this cooler is made in a jiffy to help you beat the heat!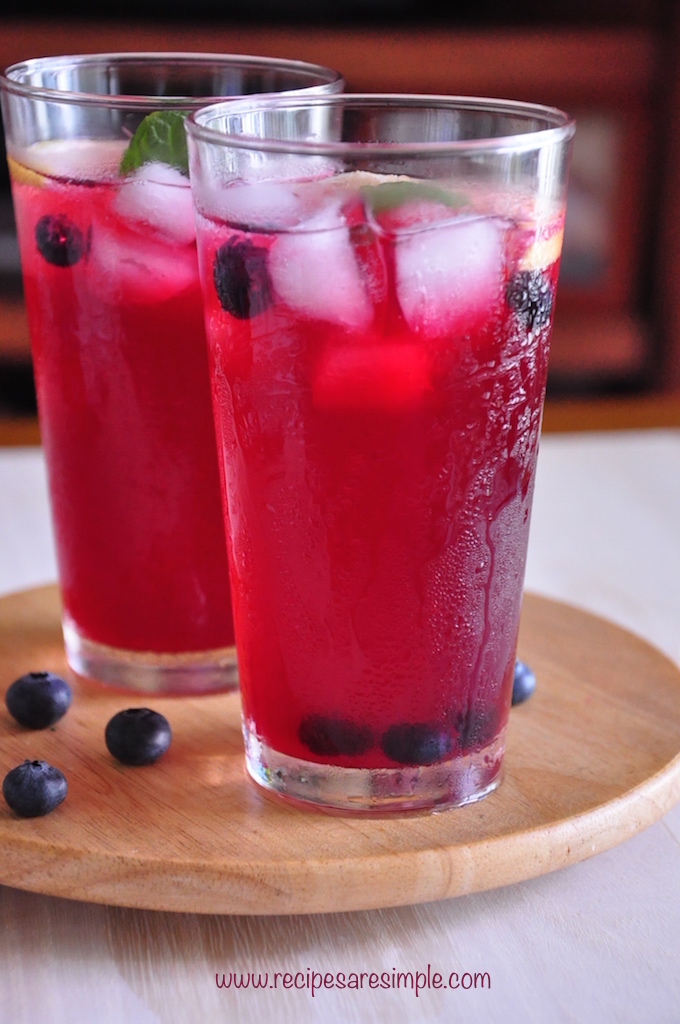 You are here: Home > Drinks / Beverages  > Blueberry Lemonade
 

Recipe Name: Blueberry Lemonade

Recipe Type: Drinks / Beverages

Author: Shana c/o Recipes 'R' Simple
Blueberry Lemonade
Ingredients:
¼ cup fresh blueberries, rinsed and drained
¼ cup granulated sugar
½ cup water
¹/3 cup freshly squeezed juice of lemon
2 cups of ice cubes
fresh berries, mint sprigs and lemon slices for garnish





Method:
Wash the blueberries and drain.
Add the sugar and water to a small saucepan and bring to boil.
Simmer till sugar dissolves.
Add the blueberries and simmer on medium heat till the blueberries are completely broken down. Simmer for 5-6 minutes. The syrup does not have to become thick.
Allow to cool. Strain through a muslin cloth to get a clear syrup.
Add about 2 cups of water (or to taste). Stir in the lemon juice a little at a time, tasting as you go.
Fill pitcher / glasses with ice, layered with some blueberries.
Pour in the Blueberry Lemonade. Garnish with Lemon slice and fresh mint.
Serve immediately!
Blueberry Lemonade
Notes: You can also add a tsp of tea leaves to the syrup to make a  Blueberry Iced Tea Lemonade.
Key Ingredients: Blueberries, Lemon, Water, Sugar
Let us know if you tried it – Blueberry Lemonade . Comments from you provide motivation to keep up the driving force behind this blog, bringing you more delicious and perfected recipes regularly. Please do leave a comment. We love to hear from you.