18 October, 2013
Black Pepper Steak Recipe with Brown Sauce and Baked Saucy Potatoes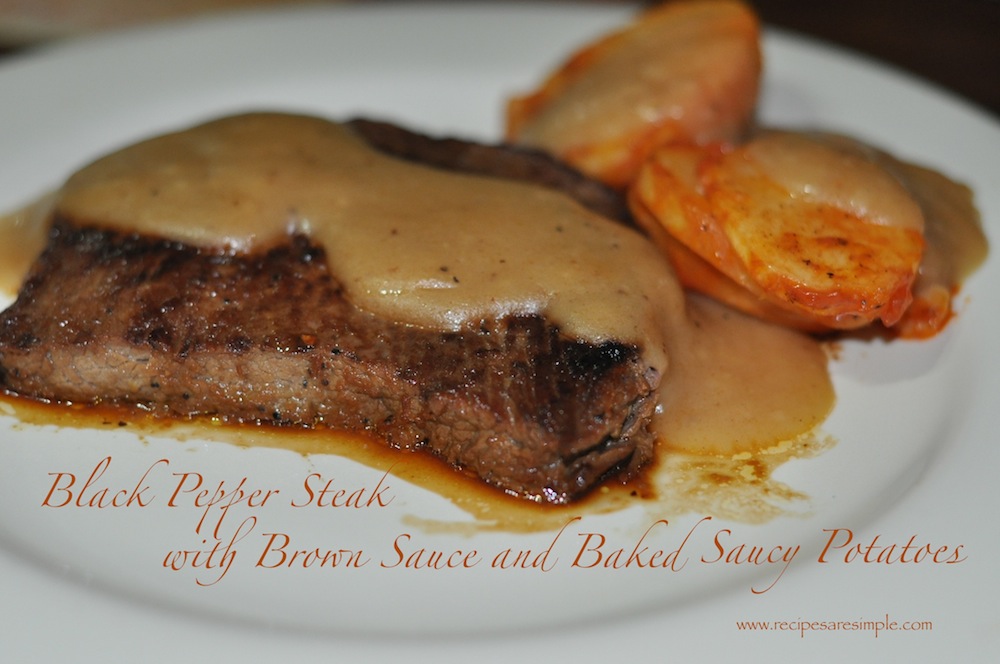 Black Pepper Steak Recipe with Brown Sauce and Baked Saucy Potatoes
This Black Pepper Steak Recipe with Brown Sauce and Baked Saucy Potatoes is so easy to prepare and makes a nice comforting meal for the steak -lover in you!
Served with any vegetables and the silky smooth sauce. Add any vegetables you like. Try our Baked Saucy Potatoes! 
Black Pepper Steak Recipe with Brown Sauce and Baked Saucy Potatoes
Author:
Prep time:
Cook time:
Total time:
Ingredients:
½ kg beef steak – 2 steaks
For Marinade:
¹⁄3 cup  oil
2 Tbsp lemon juice
1 Tbsp white vinegar
1 Tbsp Worcestershire sauce
1 Tbsp Dijon Mustard paste
¾ Tbsp Crushed black pepper mixed with 1 Tbsp water and ¼ Tbsp Cornstarch OR MILD store bought Black pepper sauce
2 Tbsp Master foods Worcestershire Steak Sauce OR  HP Sauce OR similar BBQ Sauce
2 Tbsp Ginger Garlic Paste (a Tbsp each of ginger and garlic, pounded to a smooth paste)
salt to taste
For the Brown Sauce:
1 onion, sliced finely
¼ cup oil plus butter mixture
¼  cup flour
2 Tbsp Worcestershire sauce
2 Tbsp mild black pepper sauce or 1/2 Tbsp crushed black pepper
salt to taste
For Baked, Saucy Potatoes:
5 Russet/USA Potatoes
8 large coves garlic, crushed
oil for deep frying in batched
¼ – ½ Tomato Puree  either canned or freshly made.
salt and pepper




 Method:
Place the cleaned beef steaks on your cutting board. With a Meat Mallet, Pound evenly to flatten evenly into a larger uniform steak.
Combine the ingredients for marinade in a bowl. Whisk well. Add salt to taste. Add the Beef steaks to this and toss well. Marinate at least 2 hours OR overnight in a zipper bag in the fridge.
Leave the steak outside to bring down to room temperature before grilling.
Heat 1 tsp oil in a grill pan/griddle pan As it warms up place the steak pieces and allow to brown undisturbed around 3 minutes on a medium heat. Turn over, you should see nice grill marks. Repeat on the other side to desired doneness. I like it well done, so I leave it on for another 3-4 minutes.
To make Brown Sauce:
In one sauce pan, heat the butter oil mixture Add the flour.
Stir continuously over a minute till you get a nice nutty aroma from the cooked flour and it turns golden (without going dark) Set aside,

(

Keep stirring even after you take off the stove, to prevent darkening)

.
In another saucepan, heat oil add the sliced onions and saute well till golden and crisp.

(The onions should be extra finely sliced so that they blend into the sauce )

Add 1 cup water and simmer. Add the Worcestershire  sauce and black pepper.
Add the cooked flour mixture and stir continuously till you get a nice thickened mixture that is pourable.
Add water if you need to loosen it.
For the Baked Saucy Potatoes:
Preheat oven to 204 ºc/400º F
Peel, wash and slice the potatoes into ½ " round slices
Heat oil for frying. Add the potatoes in batches so we don't have to use too much oil. Fry the slices just till tender and golden around the edges. Drain till all the potato is cooked like this.
Remove all but 2 Tbsp oil and add the garlic. When softened, add the tomatos puree and allow to thicken. Add salt and pepper to taste. Place the Potatoes in a oven safe dish.
Pour over the sauce and give it a toss. Add some more pepper.
Bake for about ½ and hour till the potatoes are slightly crisped and the sauce coats the potatoes.
Pour the sauce over the middle of each steak and serve with the Saucy Baked Potatoes or any other cooked vegetables like broccoli, carrots, bell peppers, onions etc, lightly seared in a pan and drizzled with the same brown sauce.
Black Pepper Steak Recipe with Brown Sauce and Baked Saucy Potatoes
Did you enjoy our Black Pepper Steak Recipe with Brown Sauce and Baked Saucy Potatoes ?