17 February, 2016
Black Pepper Chicken Curry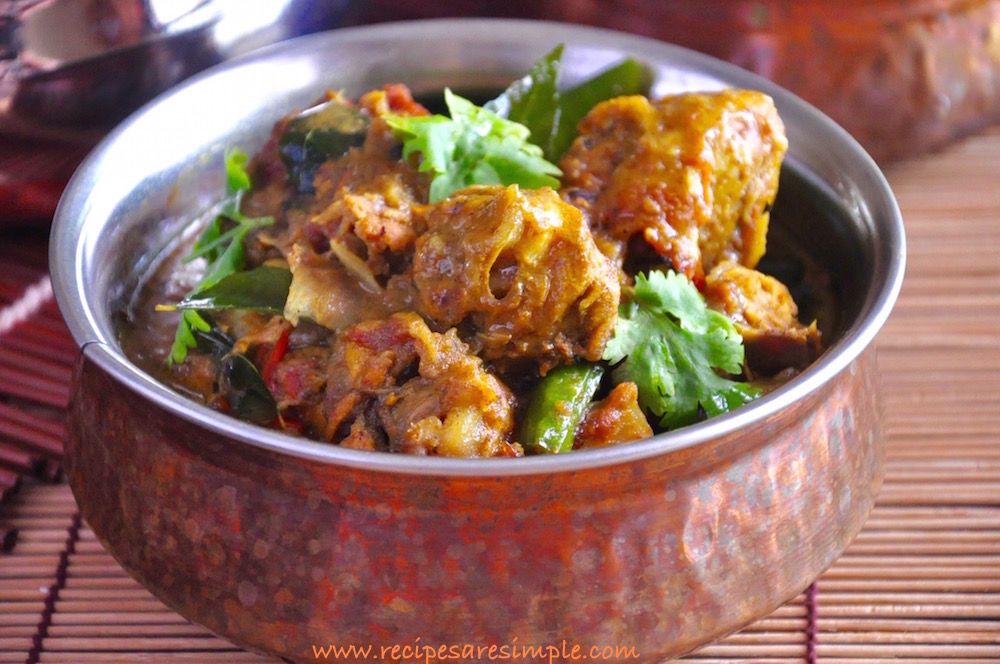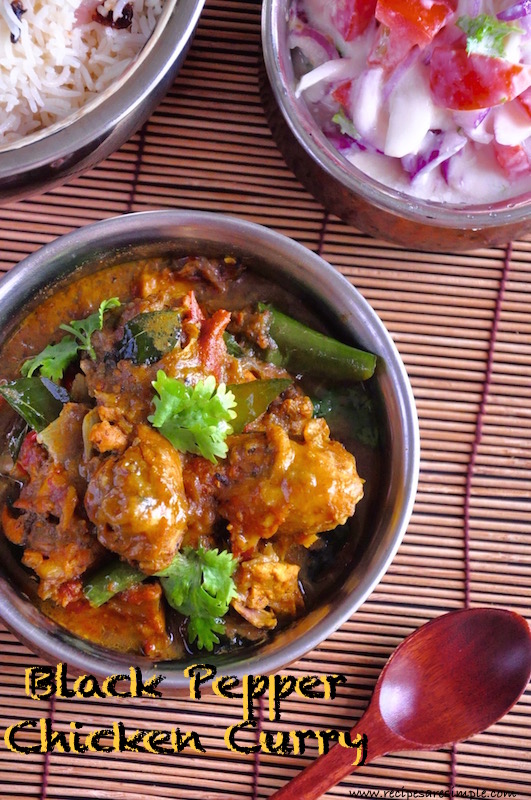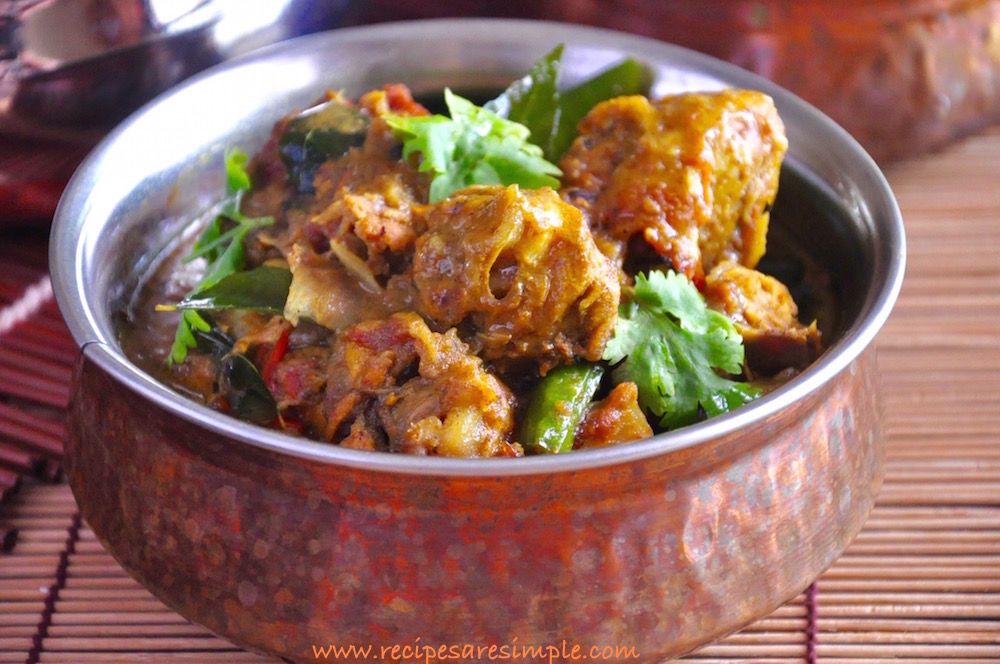 Black Pepper Chicken Curry
A Black Pepper Chicken Curry with a difference! This curry is just so easy.. So you do need to peel some more shallots than usual.. But after that it's as good as dump everything together and cook. So Easy! And you will love the flavor! This is one of those recipes where cooking in a pressure cooker makes such a difference! Coarsely Crushed Black Peppercorns infused in a shallot – onion based gravy!  It is pretty darn delicious, and my husband is in love with this curry. Do give it a go and let me know!
Black Pepper Chicken Curry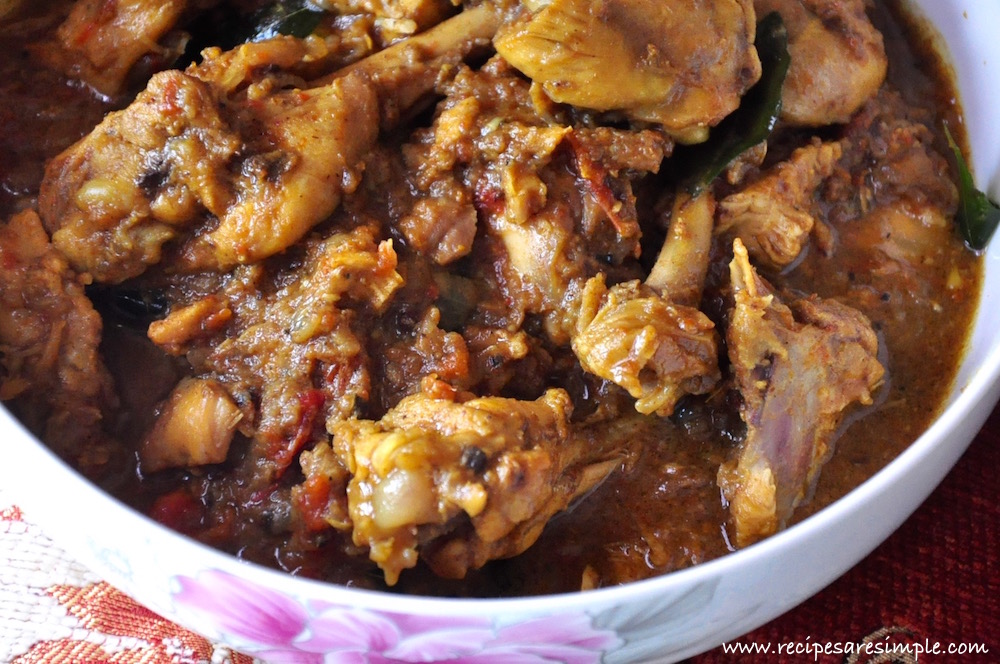 You are here: Home > Chicken Recipes  > Black Pepper Chicken Curry
 

Recipe Name: Black Pepper Chicken Curry

Recipe Type:  Curry / Indian

Author: Shana c/o Recipes 'R' Simple
Ingredients:
1 chicken, about 1 kg: cut into medium sized pieces – bone in, skinless
1 cup of shallots (red), crushed coarsely
3 generous tsp ginger, crushed coarsely
2 generous tsp garlic, crushed coarsely
3 small – medium sized purple onion, sliced
2 tsp black pepper corns, crushed/cracked coarsely
2 medium tomatoes, chopped
1 tsp turmeric
1 tsp garam masala (get my recipe for garam masala)
2 tsp coriander powder
2 tsp meat  curry/ masala powder of choice – I use Eastern
salt to taste about 1 tsp
For 'tempering':
3 long mild green chillies, chopped
a large handful of fresh curry leaves
4 Tbsp cooking oil

(suggestions: bran oil, coconut oil)

extra sprinkling of coriander powder, meat masala powder and salt as needed




Method:
Thoroughly clean, rinse and drain the chicken pieces.
Add to a pressure cooker along with all the ingredients except those for 'tempering'.
Rub all the ingredients into the chicken. Use your hands to help release the juice of the ginger, garlic, shallots etc.
Do not add water. Do not forget the salt.
Close the cooker and apply the pressure regulator.
Cook on high till you hear 3 -4 whistles for a Broiler Chicken or 5-7 steams for a country fowl.
Turn off heat and allow the cooker to cool naturally.
Open. There should be a fair amount of moisture/water left. If the water seems too thin, continue cooking open for a while. The chicken should be tender and coming off the bone easily. Check for this, before continuing with the tempering.
Now heat a separate wok.
When it is very hot, add oil and heat again.
Add the curry leaves  and fry briefly.
Also add green chillies. Wait till they get bright green in color.
Scoop out ladles full of the chicken masala and add to the HOT oil.
Stir gently and bring to  somewhat strong boil. Add the remaining gravy in the cooker and cook for 5 minutes more.
Garnish with coriander leaves.
Done! Enjoy the Black Pepper Chicken Curry!
Black Pepper Chicken Curry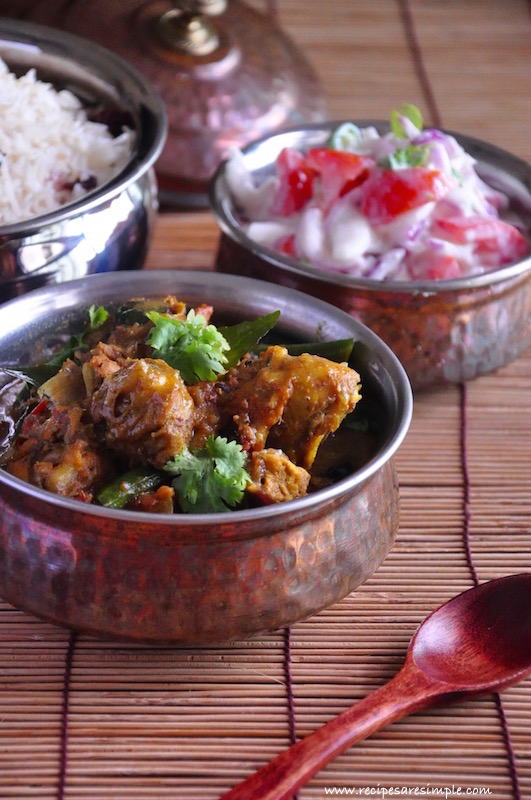 Feel free to add more crushed black pepper to suit your taste. The specified quantity gives a mild peppery flavor without causing it to be too spicy.
After adding all the ingredients to the pressure cooker, you can set aside to marinate for a while to deepen flavors. This step is not necessary though. If you want to prepare ahead of time, you could also mix up all the ingredients and stick it in the refrigerator  way ahead of time. Bring to room temp before it is time to cook it. Great way to make a fresh curry for guests without any prep at all.
Key Ingredients: Chicken, Black Pepper, Shallots, Onion, Garlic, Ginger, Spices, Coriander leaves, Salt, Oil.
Leave a comment if you tried – Black Pepper Chicken Curry. Comments from you provides motivation to keep up the driving force behind this blog, bringing you more delicious and perfected recipes regularly.  Help us to Keep On Keepin' On (: !