26 October, 2014
Biriyani Tea Masala Tea made at home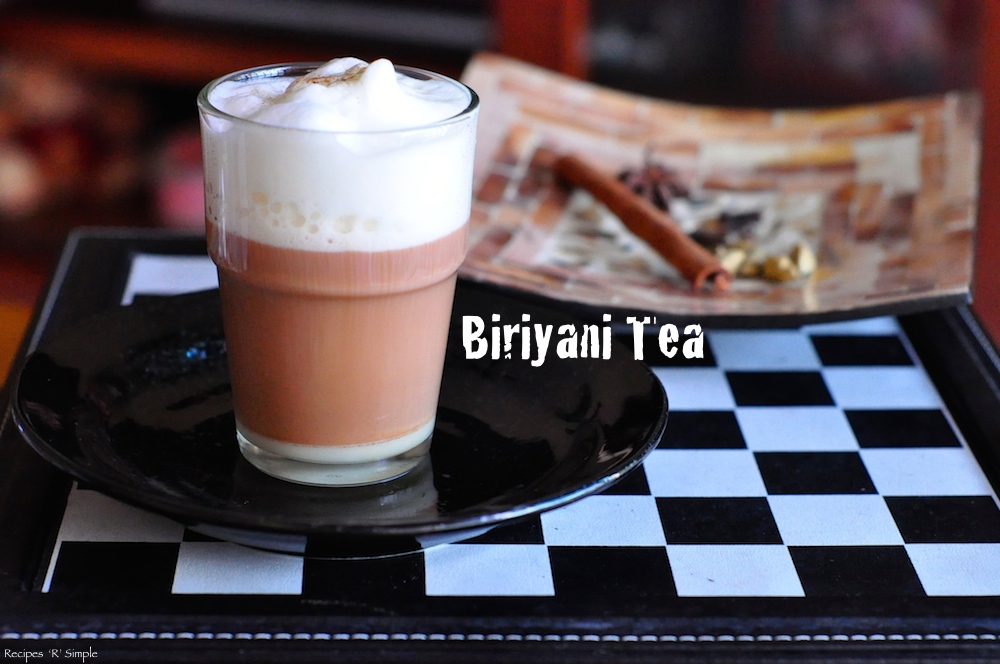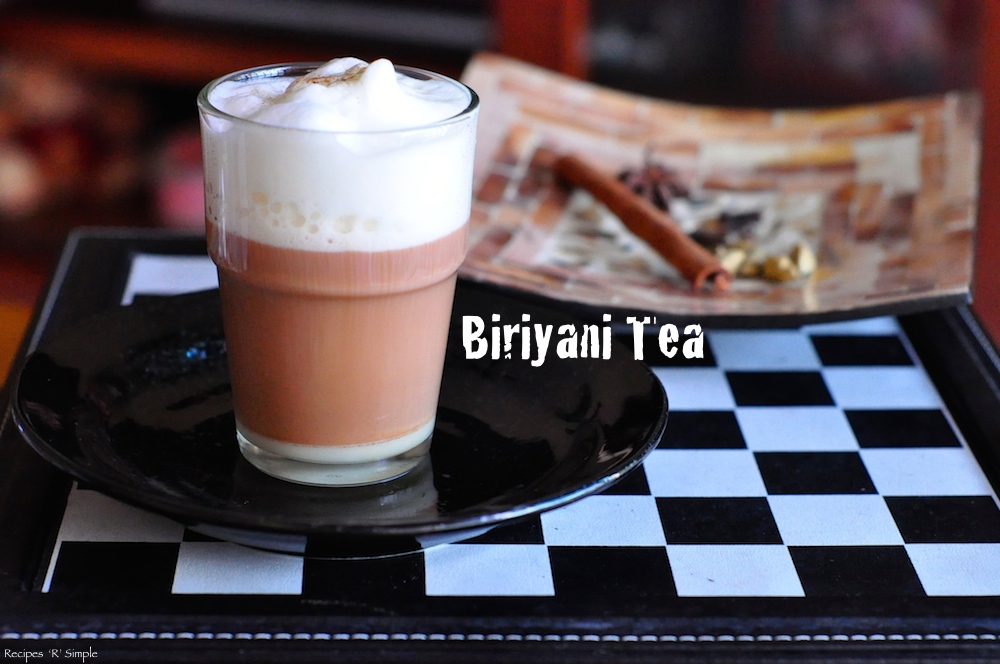 Biriyani Tea / Masala Tea made at home
Have you ever heard of Biriyani Tea? I never heard of it till my cousin mentioned it to me.  A spiced and awakening tea much needed after a heavy meal such as Biriyani and other similar dishes at restaurants. One for the road! The hot spiced tea is served aesthetically in three layers – a sweetened condensed milk layer on the bottom, a spiced strong black tea and a layer of milk froth on top, much like a latte. A sprinkling of some spice powder on top and you are good to go.  The layers will eventually fade into each other. Stir well and enjoy. Scroll down for VIDEO. Also check out our Indian Tea with Milk Recipe.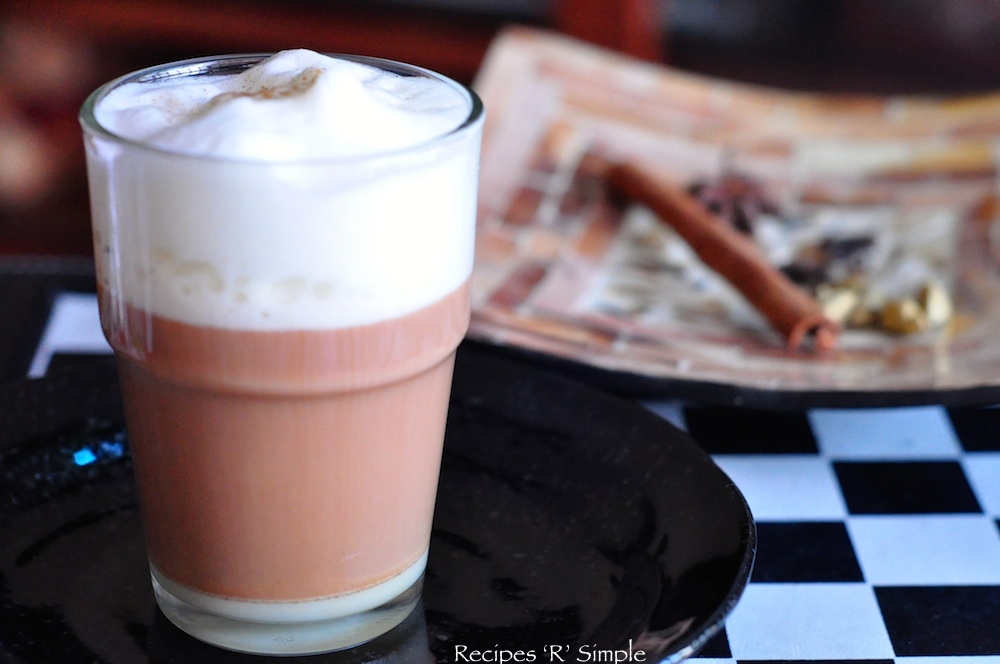 Biriyani Tea / Masala Tea made at home
Recipe Type: Drinks Beverages – TEA

Author: Recipes 'R' Simple

Prep time: 2

Cook time: 3

Total time: 5

Serves: 1
Ingredients: This recipe is for a single cup of Biriyani Tea – Double as necessary.
¾ cup water
2 cardamom pods, slightly crushed
3 cloves
2 small sticks of cinnamon
1 single petal of star anise
2 tsp good quality tea leaves such as Brooke Bond Red Label
 2 tsp sweetened condensed milk ( from a can)
Just over ¼ cup cold milk – for frothing
a little powdered cinnamon and /or cloves for sprinkling on top
Method:
Prepare serving cups : Pour the condensed milk into the bottom of the serving glass / cup before beginning.

Pour carefully so that the milk does not drip all over the sides and ruin presentation.Use glass cups for presentation purpose.

Make the black, spiced tea : Add water to a sauce pan, along with the cardamom, cloves, cinnamon and star anise. Bring to a boil. Allow to boil briefly. 30 seconds should do.
Add the tea leaves and boil till the tea is strong and dark.
Strain and set aside.

Discard the used spices and tea leaves.

Froth the milk : Use a frother / mixer gadget to froth your milk or use a shaker, although it will take some more effort. Use cold milk for easier frothing. Insert the frothed into the milk and switch it on. Move gently upwards and downwards till nicely frothed. Once the milk is frothy, we have to heat it up. Place it in the microwave for 10 seconds to heat it up.
Pour the black tea over the condensed milk slowly. (SEE NOTE).
Pour a little bit of the frothed milk ( the  runny part) over the black tea. Then Stop. Now dollop the foam only over the top.
Sprinkle a little bit of the spice powder and serve.
Serve with a stirrer or spoon, to mix the layers before drinking.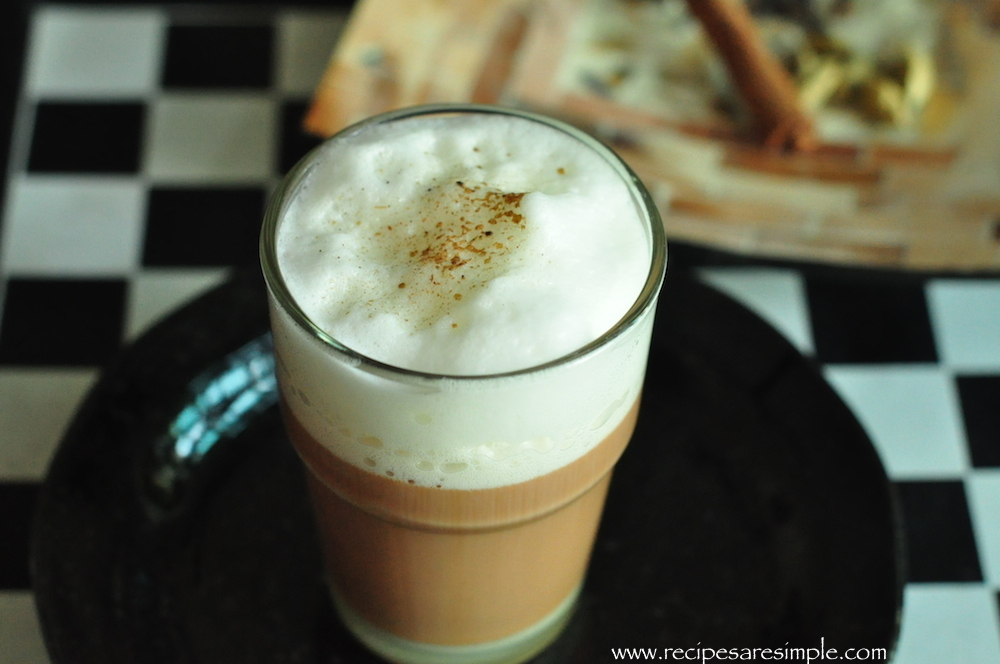 Biriyani Tea / Masala Tea made at home
Try it and let us know – Biriyani Tea / Masala Tea made at home .
Cold milk is easier to froth. However remember to heat the frothed up milk in the microwave before topping your tea.
If you want least mixing of the black tea layer with the bottom condensed milk layer, use a bubble tea straw (LARGE STRAW) and point just over the layer of condensed milk. Pour the black tea through the straw using a funnel or pouring cup.