10 May, 2014
Soft Idli Recipe – Make Spongy Perfect Idli – using Poha / Aval and Idli Rava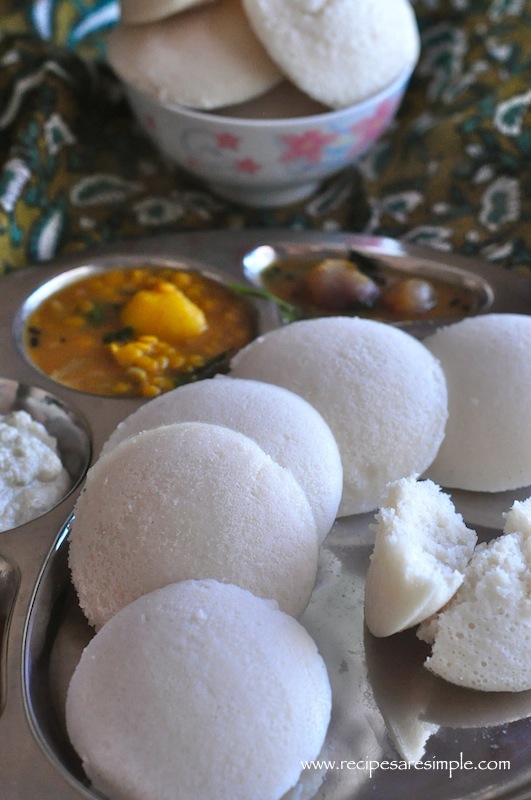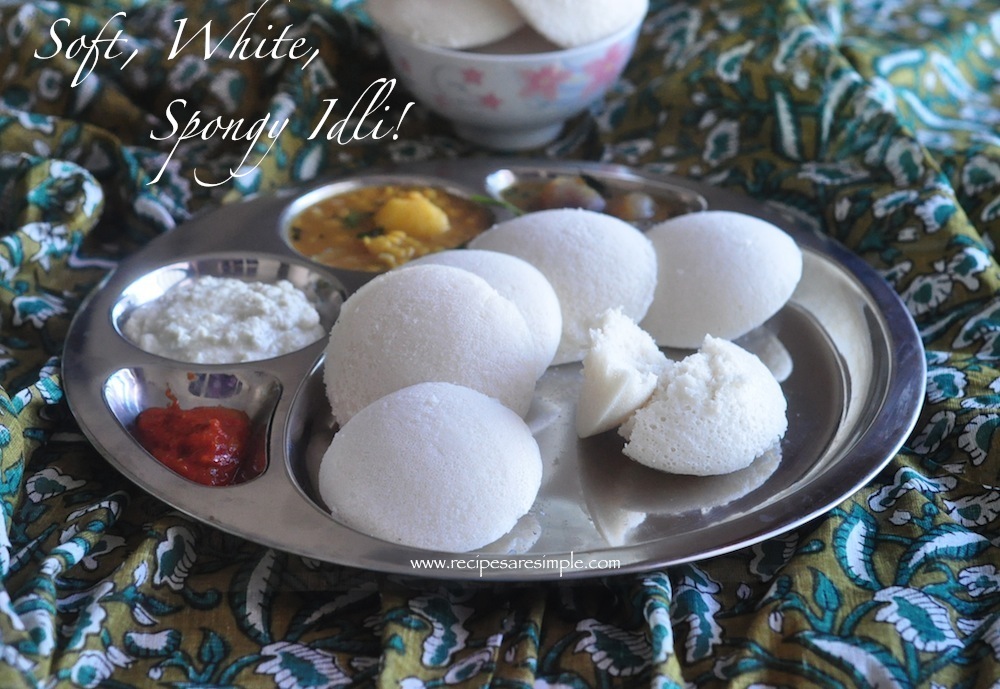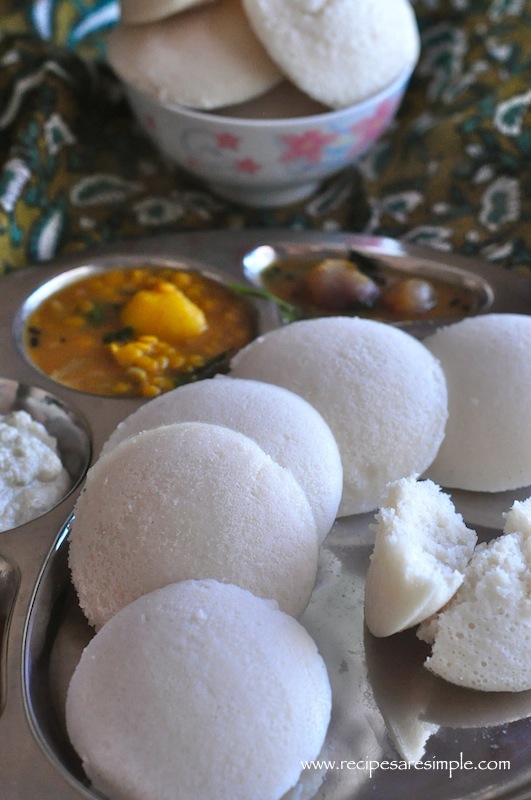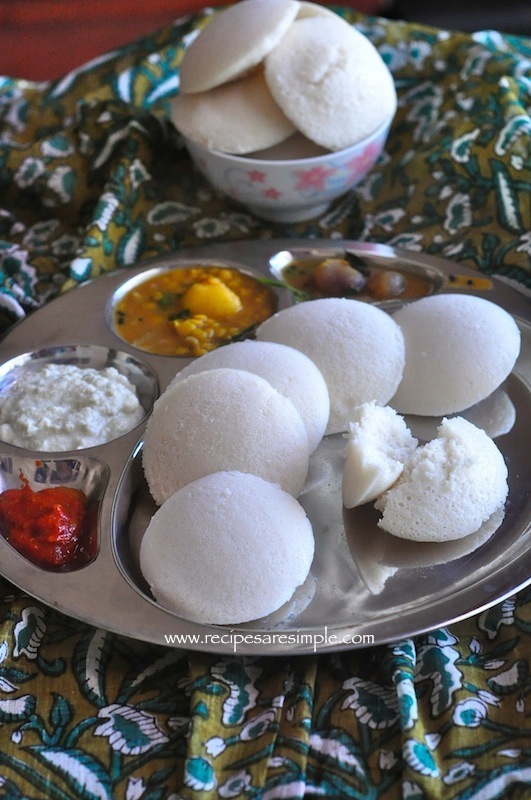 Soft Idli Recipe
  The perfect Idli is soft, white, spongy and bouncy to the touch. The surface is smooth without stickiness and they feel light. Having tried all methods of making Idli over the years, ( with ground rice, with rice flour, different types of rice etc..) I have found this to be the best Recipe for Spongy, Light, Bouncy Soft Idli! It's perfect. We use Pressed white rice (Poha / Aval) combined with Idli Rava and Urad Dhal. You must plan a day ahead of when you intend on making these Idli for breakfast. Soak in the Morning. Grind around 5 pm for the batter to be ready around 8-9 am. (Weather conditions apply). If you love idli, you must try this Soft Idli Recipe!
Soft Idli Recipe
Recipe Type: Breakfast / Breads – South Indian

Author: Recipes 'R' Simple

Prep time: 15 

Cook time: 15 

Total time: 

Serves: 4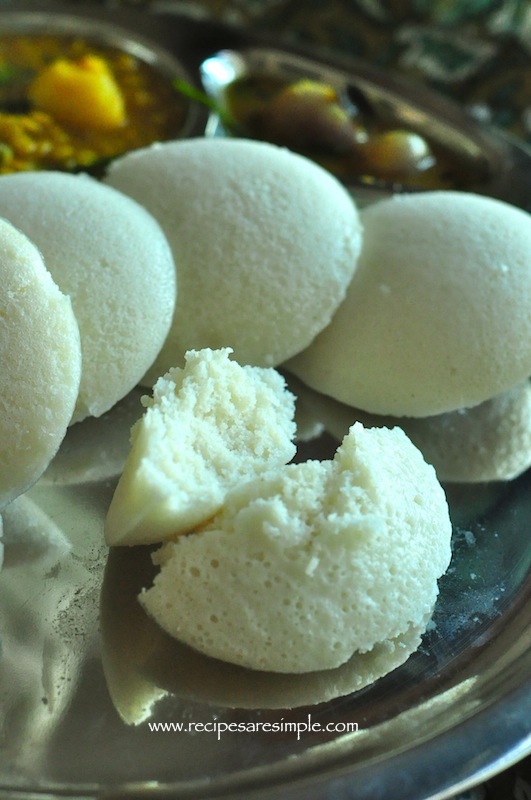 Ingredients:
1 cup  Pressed / Beaten Rice (White) – Poha /Aval (Other names in various Indian Languages : Atukulu, Chindé , Chira i, Chudaa , Chiura,  Pauwa

i

, Baji,  Pohe , Phovu , Avalakki, and Pauaa/Paunvai).
1 cup Urad dhal
2 cups Idli Rava / Sooji – read about idli rava
water and salt
Method:
For making Idli in the morning on a particular day, you must soak all your ingredients the MORNING  BEFORE. So plan accordingly. Soak the following at 9- 10 am (This is If you are leaving the batter at a moderate temperature. If you are experiencing very hot external conditions, the time will be reduced and if you are in cold climates, you might need to place the batter in a switched off oven).
You will need 2 medium large bowls.
Bowl No 1: Add all the Idli rava into first bowl.
Bowl No 2: Add the Pressed rice. Rinse the Uradh dhal well and add to the Pressed rice.
Pour plenty of fresh water into both bowls upto the top.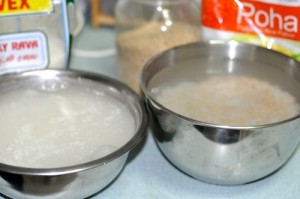 Cover and allow to soak till 5 :00 pm.

 (or atleast 7-8 hours from when you soaked the ingredients)

5:00 pm

 or when ready to grind – Use a wet grinder or a heavy duty mixer grinder.
Scoop out the soaked ingredients, using your hands, naturally straining away some of the water.

Do not pour directly into the mixer – as this might cause you to add too much of the liquid.

You will need to add around half of the Pressed Rice/ Dhal combined with Half of the Idli Rava –  together to the mixer.
Grind in batches according to capacity of mixer /blender.

(Grinding a combination of the ingredients from both bowls together, helps to get a smoother grain, faster).

Add only a little water. Just enough so that the ingredients get ground without friction.
Grind till the batter is smooth. Keep feeling between your fingers, a rough grain at first. will turn into a smooth batter with only a very fine grain.
The consistency should be that of a thick pancake batter or condensed milk :
When you pour some batter back from a height, it should not leave a trail. If it does, you need more water.
The batter should coat a spatula and a finger swiped across should leave a line that does not disappear.
Pour the batter into a tall container. Add salt, stir well  and set aside covered till the next morning.

Next Morning:

The batter will have risen. It will be lighter in texture an have more air bubbles.
Pour water into the bottom of a pot large enough to contain the Idli steamer. The water level should be below the lowest rack of the steamer. Check by placing an empty rack in the water.
Bring the water to boil.
Oil the Idli steamer lightly with a paper towel, dipped in oil. Sesame oil is good.
Pour batter to fill the idli moulds. Do not go over the brim. Place all the filled racks on to the steamer.
Align each rack so that the holes are alternating   and positioned over the idli batter below.
 Lower into the pot of boiling water. Cover the pot and continue boiling on a medium flame (not low) for 7-8 minutes.
 Turn off heat. Allow to cool in the pot for a minute.
Remove the rack and wait another 1 minute.
Use a spoon dipped in water to slide under the idli and remove easily. Keep dipping the spoon as you go around the Idli till it is loosened.
Soft, Spongy Perfect Idli is ready to be served with Sambar, Chutney  etc!
Soft Idli Recipe
Tried our  – Soft Idli Recipe? Let us know
Don't be too hesitant to use your hands to test the batter. Body heat while mixing the batter  helps in the fermentation process.
If you are only using a portion of the batter, store the remaining in an airtight tupperware container. Do not leave outside for too longer after fermentation has occurred or your Idli will be very sour.