15 May, 2014
Malaysian Peanut Sauce for Satay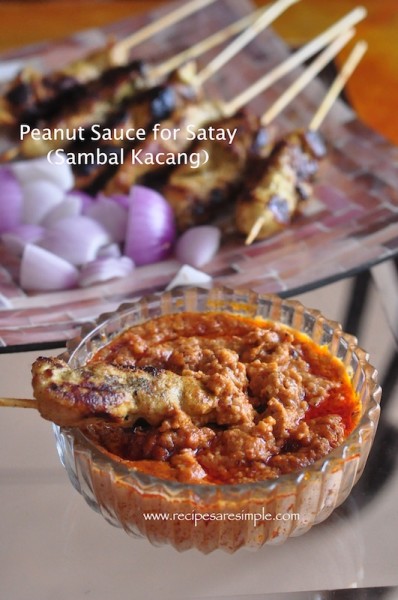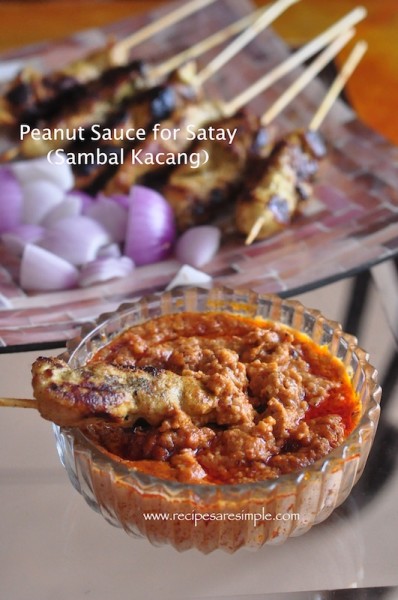 Malaysian Peanut Sauce for Satay
  The essential peanut dipping sauce for the popular Malaysian Beef / Chicken Satay sticks or  'Ketupat' – Steamed rice cakes. It's great with vegetable skewers too. This makes the best Malaysian Peanut Sauce for Satay, the thickness of which can be adjusted to your taste. Raw roasted peanuts are used to make this tasty, spicy, slightly sweet and savory sauce!

Malaysian Peanut Sauce for Satay
Recipe Type: Dips / Sauces

Author: Recipes 'R' Simple

Prep time: 15

Cook time: 10

Total time: 25

Serves: 6
Ingredients:
8 dried red chillies – the shriveled variety as opposed to the glossy dried version.

Shriveled ones pack less heat.

½ cup / 75 gms raw smaller sized peanuts with or without skin.
8 shallots, peeled
1 large clove garlic, peeled
1 small piece,  /1 cm galangal, peeled
1 stalk of lemon grass, only the tender inner portion, cut into thin rings
½ cup coconut milk
water as needed
2 ½ Tbsp Tamarind pulp, soaked in ½ cup hot water for 10 minutes
1-2 Tbsp palm sugar (gula melaka) or brown sugar
salt to taste
3 Tbsp oil – sunflower oil
Method:
Soak the dried chillies in hot water for 10 minutes.
Use a strainer to strain and squeeze out the tamarind pulp from the liquid. We will use the strained thickened solution.
Remove all the hard outer layers of the lemongrass. Slice the central tender portion into rings.
Dry roast the peanuts (I prefer peanuts with skin on). Roast till toasted well. taste one . it should be crunchy and no longer raw.
Proceed to peel the peanuts by rubbing with hands.
Grind the peeled , toasted peanuts to a breadcrumb texture.
Add the shallots, garlic, galangal, lemongrass as well as the soaked chillies strained from the water to a grinder and grind to a smooth paste adding just enough fresh water.
Heat oil in a pan. Add the ground paste and fry well, stirring over a medium heat. Add  some water. Cook slowly about 5 minutes till the oil separates.
Add the tamarind solution, ground peanuts, salt and sugar to taste.
Simmer till thickened, adding a little water as needed so that the mixture is not dry.
Then add the coconut milk.
Simmer again till the oil comes on the top.
Remove to a bowl and set aside.
Heat in the microwave as needed. You can added boiled water to loosen the texture.
Malaysian Peanut Sauce for Satay
Try it and let us know – Malaysian Peanut Sauce for Satay .
Store bought Tamarind pulp sometimes contains salt so ass salt accordingly.
Thai style Satay Peanut Sauce varies slightly, incorporating fish sauce and can be made with creamy peanut butter. Check out the

Thai Chicken Satay and Peanut Sauce Recipe

.