14 May, 2015
Best Indian Butter Chicken – Delicious Creamy Chicken in Tomato Gravy

Indian Butter Chicken – RAS Special
Butter Chicken is one of the most popular Dishes of Indian Cuisine and is a staple at Indian Restaurants all over the world. Nothing like a good Butter Chicken to eat with hot Buttery Naan or Delicious Fluffy Pulao Rices. If you are looking for a winning recipe, you are in the right place. This recipe started out as a basic recipe I used and I kept tweaking it till I got the Perfect Mouth Watering Butter Chicken. Scroll down for Video.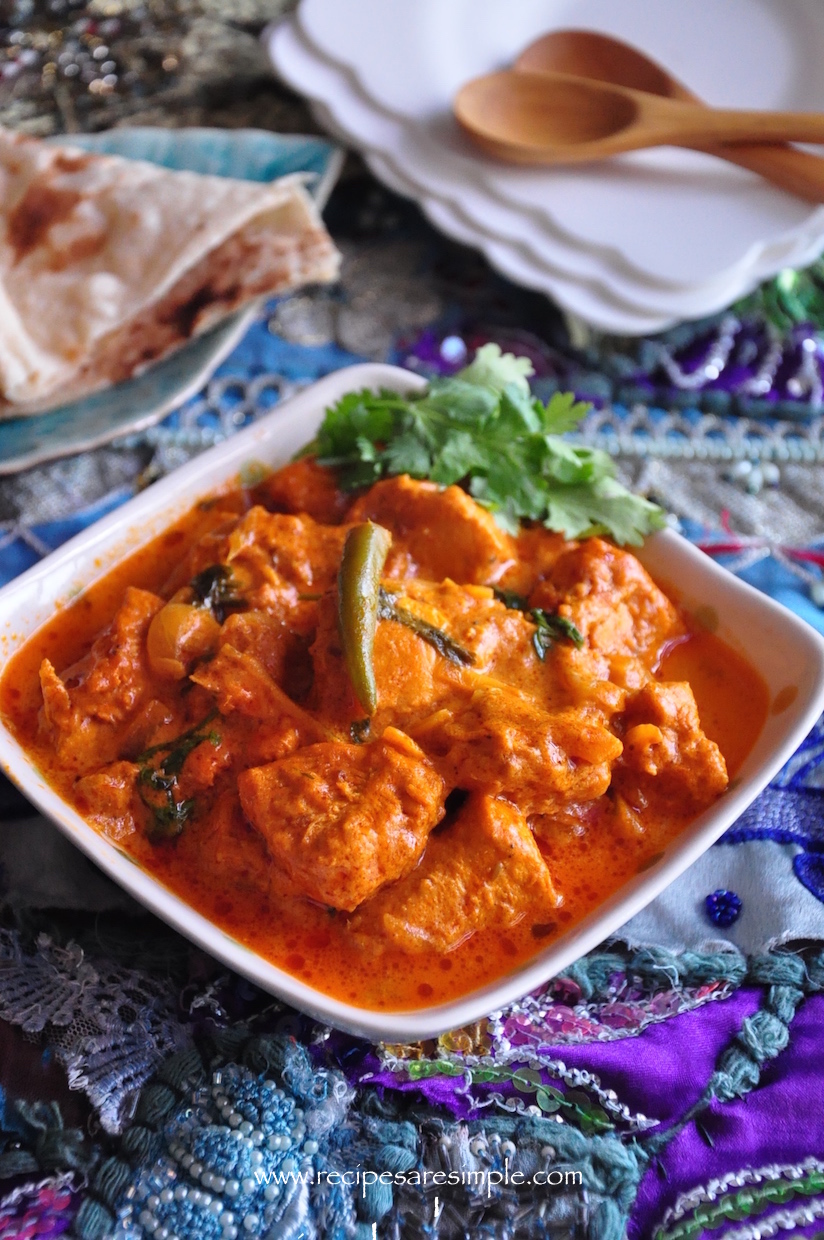 Butter Chicken or Murgh Makhani, is said to have been created by Punjabi Chefs who reused left over Tandoori Chicken, converting into a delicious, saucy gravy using tomatoes. Traditionally, the chicken is cooked in a tandoor oven prior to making the gravy. In modern times, this pan frying or deep frying method seems more feasible. You can use chicken pieces on the bone, but I have managed to get an extremely moist butter chicken using boneless chicken breasts. Trust me. Trust my recipe. Although the dish is called Butter Chicken I do not use butter, Instead I use a combination of yoghurt, cream and evaporated milk to achieve that buttery taste without tasting too heavy.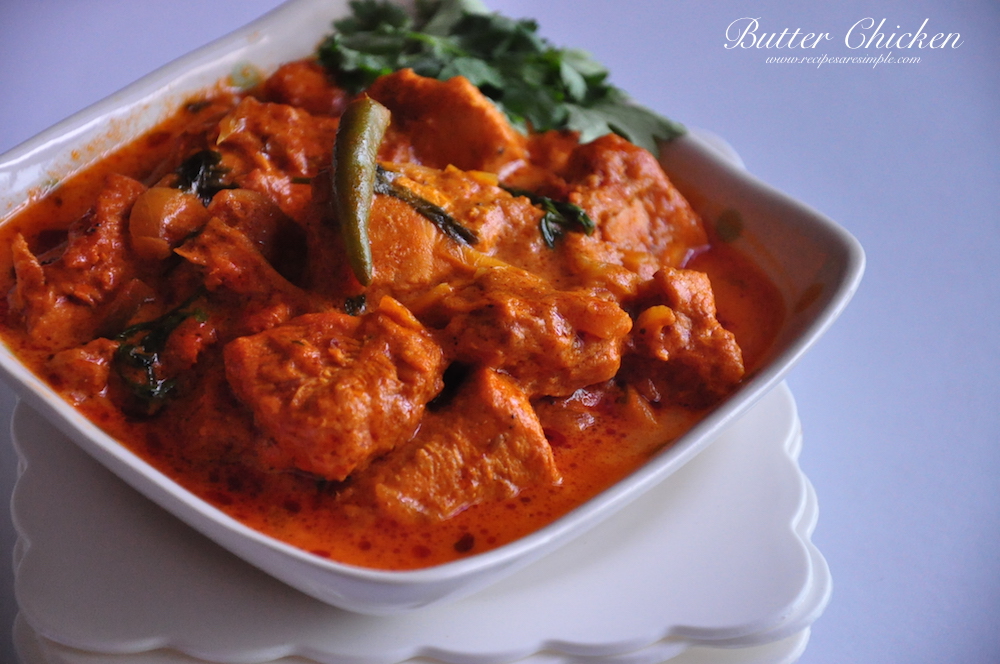 You are here: Home > Chicken Dishes  > Indian Butter Chicken
 

Recipe Name: Indian Butter Chicken

Recipe Type: Punjabi / Indian / Chicken

Author: Shana c/o Recipes 'R' Simple
Indian Butter Chicken
Ingredients:
 600 gms chicken breast
Oil for deep frying or pan frying
a nice handful of cilantro, coriander leaves
For Marinating
2 tsp ginger
2 tsp garlic
2 Tbsp yoghurt
¾ tsp kashmiri chilli powder

(bright red but only moderately hot)

¾  tsp Garam Masala –

for best results in butter chicken use store bought garam masala that contains black stone flower spice OR use my recipe below

¼ tsp turmeric
½ tsp shan meat tenderizer
½ tsp cumin powder
1-2 tsp fresh lime juice

(small Indian lemon / lime / nimbu)

¾ plus tsp salt
¼-½ tsp red food color powder

– optional

¾ Tbsp Basen powder
For Gravy
4-5 large tomatoes – should be ripe, firm and bright red (You can also use

canned tomatoes

– see below)
½ tsp paprika
¹⁄3 tsp coarsely ground cumin
½ large onion, finely chopped
2 Tbsp Evaporated Milk
¹⁄8 cup heavy cream / double cream,

whipped briefly with a fork

3 Tbsp thick yoghurt, whipped,

whipped briefly with a fork

1 tsp lime juice
3- 5 small green chillies, left whole
½ tsp dried fenugreek leaves / kasuri methi – optional
Additional cream for the end (1-3 spoons as required).
¾  tsp Garam Masala – for best results in butter chicken

– use store bought garam masala that contains

black stone flower spice

OR use my recipe below.  Another alternative is to use Tandoori Chicken Masala.
Method:
Marinate the Chicken
Cut boneless chicken large cubes. Rinse well and keep drained.
Crush the ginger and garlic to a paste.
Add this and all other ingredients for the marinade to the  chicken  and rub well to evenly distribute. Set aside for 10- 15 minutes.
Prepare the Tomato Puree – You can prepare home made tomato puree as follows, or you can used canned peeled tomatoes, just blend them up to a puree. Some time saved.
Wash the tomatoes and add to a saucepan of water.
Bring to a boil and simmer  till the skin starts to peel away and the tomatoes are cooked.
Drain off the water and peel the tomatoes.
Allow to cool. Add the paprika and sieve through a wire mesh for best results. Then blend to a puree. Set aside.
You should have

1 ½ cups of Puree.
Par – Fry the Chicken –You can pan fry or deep fry the chicken till a slightly golden crust is formed. we do not want the chicken fully cooked. The remaining cooking will take place in the gravy. Here I have deep fried, however I have pan fried with same results.. Just need to watch the chicken more closely. You can also use your oven. Place the chicken on a foiled tray. Drizzle with oil, place on top rack in a hot preheated oven(200 c). Broil for 15 minutes, turning once in between and basting with oil. Reserve the drippings to add to the gravy later.
Heat oil for deep fry  in small batches. Fry in hot oil in batches for just 30 seconds – 50 seconds turning over half way through till just bright red but not fully fry or hard. Set aside partially fried chicken.
Prepare the Butter Chicken Gravy:
Strain 2-3 Tbsp of the oil used for frying the chicken into a wide non stick pan/ wok.
Add crushed course cumin and allow to sizzle briefly.
Add chopped onion and sauté. Allow to soften.
When the onion is just beginning to change color, add the prepared tomato puree.
Cook whilst stirring – till the color of the puree changes to a bright red and oil appears on top.
Add the whipped yoghurt and stir continuously, reducing heat so as not to curdle.
Add chicken and cook briefly. Allow the chicken to soak up the sauces.
Now add the evaporated milk and whipped heavy cream. Allow oil to separate again.
Taste the gravy and add more salt to taste. Also add kasuri methi.
Add ½ cup water and bring to a boil.
Add little lime juice along with 3 small whole green chili and cover the pan. Simmer on low for 5 minutes.
Lastly, add  some more cream if you like and sprinkle the garam masala over the top.
Add fresh chopped cilantro .coriander and serve with naan or rice.
For Special Butter Chicken Garam Masala:  note that some of these spices are hard to find, hence using store bought garam masala is recommended

 4 Tbsp coriander seeds /sabut dhania
1 Tbsp cumin seeds /jeera
3 Dried Kashmiri Chillies
1 ½ Tbsp stone flower/pathar phool/dagad phool
 4 Indian bay leaf / tej patta / tamal patra
12  clove stems / lavang kandi
10 cloves / lavang
¼  tsp black pepper / sabut kali mirch
1 tsp caraway seeds / shahjeera
2 black cardamom / badi elachi, seeds and husk removed
3 green cardamom / hari elachi / choti elachi, seeds and husk removed
1 tsp  cobras saffron / nag kesar
1 tsp saffron / kesar
1/2 tsp nutmeg

Method:

Add all ingredients to a frying pan (dry) and roast for 2 minutes.
Add ½ tsp  sea salt  & Grind in a coffee grinder to a fine powder. Store in airtight jar.
Indian Butter Chicken
Do not use fully cooked chicken for the gravy, you will not get the same succulent and moist and tender meat as by using partially cooked chicken. The chicken will also help to flavor the sauce better.
Black stone flower also known  by these names : PATHAR KA PHOOL / DAGOD PHOOL / KAL PAASI – is a gourmet spice used in Indian Cuisine, often used in Goda Masala / Potli Masala and certain types of Garam Masala.  Look for a Garam Masala in your Indian Spice Store which lists Black Stone Flower in its list of ingredients.This certainly adds and edge to this dish as well as many others.
If this recipe seems too daunting, try this easy Butter Chicken Recipe using a can of Nestle Cream!
Key Ingredients: Chicken, Tomatoes, Spices, Onion, Ginger, Garlic, Yoghurt, Cream, Evaporated Milk, Oil, Lime, Salt.
Let us know if you tried it – Indian Butter Chicken . Comments from you provide motivation to keep up the driving force behind this blog, bringing you more delicious and perfected recipes regularly. Please do leave a comment. We love to hear from you.