9 September, 2013
Beetroot Pachadi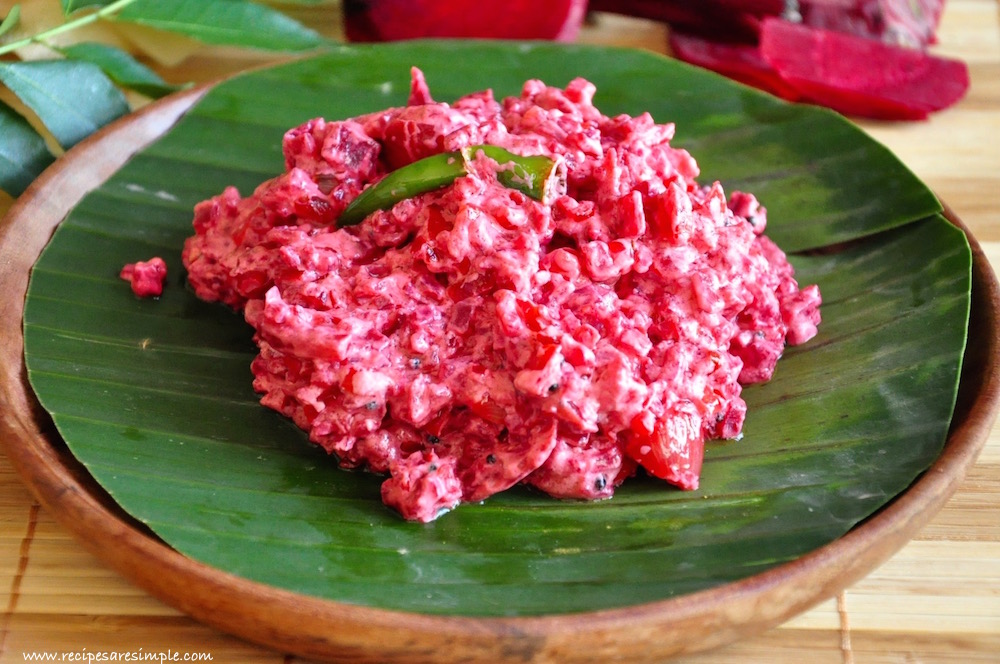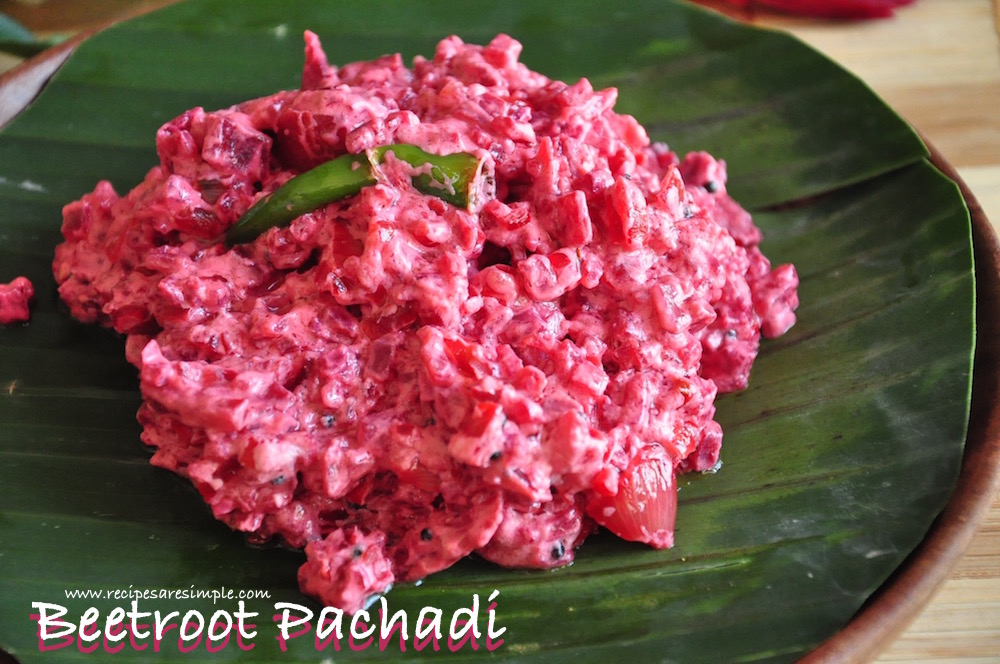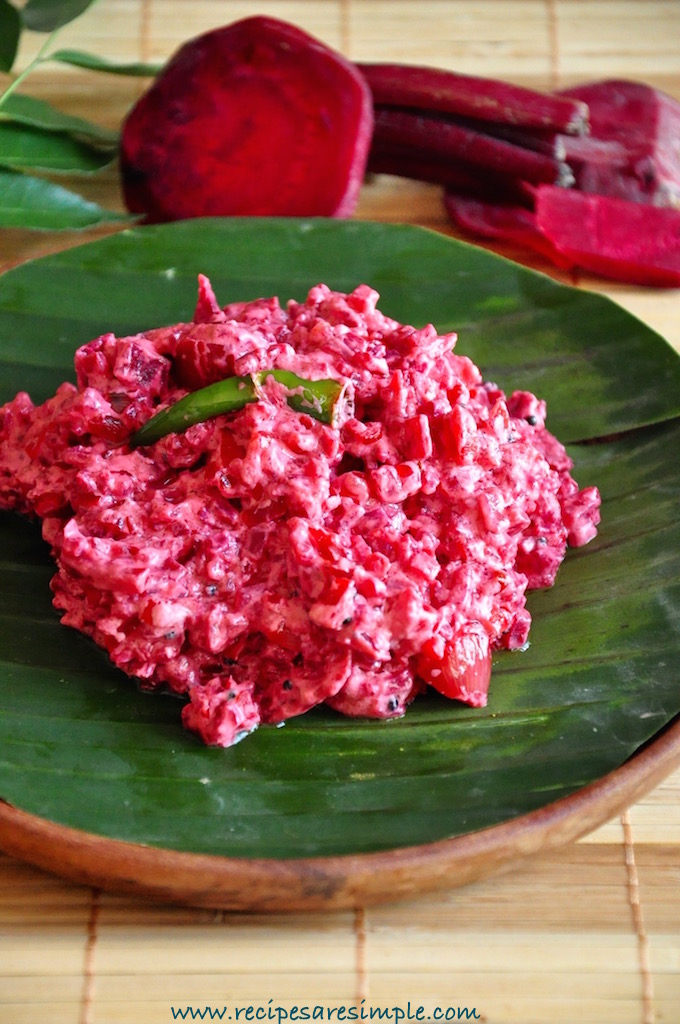 Beetroot Pachadi 
By Dr Shemmi N K
Beetroot Pachadi. Beetroot is completely transformed in this creamy delicious recipe. The key is to have the beetroot rinsed well before chopping, chop finely wash and drain well. Use thick yoghurt that is not overly sour and you have a lovely vegetarian dish to serve with rice or even as a dip!
This recipe was an entry in the ONAM CONTEST 2013.
Beetroot Pachadi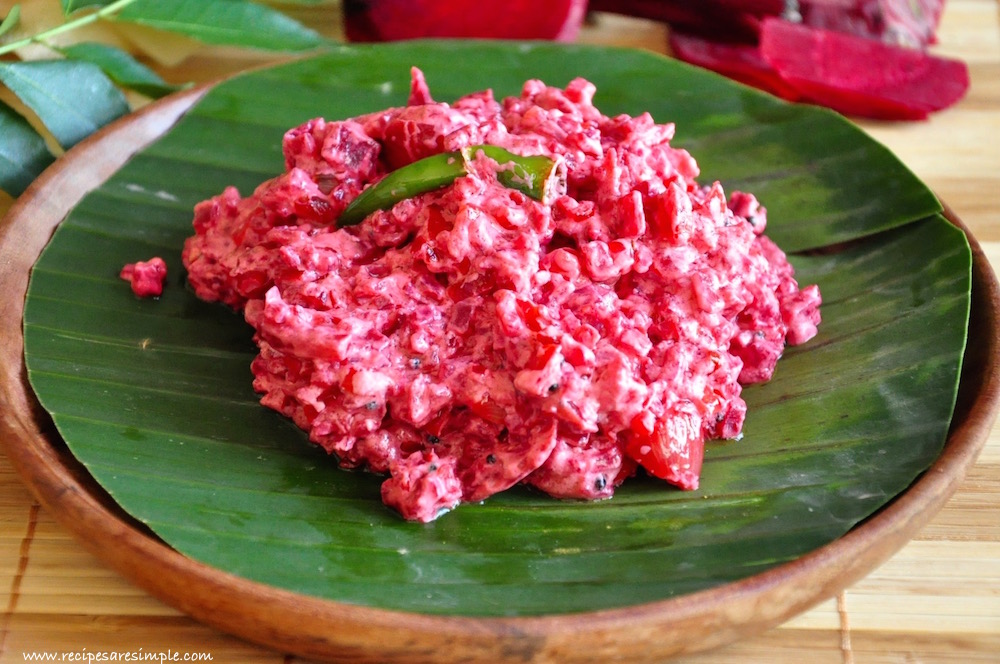 Author:
Prep time:
Cook time:
Total time:
Ingredients:
2 cups Beetroot, very finely chopped

(for best results, do not grate)

1 Onion, finely chopped
½ tsp mustard seeds
A handfull of curry leaves
2 split green chillies
About 2 cups yoghurt/curd – thick and not too sour
2 Tbsp oil
Salt  to taste
Method:
Peel the beetroot and rinse well.

Cut into thin rounds and then rinse well again.

Continue to chop very finely. Make sure there is not water in the beetroot. I leave it on a wooden cutting board to absorb extra moisture.

Heat oil in a medium wok/pan.

Add  the mustard seeds and allow to splutter. Add the curry leaves.

Add the chopped onions and green chillies and sauté till onions are soft and translucent.

Now add the finely diced beetroot and stir-fry on high heat. Add enough salt and cook till the moisture has completely evaporated and the betroot is cooked tender.

Remove from heat and allow to cool completely.

Beat the yoghurt well till smooth. 

Add the beaten yoghurt to the cooled beetroot a little at a time and mix till you achieve a smooth consistency as well as a beautiful lightened beetroot color!

We prefer a semi thickened consistency for this dish.
Beetroot Pachadi
Did you enjoy our Beetroot Pachadi  ?
Notes:
If you would like to make this dish more pourable to serve with rice, you can use buttermilk instead of yoghurt.
Here the beetroot is grated, but definitely finely chopping is preferred for texture and flavor too.