22 August, 2015
Beef Varattiyathu – Simple Kerala Recipe
This  'Beef Varattiyathu' recipe or tender, twice cooked beef is a delicious recipe from Kerala. I have given two mixes to marinate and par-cook the beef initially. The first is simple with basic spices and the second gives a more delicious and irresistible taste ( more spices and fresh ingredients involved here). So take your pick! After the beef is par-cooked, it is then roasted to mouth watering perfection in the irreplaceable coconut oil to make a semi dry beef roast. Perfect to serve with the Malabar Rice Pathiri , rice, parotta etc.. Scroll down for the video.
Beef Varatiyathu – Simple Kerala Recipe
In the above video, I have only par cooked the beef ( before roasting) in basic spices. (The simplified version.) For an, even more, mouth-watering experience, use the special beef roast mix in the recipe below.
You are here: Home > Beef Recipes  >Beef Varattiyathu
 

Recipe Name: Beef Varattiyathu 

Author: Shana – Recipes 'R' Simple
Ingredients:
500 gms beef, cut into small bite-size pieces
1 Tbsp Kashmiri chilli powder*
½ Tbsp coriander powder*
1 tsp pepper powder (coarse grain)*
½ tsp turmeric powder*
1 tsp salt*

1 onion, sliced

¾ Tbsp ginger

, lightly crushed using mortar and pestle

¾ Tbsp garlic

, lightly crushed

1 large tomato, chopped
2 Tbsp coconut slivers / bits (not grated)
¼ tsp garam masala
4 Tbsp curry leaves
3 Tbsp chopped fresh coriander
5 shallots

, lightly crushed

3 Tbsp plus 2 tsp coconut oil
* Replace the ingredients marked by Asterix  (*) with the ingredients for the special beef roast masala mix if desired.
Special Beef Roast Masala Mix:
3 cardamom pods
10 cloves
1 stick of cinnamon
4 segments of star anise
1 mace
1 tsp fennel seeds
1 tsp black peppercorns
2 tsp red chilli powder
1 tsp turmeric powder
1 Tbsp each of curry leaves, coriander leaves and mint leaves
6 cloves of garlic – small variety
1 small chunk of ginger
1 tsp salt
Beef Varattiyathu- Simple Kerala Recipe
Method:
Marinate the rinsed and drained beef with the chill powder, coriander powder, turmeric powder, pepper powder, and salt. Set aside for 30 minutes.(OR use the Special Beef Roast Masala Mix for a more delicious Beef Varattiyathu)
If using the Special Beef Roast Masala Mix, add all the ingredients listed to a small grinder jar and grind to a smooth paste. Marinate the beef with this ( instead of the above-mentioned) and set aside for 30 minutes. Rest of the method is the same.
Place in pressure cooker with just a dash of water. Pressure cook for about 8 steam whistles. (May differ according to quality of meat).

If you have lots of time, slow cooking the beef is recommended. Traditionally this is done on a wood fire. The results are amazing!

Check if tender, after cooling down and opening the cooker.
Continue cooking on medium heat till gravy in the cooker is absorbed, stirring occasionally.
Heat coconut oil in a heavy-based skillet or wok.
Add the sliced onion and sauté till golden.
Then, add the ginger and garlic and sauté for another 1 minute.
Next, add tomato and cook until pulpy and soft.
Tip in the cooked beef now and toss to coat thoroughly. Cook on a very low heat till a lovely thick gravy coats the beef pieces.

Stir constantly to ensure that the ingredients do not get scorched/stuck to the bottom at any point.

You may add the coconut bits and stir through now (OR fry in the coconut oil in the next step).
Add coriander leaves and some curry leaves and cook till wilted.
Heat 2 tsp of coconut oil in a separate small pan.
Sauté the crushed shallots till golden.
Add the curry leaves and fry till crisp.
Pour over the cooked beef and toss once again.
Lastly, sprinkle garam masala over the beef and stir in.
Serve as a side with Rice and Yoghurt based curries, Pathiri, Paratta etc…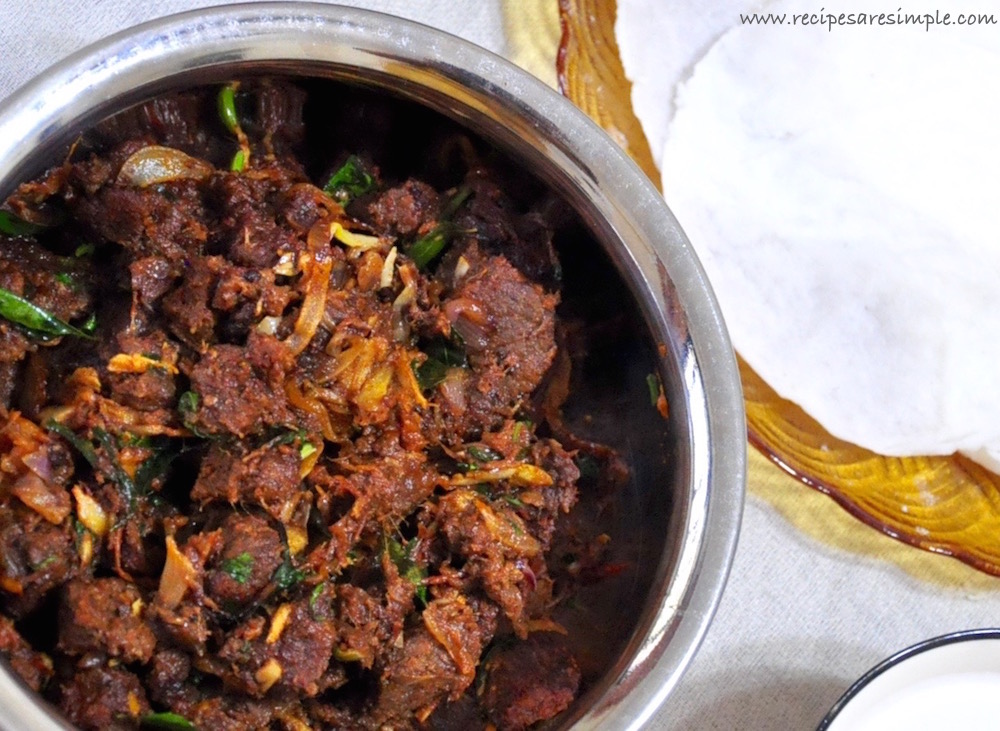 Beef Varattiyathu – Simple Kerala Recipe
You can add some chopped green chili while sautéing the shallots and curry leaves for a spicier Beef Varattiyathu.
This recipe is traditionally made in an earthen pot over a wood fire.
Key Ingredients: Beef, Onion, Ginger, Garlic, Tomatoes, Curry leaf, Cilantro, Spices, Coconut oil.
Let me know if you tried – Beef Varattiyathu – Simple Kerala Recipe. Comments from you provide motivation to keep up the driving force behind this blog, bringing you more delicious and perfected recipes regularly. Please do leave a comment. Love to hear from you.