20 August, 2013
Beef Stir-Fry (Hong Kong Style)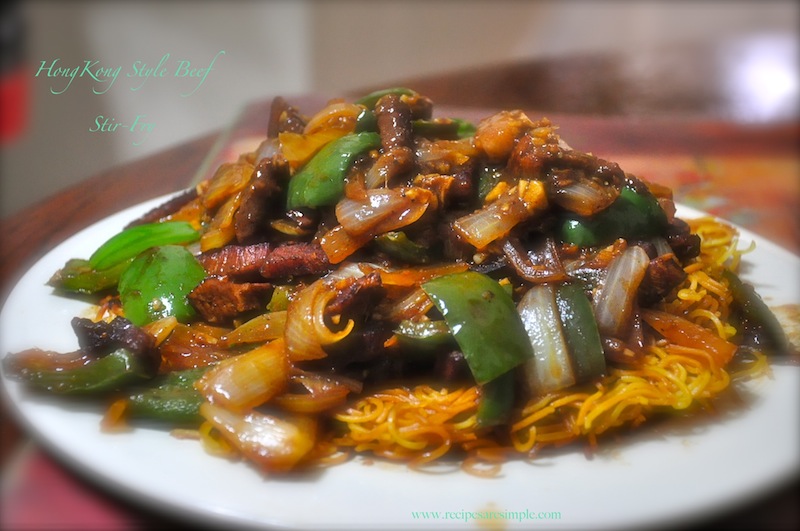 Beef Stir-Fry (Hong Kong Style)
This Hong Kong Style Beef stir-fry is a delicious peppery, savory and succulent preparation of beef with bell peppers. It can be served with plain white rice or breads. It can also be made into beef chow- mein by adding atop crispy noodles and sautéed vegetables of choice.

Beef Stir-Fry (Hong Kong Style)



Ingredients:
1 kg/ 2.2 Pounds (lbs) tender beef steak
¼ tsp  sugar
¼ tsp korean or asian sesame oil
2 Tbsp

DARK

soy sauce
2 Tbsp Chinese rice wine (Shaoxing)  

use worcester sauce if unavailable

2 Tbsp oyster sauce
2 tsp cornflour
¼ tsp

white

pepper powder
½ cup chicken broth/stock (

OR use half a bouillon cube mixed in ½ cups warm water 

)
Peanut or vegetable oil
2 tsp  fresh ginger
2 tsp  garlic, finely chopped
3 spring onions/scallions, cut into 2 ½-inch pieces (1 cup) or 1 large white/ yellow onion cut into squares or rectangles
2 green bell peppers/ capsicum cut into even sized pieces




Method:
Cut steak along the grain into 2 " strips.

Marinate the beef:

 in a bowl with with  the sugar, sesame oil, 1 Tbsp dark soy sauce, 1 Tbsp rice wine, 1 Tbsp oyster sauce, and 1 tsp cornflour. ½ hour.

Make the sauce:

In another bowl, Stir together remaining 1 Tbsp dark soy sauce, 1 Tbsp  rice wine, 1 Tbsp  oyster sauce, and 1 tsp cornflour with ¼ tsp white pepper powder and the chicken stock.
Drain the beef from the marinade and set aside.
Heat 3- 4 Tbsp in a large steel wok. Stir the wok to coat the sides with oil.
When smoking, add the Marinated beef and stir fry on high till cooked well. Remove with slotted spoon and set aside.
 To the same wok, add ginger and garlic and (

spring onion if using)

.→ Saute till softened.
(

Else if using white onion

)Add the white onion and stir fry as well till softened.
Add the bell pepper/capsicum and toss till just softened.
Stir the prepared sauce and add to the wok. Stir till thickened (about 2 minutes).
Return the beef and and stir to coat. Return mixture just to a boil, then pour over  rice or crisped noodles.
Serve hot.
Beef Stir-Fry (Hong Kong Style)
FOR MAKING Beef Chow Mein:
250 gms egg noodles
oil for frying
vegetables of choice; broccoli or spinach (like bok choy or choy sum)
Bring  unsalted water to a boil in a pot, then add noodles, stirring to separate, and cook 15 seconds.
Drain in a colander and rinse under cold water until noodles are cool, then shake colander briskly to drain excess water.
Heat wok on high & add ½ cup peanut/veg oil and heat until just smoking. Carefully add  the drained noodles all at once, flattening top to form a 9-inch cake. Cook until underside is golden, 4 to 5 minutes, rotating noodle cake with a metal spatula to brown evenly and lifting edges occasionally to check color. Carefully flip noodle cake over with a wide spatula then cook, rotating cake, until other side is golden, 2 to 3 minutes more. Transfer noodle cake to a large paper-towel-lined plate to drain excess oil.
Transfer drained noodle cake to a platter and loosely cover with foil to keep warm.
in the method given above for the stir fry, Before  adding the bell peppers, also add the other vegetables of  choice till tender.
Add the entire beef and veg mixture on top of the fried noodle cake and serve hot.
You may Also Like: