23 June, 2014
Beef Rendang – Rendang Daging – Cooked without Oil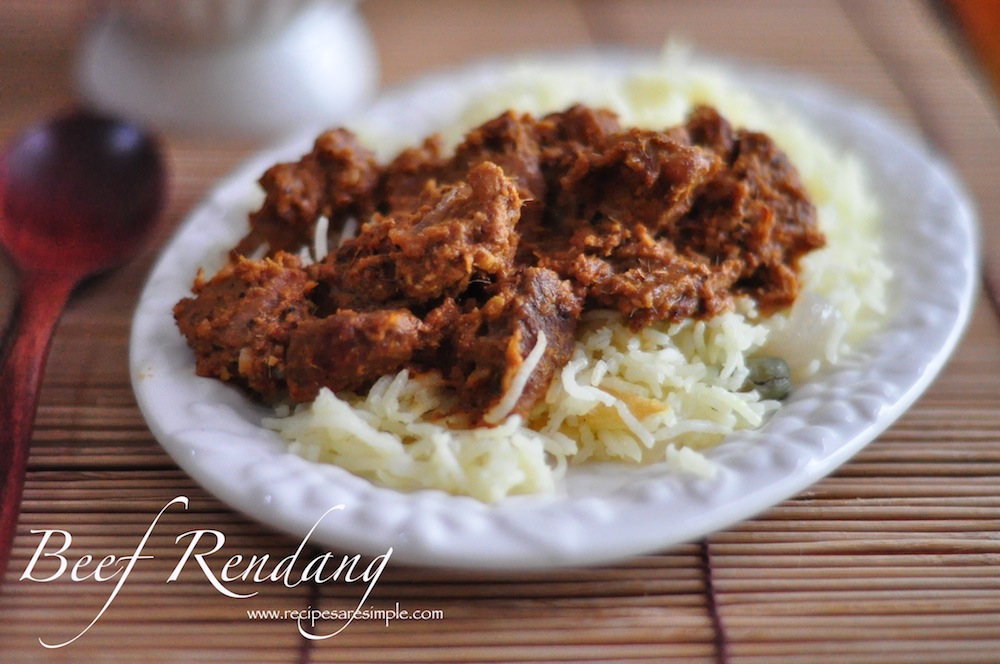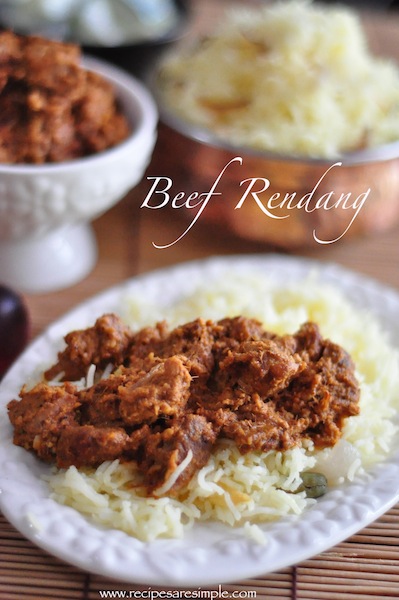 Beef Rendang – Rendang Daging
  This dish is very popular in Malaysia and Indonesia. Beef Rendang is a Curried Beef dish that is spicy, aromatic and consists of a coconut rich & thick gravy. Coconut milk is used to cook the beef very slowly. Fresh grated coconut is then dry roasted till golden, crushed and added to the curry. The curry is further cooked down and reduced to get a thick gravy coating the beef pieces. This recipe is a little lighter too as No extra oil is required. The coconut milk provides natural oil to cook and flavor the meat. ( Many times the ground paste is fried in an excessive amount of oil to bring out the flavors. Here however, we make use of a clay pot which helps to enhance the flavors without the additional oil)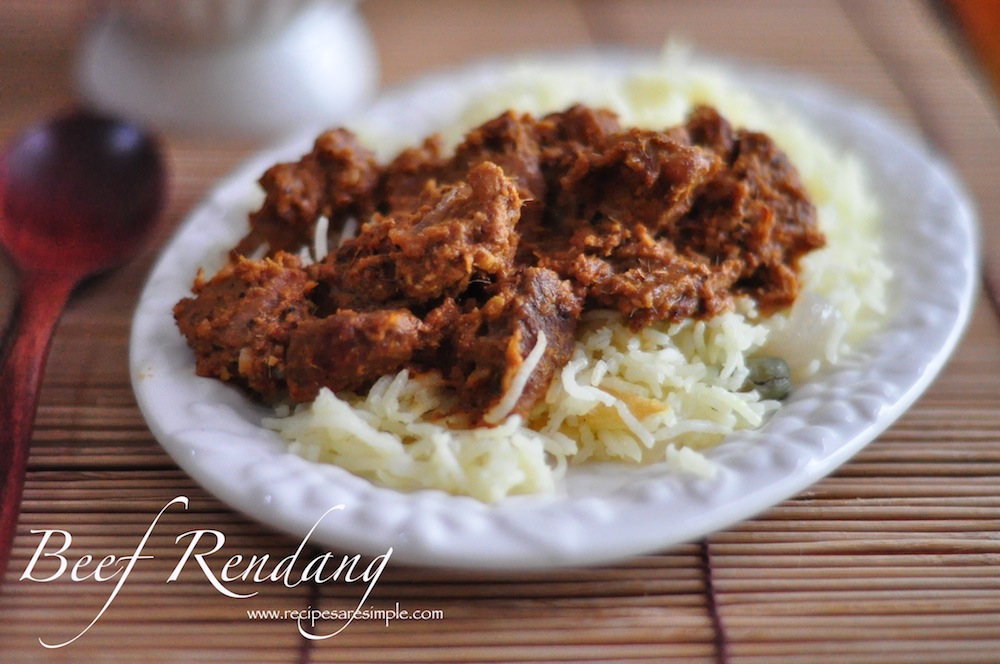 Beef Rendang – Rendang Daging
Recipe Type: Beef / Curry

Author: Recipes 'R' Simple

Prep time: 15

Cook time: 1 hour 15

Total time: 1 hour 30

Serves: 4 – 6
Ingredients:
600 gms beef, cut into small pieces
1 ¼ litre coconut milk – extracted from 3 cups of freshly grated coconut
½ cup extra grated coconut

for roasting and crushing
To be ground to a smooth paste (REMPAH):
12 dry red chillies – to be soaked
3 Tbsp Coriander Seeds
1 tsp fennel seeds
 1 tsp black pepper corns
4 stalks lemon grass
12 shallots
 1 large knob (around 3 Tbsp) fresh ginger
 1 large knob (around 3 Tbsp) galangal
salt to taste 1½ – 2 tsp
Method:
Soak the dry red chillies for 20 minutes in warm water to rehydrate them.
Cut the beef into bite size pieces. Rinse well and keep drained.
Extract the coconut milk by grinding the coconut with enough water in a blender till finely processed. Then squeeze through a muslin cloth or fine sieve to get the milk – 1 ¼ liters.
Remove the harder outer layers of the lemon grass and use only the tender stalk portion. Slice into rings.
Remove the soaked dry chillies from water and add to a small blender along with ALL the other ingredients to be ground. Process till you get a fine paste.
To an earthen pot, add the beef, all the coconut milk and the ground paste. Mix well.
Bring to a boil, then lower heat. Cover and cook on low heat for 1 hour till the beef is cooked. Add salt half way through this cooking process.
While the beef is cooking,

Add the remaining half cup of grated coconut to a non stick pan.

 (no oil needed). 

Dry roast this while stirring constantly to achieve a dark golden and uniform color. Use a pestle and mortar or small grinder to crush this  fried coconut well.

Add this roasted ground coconut to the curry and cook further 10 minutes or so, till the beef is very tender and there is a thick gravy coating left. Serve hot with some kind of rice (Nasi lemak,  Biryani Rice etc).
Beef Rendang – Rendang Daging
Try it and let us know – Beef Rendang – Rendang Daging .
You may also add kaffir lime leaves ( about 6-8 leaves) and a lime size ball of tamarind pulp to the simmering curry, for a more sour taste.

Some also like to add a Tbsp of sugar to add a sweet dimension to the curry. You can also use caramel soy sauce to sweeten.
3/4 of a leaf of turmeric, rolled up and shredded can be added to the simmering curry for another layer of flavor. Experiment with the flavors that you like.