12 March, 2017
Beef Kare Kare | Filipino Stewed Beef in Peanut Butter Sauce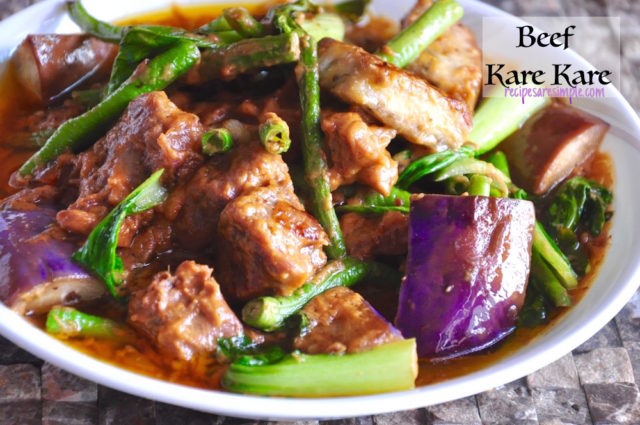 Beef Kare Kare is a rather unique way to cook beef. This Filipino dish combines stewed beef and  yummy stir fried vegetables with a delicious, taste-bud friendly sauce made of peanut butter and 'bagoong' – a sautéed dried shrimp paste! Sounds interesting? If you are a serious foodie, this is one dish that you must try out. If you like peanut butter, you will love it.
' Bagoong Guisado ' is a sautéed shrimp paste. This condiment is really quite tasty! Unlike Thai or Malaysian shrimp paste, it is sautéed, and comes in small bottles. You can even have it as a condiment along with your rice.
My filipina friend, Lyn tells me that I must add enough peanut butter to be able to taste it. It isn't supposed to be a hidden flavor.  Two other special ingredients are used in Kare Kare. One being the Banana Blossom. Although I love it, I didn't want that texture of the entire blossom affecting the smoothness of the dish so I used banana blossom flower that comes dried in packets. The second special ingredient, is Atsuete/ Annatto /Achiote Seeds. These seeds were introduced to Filipino cuisine by the Spanish and are often used as a natural coloring agent. The seeds have a mild peppery aroma, when fried, similar to sichuan pepper – I felt. They are also known as 'Poor mans Saffron ' and can help to give rice a yellowish color similar to the color imparted by saffron, but much cheaper! When fried in oil, as in the Kare Kare, they give a nice reddish color. The seeds however must be removed after frying as they taste bitter.
Quite a unique sounding dish. Wouldn't you say? It is quite yummy, I tell you .
Beef Kare Kare | Filipino Stewed Beef in Peanut Butter Sauce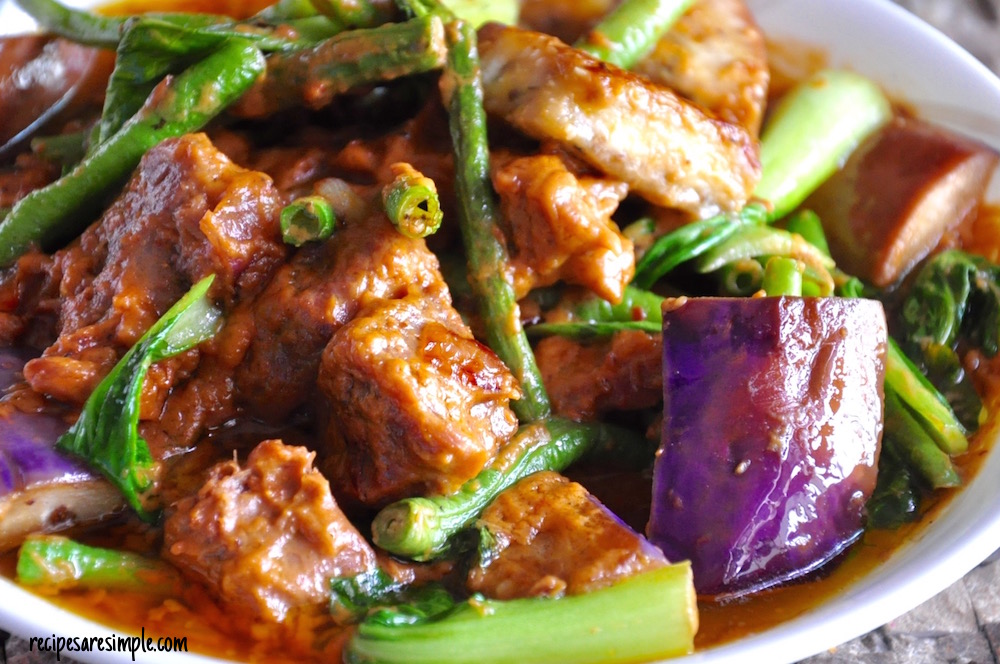 You are here: Quick Browse > Beef & Mutton > Beef Kare Kare (Introduction)
 

Recipe Name: Beef Kare Kare | Filipino Stewed Beef in Peanut Butter Sauce

Recipe Type: Beef/ Filipino

Author: Shana c/o Recipes 'R' Simple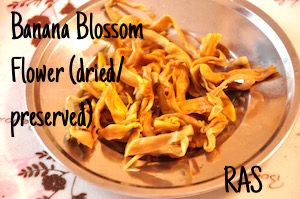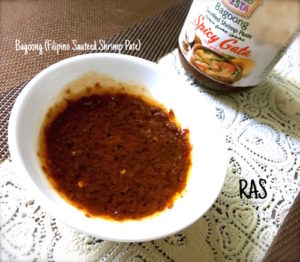 Key Ingredients: Beef, Peanut Butter, Bagoong(sautéed shrimp paste), Atsuete, Banana Blossom Flower, Long Beans, Eggplant, Bok Choy, Oil, Garlic, Onion, Pepper.
Let us know if you tried –  Beef Kare Kare | Filipino Stewed Beef in Peanut Butter Sauce .



Back to Quick Browse. Thanks for visiting www.recipesaresimple.com