4 March, 2014
Beef Hor Fun – Flat Rice Noodle Stir Fry with Beef in Dark Sauce
Beef Hor Fun – Flat Rice Noodle Stir Fry with Beef in Dark Sauce
Beef Hor Fun  – Or as my daughter calls it , 'Beef Orphan' is the loveliest dark sauced beef gravy on top of wide rice noodles. Mustard Greens or Spinach are added and the result is phenomenal. One of our favorite Noodle Dishes!
I watched my favorite Hawkers a dozen times to recreate this dish at home and now it's spot on, so I am sharing it with you! Enjoy.
Beef Hor Fun – Flat Rice Noodle Stir Fry with Beef in Dark Sauce
Recipe Type: Pasta/Noodles

Author: Recipes 'R' Simple

Prep time: 

Cook time: 20

Marination time: 30 mins

Total time: 

Serves: 3- 4
Ingredients:
600 grams good quality beef, sliced thinly (against the grain) into strips.

I buy pre packaged Beef Knuckle Slices for this – job made easier.

2 Tbsp Vinegar 

– to rinse the beef.

600 gms  

FRESH

Wide Rice Noodles.

Ask for Hor Fun Noodles at your Asian Wet Market. Regular Rice noodles / Kway Teow may be substituted but the fresh Hor Fun noodles are wider offering better texture alongside the beef.

400 gms chopped Mustard Greens/ Sawi Spinach
1 large stalk of spring onion/ scallion whites and greens – chopped
5 round slices of ginger
5 large cloves of garlic, sliced
3 Tbsp oil or more to swirl around the wok.
For the Marinade:
3 tsp ginger juice :

Crush/smash/grind  ginger without water and squeeze out the juice.

1 tsp salt
1 tsp light brown sugar
1 tsp soda bi carb (baking soda)
1 tsp asian sesame oil
1 tsp sunflower oil
Sauce For the Noodles:
1½- 2 Tbsp Light Soy Sauce.
2 Tbsp Water
Sauce for the beef gravy:
3 tsp light soy sauce
3 tsp dark soy sauce
2 tsp oyster sauce
½ tsp light brown sugar
1½ – 2 tsp knorr seasoning powder or Hao Chi Or Your Favorite seasoning powder
½ cup/ 10 Tbsp water
5 tsp cornstarch/ cornflour
Method:
Remove the fresh noodles from the packet, gently and place in a large bowl.
Rinse under running water adding some warm water to the bowl occasionally. Use fingers to gently separate the noodles and wash away any greasy residue. (do not soak the noodles in hot water- rememeber they are already cooked)
Drain the noodles and set aside.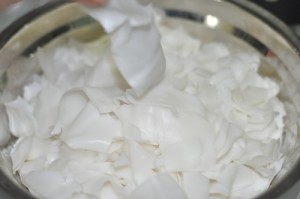 Rinse the sliced beef very well, many times. Add the vinegar and scrub well into the beef (this helps to remove any unpleasant beefy smell ). Rinse again and leave to drain for 10 – 20 minutes.
Marinate this beef with the ingredients for marinade and leave at room temperature for about 30 minutes.

(If you intend to leave it longer, keep refrigerated)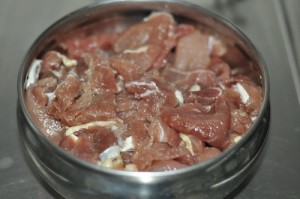 Chop the ingredients: ginger garlic and spring onion and prepare the sauce for the beef.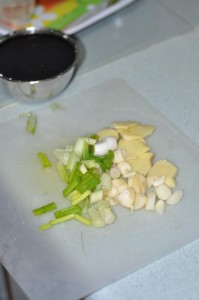 Rinse the Greens well. Remove the thick part of the mustard green and slice lengthwise or keep whole, separate the leaves.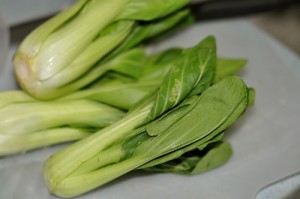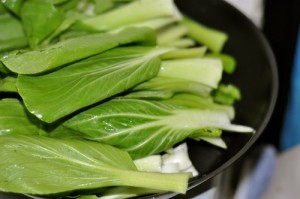 Mix the water and light soy sauce for the noodles together in a small cup and set aside.
Bring water to a rolling boil in a large pot.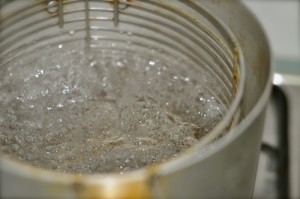 Add the beef and Boil/Scald for 5 minutes. Drain and set aside.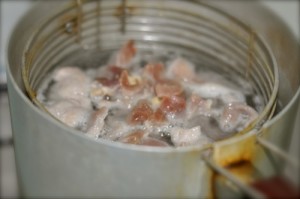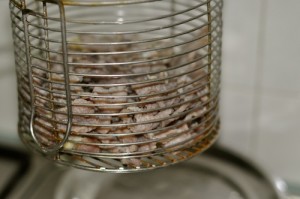 Heat sufficient amount of oil in a large wok. You need to be able to swirl around the entire wok and the sides.
You can remove some of the oil, once completely coated. Leave 2 Tbsp in the wok.
Add the noodles to the HOT wok and toss quickly around in the wok.

(If your wok is too small, it's better to do this step in batches).

Toss gently to coat the noodles completely with a layer of oil on high heat for 2 minutes.

The noodles should not stick. If they do, you need to drizzle in some more oil.

Add the water and light soy sauce mixture for the noodles and toss till coated. Remove to a serving dish.
In the cleaned out wok, add 1 Tbsp oil and heat on high.
Add the greens and toss for 30 seconds  or so till tender. Remove and set aside.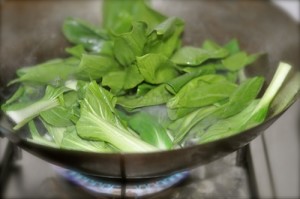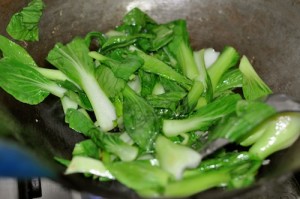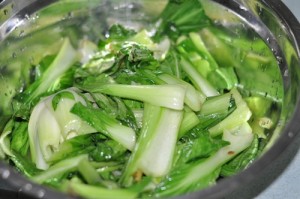 Heat 1 Tbsp of oil in the wok again and add the chopped ingredients.
Saute for less than a minute and add the marinated beef. Toss well and fry till slightly browned  about 3 minutes (Toss continuously).
Add the sauce mixture for the beef

( stir once before pouring to get the corn flour mixed properly).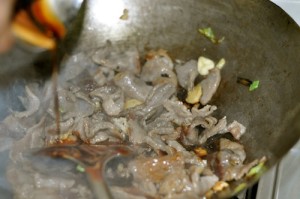 Allow the sauce to simmer and the beef to get tender.
Add a few drops of sesame oil and a few drops of oil to add glossiness. (Add water to adjust gravy to liking and adjust seasoning)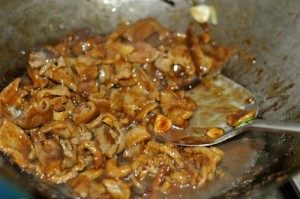 When beef is tender, Pour over the plated noodles along with the greens.
Serve Hot!!! Enjoy.
Beef Hor Fun – Flat Rice Noodle Stir Fry with Beef in Dark Sauce
Try it and let us know – Beef Hor Fun – Flat Rice Noodle Stir Fry with Beef in Dark Sauce.
You may add bean sprouts (fresh) to the cooked beef.
Some like to add a dash of fish sauce to the noodles.
Dried Broad rice Noodles may be used but fresh is preferred.