14 February, 2013
Beef Burger with Mushrooms Recipe – Delicious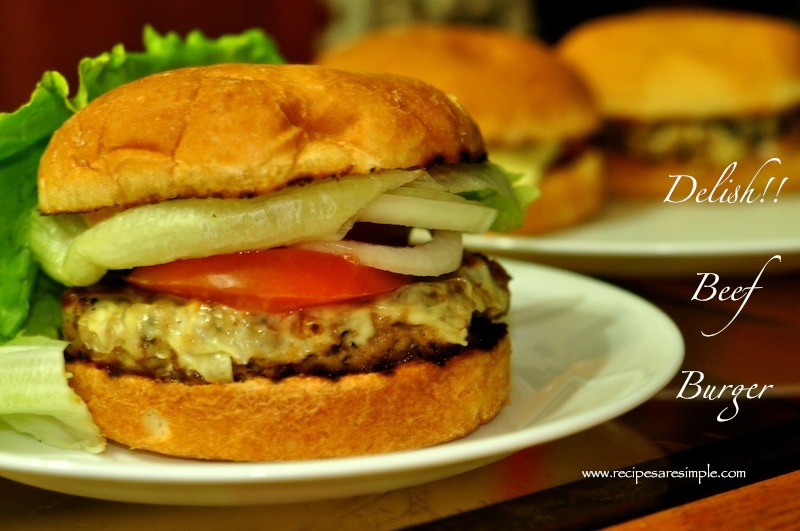 Beef Burger with Mushrooms –  patties is quite easy to make at home and  very  very Tasty!
What is it about a burger that gets our tastebuds to experience such a thrill anyway? The juicy, warm and succulent patty? It's the whole package – the fresh crunchy lettuce and onion, the tomato and dill pickles, the slathering of tongue tickling sauces.
We loved our Burger King and Wendy's till we had to go somewhere for a while where it was hard to find a good burger!
So it came to me in my kitchen trying to come up with the perfect Burger that was easy to make as well. Now my family asks me for this burger  regularly. These days a good Burger is easy to find in most countries, but sometimes nothing can beat a yummy, juicy and FRESH home made burger! Try making your own patties and freezing them for use during the week. Kids will love these burgers when they come home from school
You might also like my other burger recipes:
Beef Burger with Mushrooms Recipe – Delicious

You are here: Home > Beef Recipes  > Beef Burger with Mushrooms
 

Recipe Name: Beef Burger with Mushrooms 

Recipe Type: Sandwiches / Burgers

Author: Shana c/o Recipes 'R' Simple
Key Ingredients: Beef, Bun, Mushroom, Onion, Lettuce, Tomato, Pickle, Mayonnaise, Ketchup, Mustard, Egg, Garlic, Nutmeg, Pepper, Oil, Salt.
Leave a comment if you tried – Beef Burger with Mushrooms .


Thanks for visiting www.recipesaresimple.com