1 April, 2013
Beef And Potato Stir Fry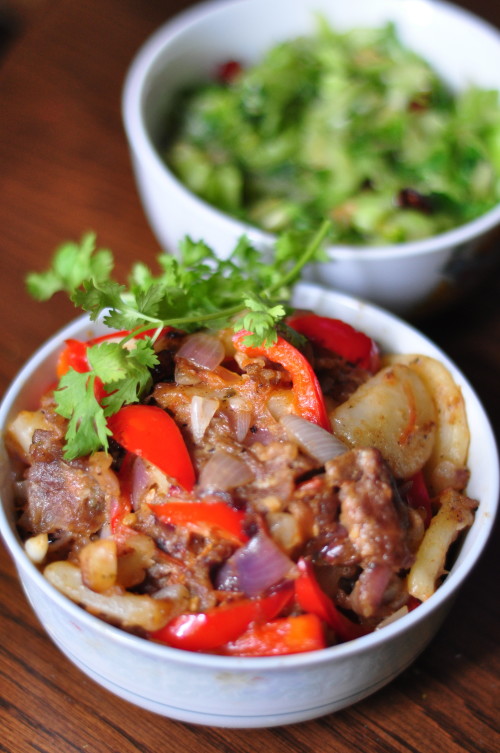 Beef And Potato Stir Fry
A simple hearty dish that is great served with steamed white rice!

Beef And Potato Stir Fry



Ingredients:
1 kg beef washed, cleaned cut into small pieces
15 gms ginger
2 long green chillies, deseeded
1 tsp pepper
1 tsp vinegar
2 large potatoes
2 medium onionssliced into squares
10 cloves garlic
2 tomatos
1 Tbsp cornflour
1 ½ Tbsp  plain flour
1 or more tsp soy sauce
1 or more tsp green chilly sauce
½ cup celery leaves ,finely chopped
1 medium green bell pepper/capsicum ,sliced
salt to taste




Method:
Cook the beef with ginger, green chilly, pepper, vinegar and salt with just enough water to be absorbed by beef. Cook till tender. (You may use a pressure cooker)
Boil the peeled potatoes till ¾ done. Cut into bite size pieces.
Fry the sliced onions in very little oil till golden. Set aside.
Same pan, Add the cooked potato and fry till light golden. Set aside.Wipe pan clean.
Add cornflour and plain flour to the beef and mix well.
To the same pan, add very little oil and fry this beef till lightly golden as well. Set aside.
Now fry the garlic till light golden and add the tomatoes and stir till cooked dry.
Return all the fried ingredients, capsicum and celery to the pan along with the sauces and stir fry well.
You may garnish with chopped cillantro/corinader or spring onion.
Beef And Potato Stir Fry