14 April, 2014
Banoffee Pie – No Bake Banana Cream Pie with Caramel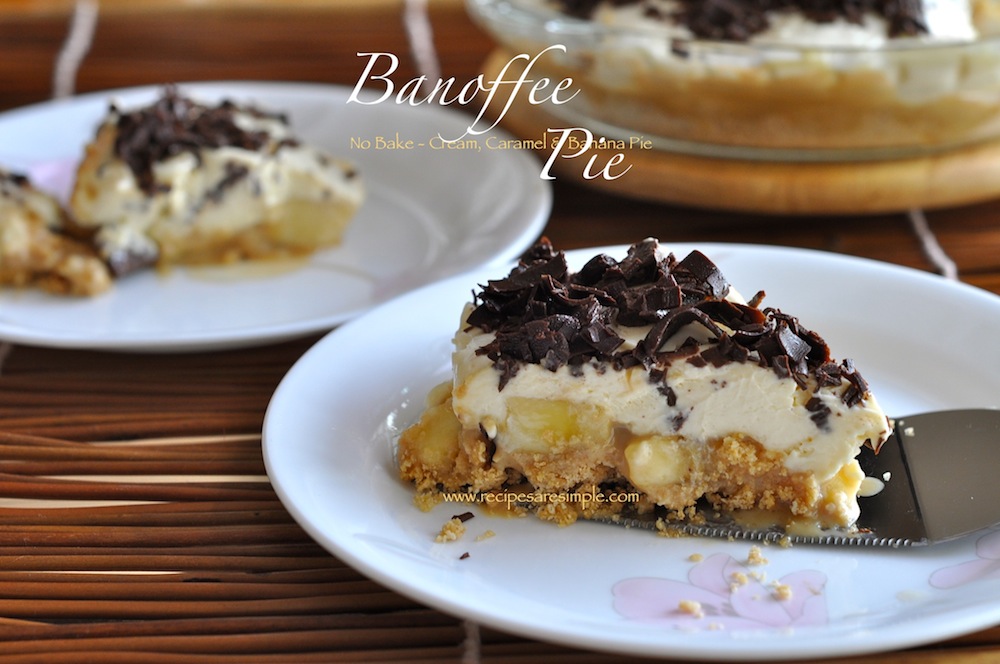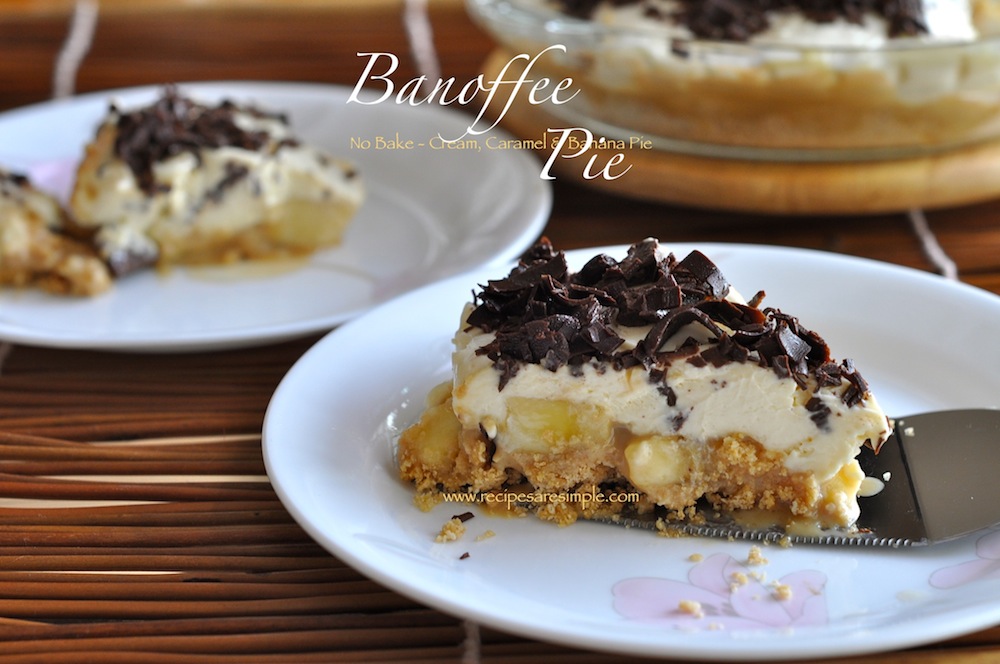 Banoffee Pie – No Bake Banana Cream Pie with Caramel
This Banoffee Pie is arguably the Best Dessert out there. Considering the minimal effort that goes into this scrumptious pie – the end result is Incredible. Dark chocolate, sprinkled over Delicious Whipped cream, covering a layer of perfect sliced bananas, all on a chilled crumb base. Banoffee pie – sound good?
I like to make the 'Dulce de leche' (Caramel Sauce made from a can of condensed milk) ahead of time. If you can get ready made Dulce de lece, you can use that instead .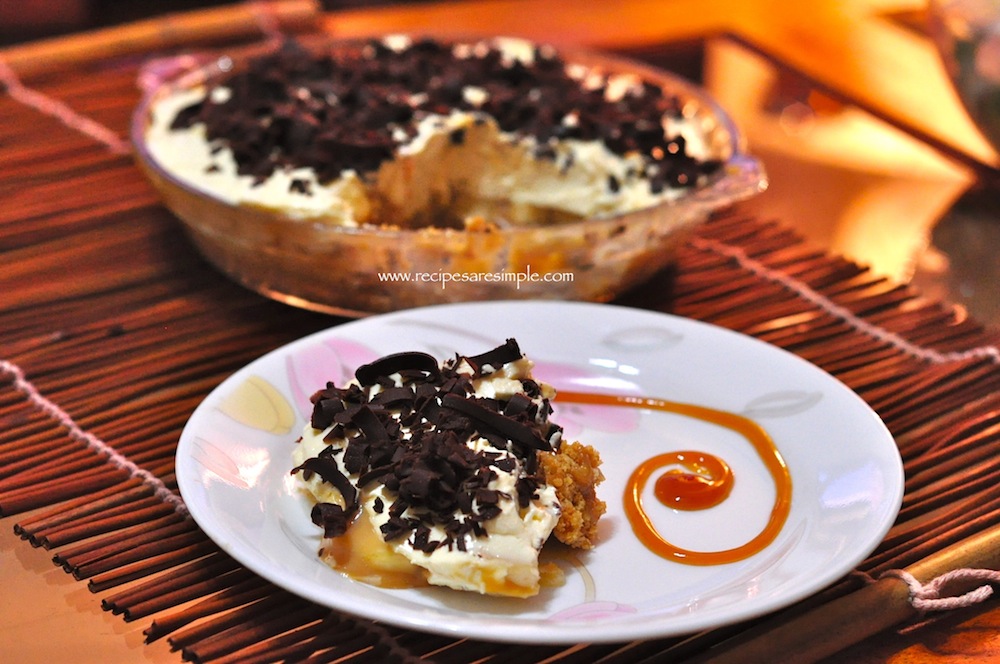 Banoffee Pie – No Bake Banana Cream Pie with Caramel
Recipe Type: Dessert

Author: Recipes 'R' Simple

Prep time: 

Chill time:  20

Total time: 

Serves: 6

Ingredients:
around 18 digestive biscuits- I use this brand of Marie Biscuits.
 3-4 Tbsp of Melted Butter
2-4 sweet, firm bananas – 

varies according to size of bananas.

2-3 Tbsp of Dulce de lece –

See how to make Dulce de leche in the video.

1 carton of

thick

all purpose cream – to be whipped with a little icing sugar and vanilla flavor (See video  on how to make whipped cream for desserts)
1 Bar  of dark chocolate

– really : use dark and not milk chocolate!




Method:
 Make the Dulce de leche ahead of time (

if you don't have ready made

). The process is shown in the video as well as in the post – Dulce de Lece Recipe.
Crush the biscuits to a  'grainy crumb' texture in a food processor.

(Or put in a zipper bag and crush with a rolling pin till you get the same effect)

Dump these biscuit crumbs into a bowl (or straight into the pie dish) and pour in the butter (nicely melted). Mix till the crumbs are uniformly  buttered.
Add the crumbs to the pie dish. and press evenly on the base. Use a good spatula or the back of a spoon. Make sure the crust is even especially around the edges.
Place this in the fridge for 10-15 minutes. The crust should be hardened by then.
Slice the bananas to 1 ½  cm slices and completely cover the crumb crust in a single layer.

If you like, you can place slices all around the edge as well ( vertically).

Dollop the dulce de leche over the bananas and spread so that it's evenly distributed.
Spread whipped cream

(lightly sweetened and flavored with vanilla)

 on top with a spatula. Watch Whipped cream video. 

( see note)

.
Use a  vegetable peeler to grate the chocolate into chocolate curls and sprinkle all over the pie.
Chill covered, for at least 20 minutes or till served.
Banoffee Pie – No Bake Banana Cream Pie with Caramel
Try it and let us know – Banoffee Pie – No Bake Banana Cream Pie with Caramel.
A thin layer of 'Dulce de lece' is preferred to reduce sweetness but really does make this dessert special so better not omit it.
I preffer to use a thick all purpose cream that comes in a carton like Nestle for this as opposed to whipping cream cartons

available in the cold section

of your supermaket. It always sets nicer for this dessert. This type of carton is sold in regular supermarket aisles and not refrigerated.