12 October, 2016
Banana Pudding with Custard Powder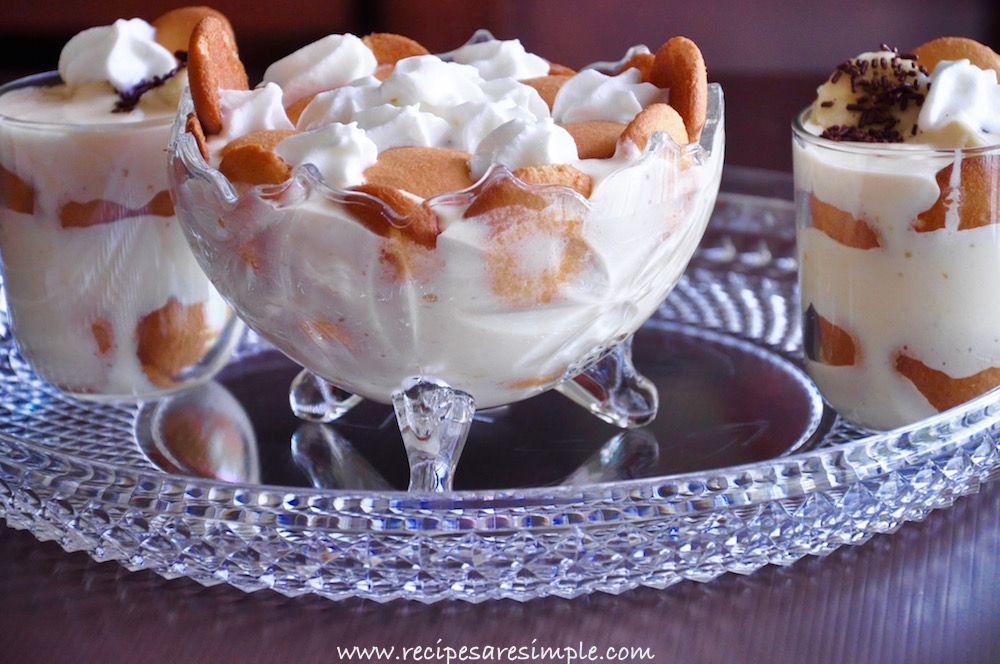 Banana Pudding with Custard Powder (with slideshow)
This Banana Pudding with Custard Powder is a perfect sweet dessert made by layering Vanilla wafers, Sliced banana, Whipped Custard-Cream-Cheese and topped with a little fresh whipped cream.
Banana Pudding is another one of those famous Southern American Favorites that just seems 'timeless'. The older versions used sponge cake in place of the Vanilla Wafer Biscuits. Along with time, the famous recipe was changed a bit here and there with some variations even calling for a meringue top and thus requiring baking time. Nabisco made the use of 'Nilla' wafers, commonplace in the making of this Favorite dessert. Seems like everyone is looking for the easiest way to make it, some recipes call for Jello Brand Vanilla Pudding Mix and Whipped Cream from a Can! This recipe makes an easier custard using Birds Brand Custard Powder.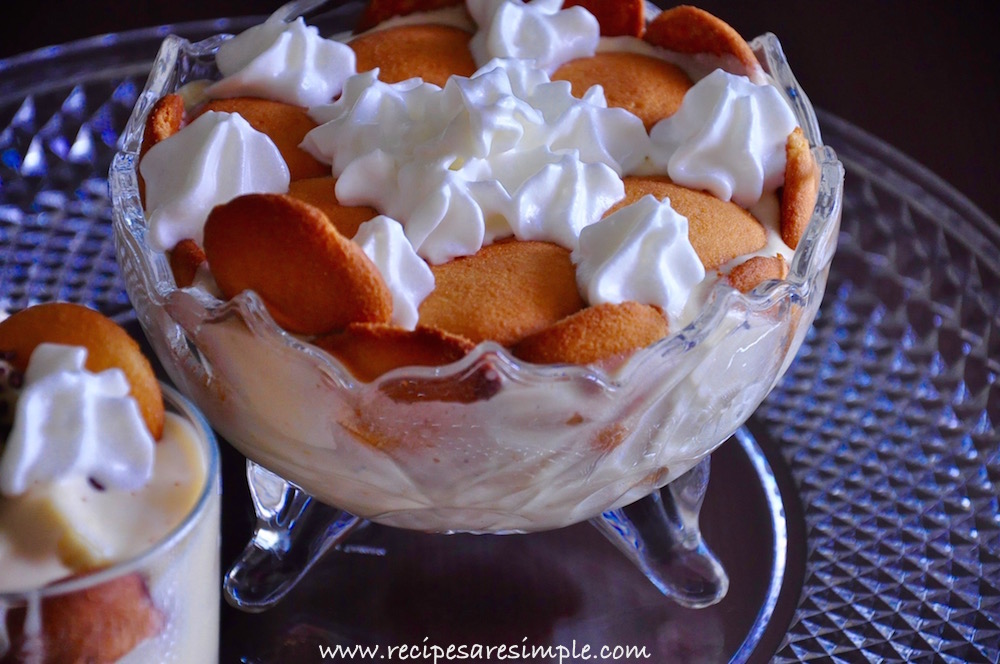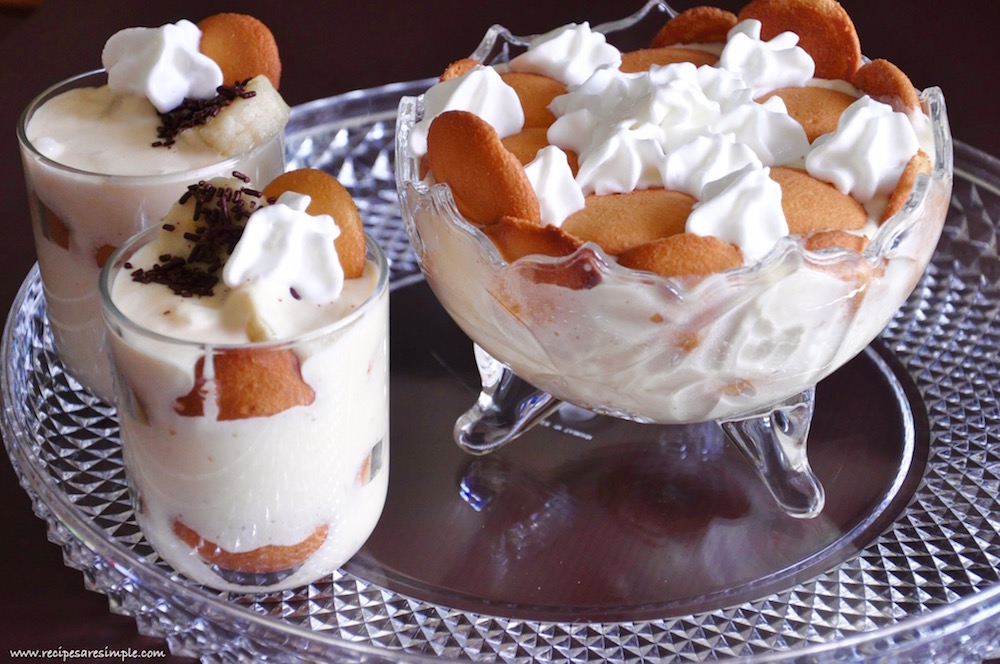 Banana Pudding with Custard Powder
You are here: Home > Desserts  > Banana Pudding with Custard Powder
 

Recipe Name: Banana Pudding with Custard Powder

Recipe Type: Desserts / American

Author: Shana c/o Recipes 'R' Simple

Chill time: 6 -8 hours
Ingredients:
4 tbsp birds custard powder, 3 Tbsp sugar
500 mls mik
2 tsp vanilla extract200 gms cream cheese (like Philadelphia cream cheese) – softened 
3 Tbsp sweetened condensed milk
1 Tbsp icing sugar/ powdered sugar / confectioners sugar
1 pk nilla wafer (see notes)
4-5 bananas
Method:
Put the custard powder and sugar into a small cup or bowl.
Measure out the milk (500 ml). From this take 4 Tbsp and mix it with the custard powder (4 Tbsp). Stir well and make sure it is lump free.
Pour the remaining milk into a saucepan and bring to heat. Just before it comes to a boil, pour some of the hot milk into he custard-milk solution and stir.
Pour this mixture back into the sauce pan and stir continuously on low-medium heat till the custard thickens (about 2 minutes).
Allow to cool completely.
Make sure the cream cheese is softened at room temperature.
Add the softened cream cheese to a mixer and beat till fluffy.
Add the cooled custard  (which would have thickened even further after cooling) and continue beating till smoothly incorporated.
Add the condensed milk and beat again. Set aside the whisked custard- cream.
In a separate bowl, whisk the 'chilled' whipping cream in a cold bowl with 1-2 Tbsp of icing sugar till nice and stiff.
Fold half of the whipped cream into the custard mixture quickly, without overworking the mixture. Reserve remaining whipped cream for decorating the top.
Line a trifle bowl or mini bowl or mason jars for individual servings, with the vanilla wafers. Top with a layer of freshly sliced banana.
Cover with a layer of  the prepared custard cream mixture. Repeat layers till you reach the top. Pipe the remaining whipped cream over the top and garnish with sliced banana and more wafers.
This pudding must be chilled for a good 6-8 hours to allow the wafers to get softened and the custard to set well.
In our house, we love some broken pieces of chocolate or sprinkles on top! And I particularly love a little lemon zest over the top… YUM!
Enjoy!
Birds custard powder
and sugar…
Mix with some of the measured milk
Stir till lump free.
Heat Milk.
Add to custard powder solution.
– Stir.
Bring remaining milk to boil and add the loosened custard solution
stir….
till thickened.
Add vanilla extract – allow to cool.
Cream Cheese,
whisked till fluffy.
Add cooled custard
and condensed milk.
Whisk till smooth.
Whipping cream (chilled),
Whisk with icing sugar,
till stiff.
Fold into custard mixture
Do not over mix.
Layers— Nilla Wafers
Banana Slices
Cream
Repeat till top
Top with piped whipped cream, wafers, banana slices, and lemon zest or choice sprinkles!
Banana Pudding with Custard Powder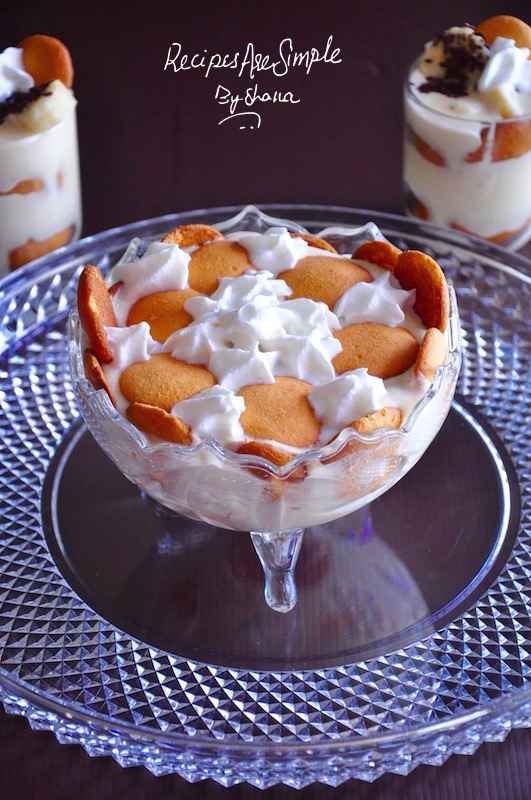 Key Ingredients: Custard Powder, Banana, Milk, Sugar, Cream Cheese, Condensed milk, Vanilla, Vanilla Biscuit, Whipping Cream.
Leave a comment if you tried – Banana Pudding with Custard Powder.