10 October, 2014
Banana Cake – Banana Loaf Cake with Walnuts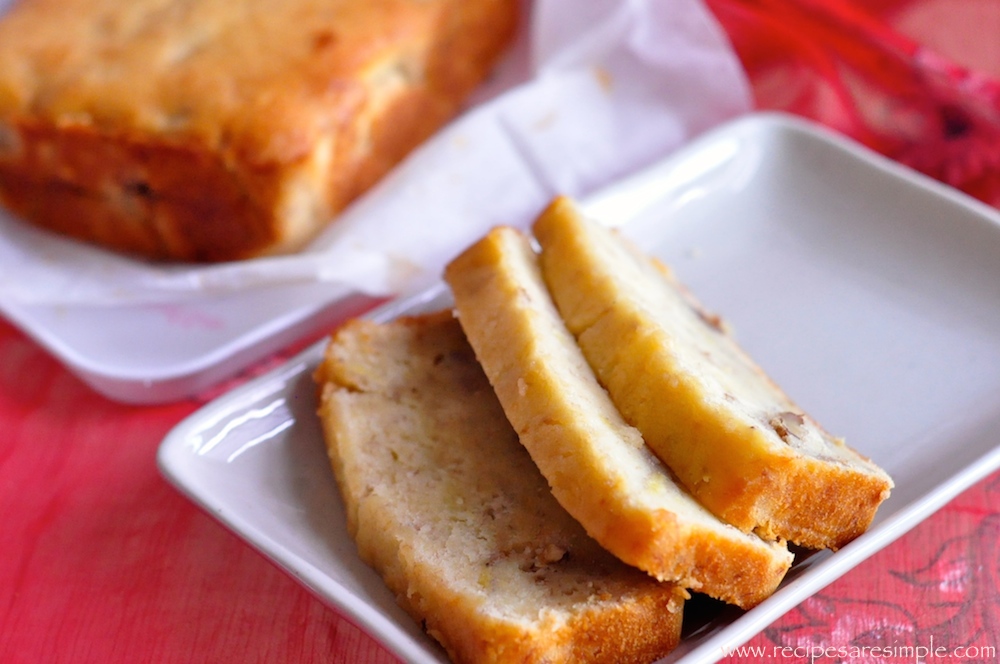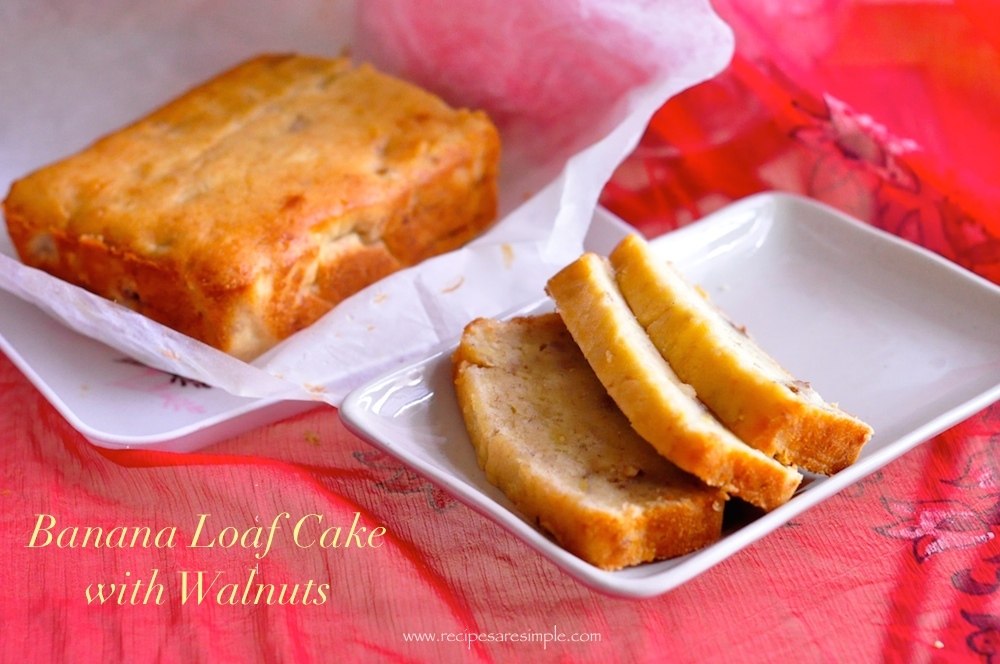 Banana Cake – Banana Loaf Cake with Walnuts
  This is the perfect way to use up those over ripened bananas that no one wants to eat..  Banana Cake – Banana Loaf Cake with Walnuts is made with plain wheat flour with the addition of a little bread flour.  You could use all wheat flour, but the texture might be a little more dense. So easy and so fast to pop into a preheated oven, filling the room with the loveliest 'home baking' aroma!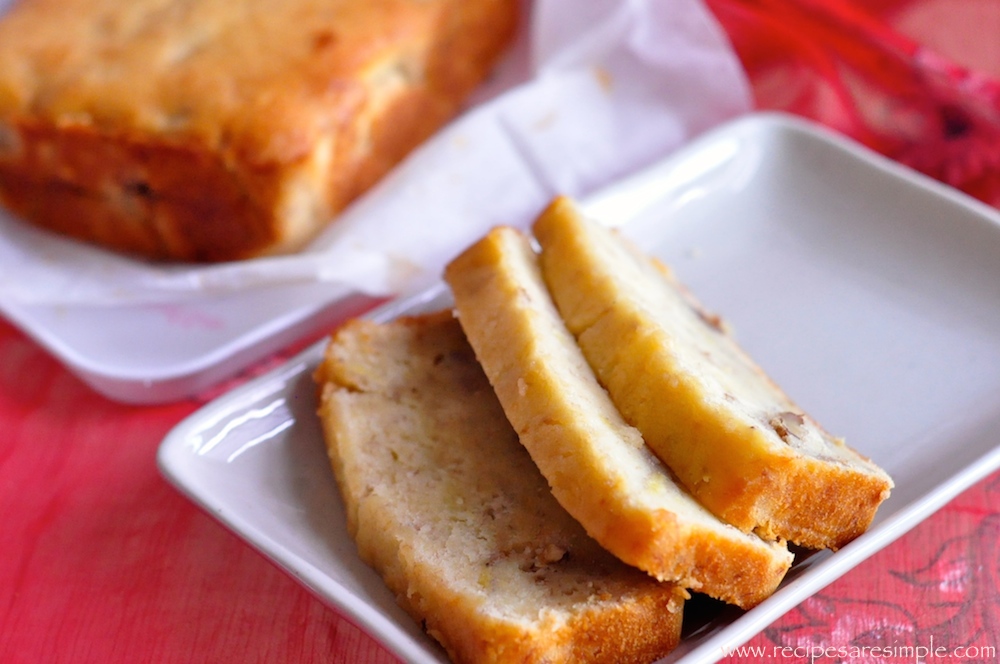 Banana Cake – Banana Loaf Cake with Walnuts
Recipe Type: Dessert / Cakes

Author: Recipes 'R' Simple

Prep time: 10

Cook time: 1 hour 20

Total time: 1 hour 30

Serves: 8
Ingredients:
¾ cup fine grain sugar
½ cup / 4 oz /1 stick butter – softened
2 large eggs, at room temperature
1 cup plain wheat flour
½ cup bread flour
1 tsp salt
1 tsp baking powder
1 ¾ cups very ripe bananas, nicely mashed
1 tsp vanilla extract
½ cup whisked yoghurt
½ cup walnuts, chopped
extra butter for greasing the loaf tin
Method:  (scroll down for pictured steps)
Preheat oven to 350 º F / 176.6 º C
Add the sugar and softened butter to a mixer bowl. Use hand held or stand mixer to whisk on medium speed till  creamy.
Add the eggs and continue to whisk at higher speed till very light and fluffy.
Add the dry ingredients ( wheat flour, bread flour, salt and baking powder) to a bowl. ( either sift it, or use a whisk to incorporate well)
Add the flour mixture a little at a time to the mixer on low speed, scraping down the sides just till all the flour is added.
Now use a spatula and fold in the flour till it is mixed through.

(Do not use electric beater for this stage – we don't want to over beat it).

Add the mashed banana, vanilla extract  as well as the whisked yoghurt.
Fold in to incorporate well, without over mixing.
Grease a loaf tin. Line with wax paper so that the paper flows over the edges.

(This helps to lift up the loaf, later)

Pour in the batter and level with a spatula gently. Tap on the counter top  a couple of times.
Place in preheated oven and bake for 1 hour and 20 minutes ( may vary from oven to oven). A toothpick inserted in the centre should come out clean.
Leave inside the loaf tin for 10 minutes and then invert onto a wire rack to cool.
Serve alone or with  chocolate ice-cream!!!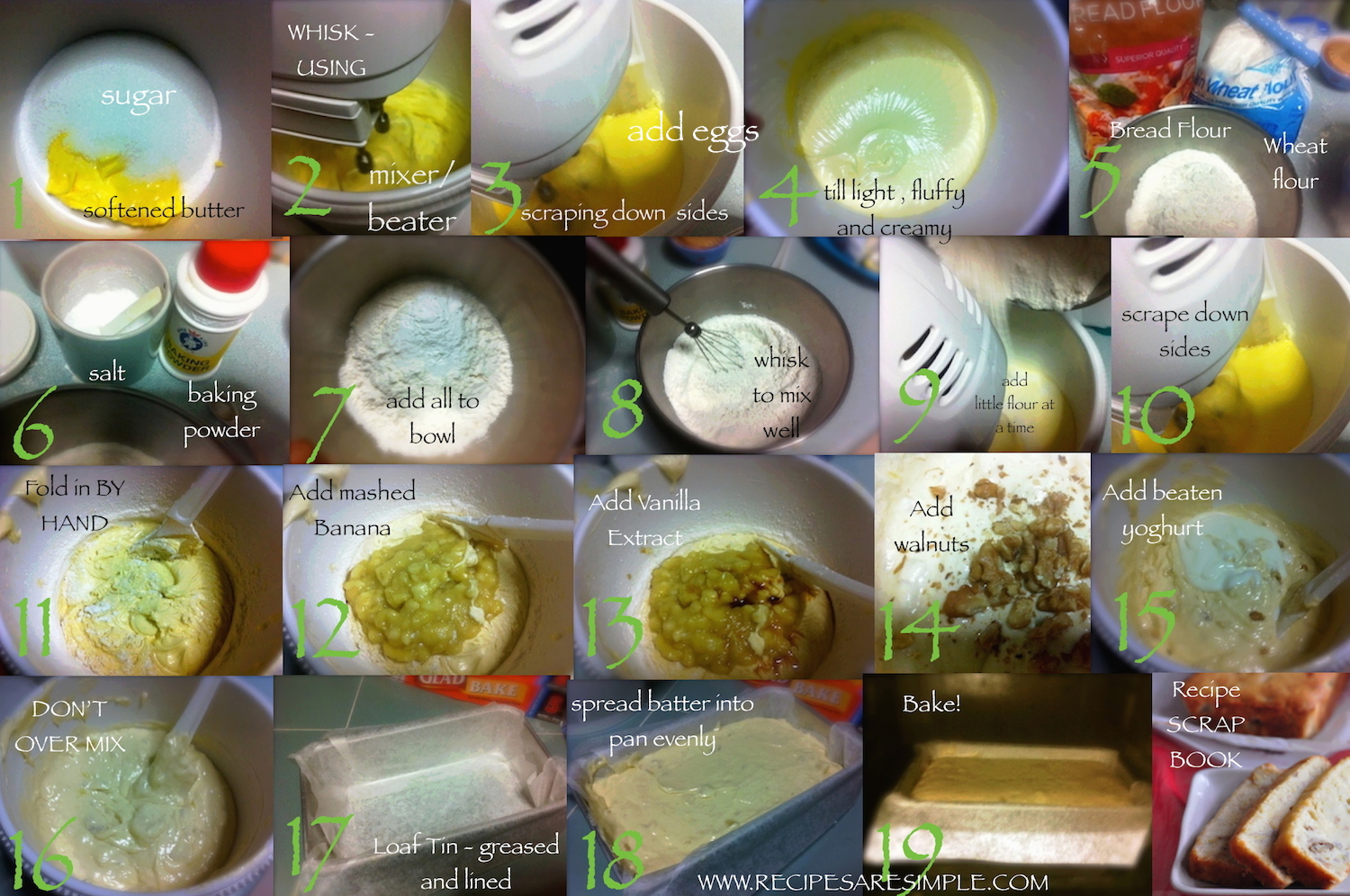 Banana Cake – Banana Loaf Cake with Walnuts
Try it and let us know – Banana Cake – Banana Loaf Cake with Walnuts .
The walnuts  can be replaced with cashew nuts or pecans as well.
To soften the butter leave outside at room temperature till it is creamy. ( Do not microwave to melt it) .
Instead of nuts you could use dark chocolate chips.
If you find the tool is browning too fast, cover loosely with aluminum foil so that  the top is protected from the heat, while at the same time having room for steam to escape