4 October, 2014
Baked Salmon with Balsamic Honey Glaze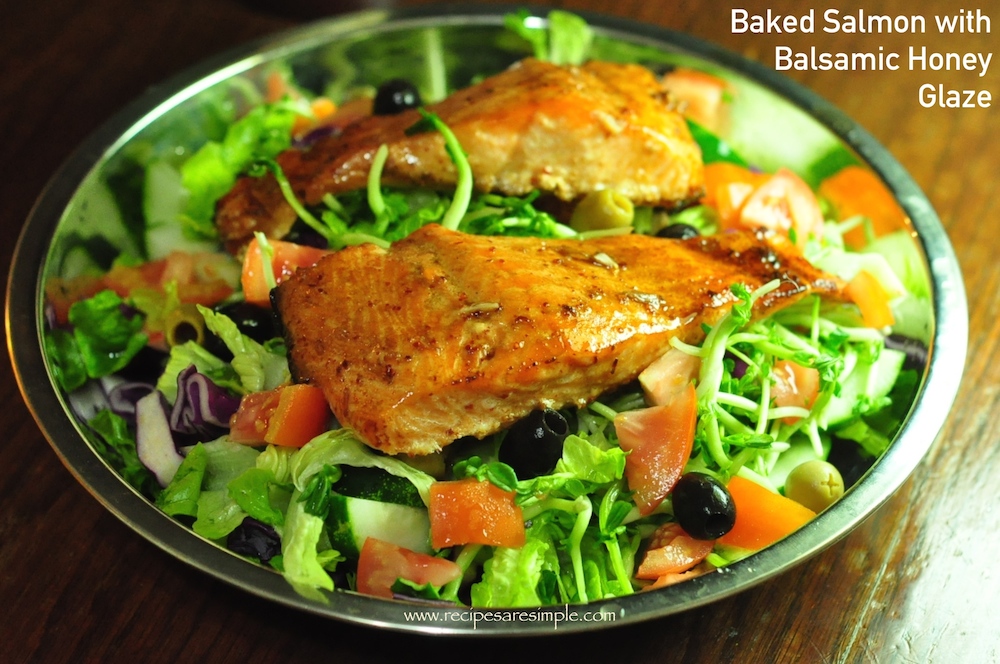 Baked Salmon with Balsamic Honey Glaze
By Manisha Patel
  This 'Salmon with Balsamic Honey Glaze' is Juicy, Tender …. Delicious! I have a seven year old who simply loves it! Best thing about this healthy Omega 3 Rich Meal is that is so easy to get on the table. Great served with a fresh Salad and Rice.  The Glaze  acts as a marinade for the fish as well as a Dressing for the Salad!  Try it. You'll love it!
The glaze consists of Balsamic Vinegar, Soy Sauce Honey, Sesame Oil, Garlic and Hot Chilli Flakes to taste. It can be used with Poultry as well. Thanks to My Sister in Law for the  new recipe.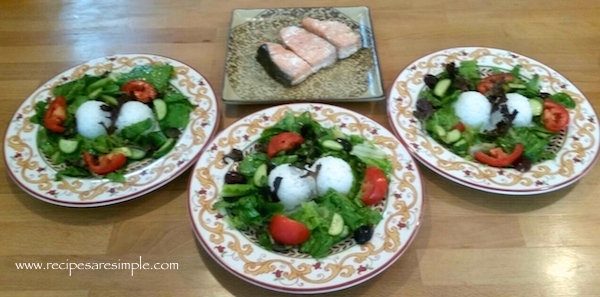 Baked Salmon with Balsamic Honey Glaze
Recipe Type: Fish / Seafood

Author: Recipes 'R' Simple

Prep time: 5

Cook time: 20

Total time: 25

Serves: 6
Ingredients:  The recipe may be doubled as required
2 Salmon fillet portions with skin on

(

approximately 200 gms each)
For the Balsamic Honey Glaze:
¹⁄8 cup light Soy Sauce
1 ½ Tbsp Balsamic Vinegar
½ Tbsp Honey
a little less than ½ Tbsp Asian Sesame Oil – 

the toasted variety

¼ tsp hot Chili Flakes – optional but helps gives a lovely Mahogany finish to the fish while kicking it up a notch.
1 clove Garlic, minced
To serve with:
Fresh salad consisting of different varieties of chopped lettuce, greens, green pea sprouts, cucumber, purple cabbage, tomatoes, olives and walnuts or pine seeds if desired. Use your favorite combination.
Rice or Flatbreads
Method:
Preheat oven to 200 ºc / 392ºF
Whisk together all the ingredients under 'Marinade' in a cup. Allow to sit briefly.
Rinse and pat dry the Salmon fillets.
Line a baking dish with with aluminum foil ( less cleanup ).

Place the fillets skin side down.

Pour about half the marinade sauce over the salmon to coat thoroughly.
Place in the oven and bake for 15 – 20 minutes depending on how 'done' you like it.

Personally we like it with a slight golden finish on top.

Be sure to open the oven and brush over the glaze from the bottom of the dish occasionally while baking (3-4 times).
Serve with the fresh salad and your choice of rice or flatbread. Drizzle the marinade as a dressing over the salad.
Enjoy – and do let us know if you tried it!  🙂
Baked Salmon with Balsamic Honey Glaze
Try it and let us know – Baked Salmon with Balsamic Honey Glaze.