6 April, 2013
Baked Kibbeh Potato | Lebanese Baked Mince and Potato Pie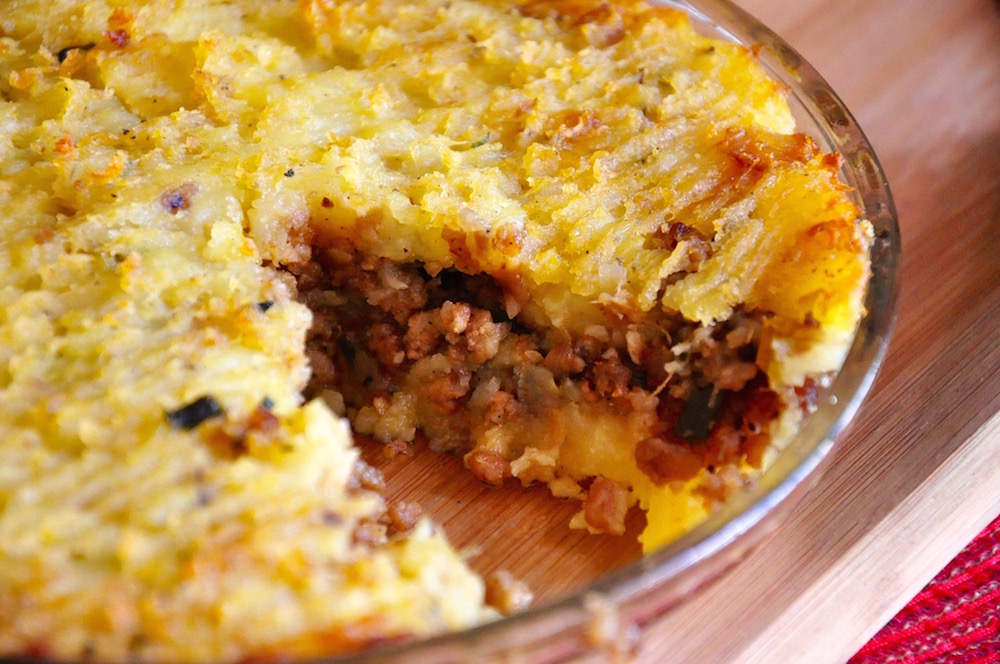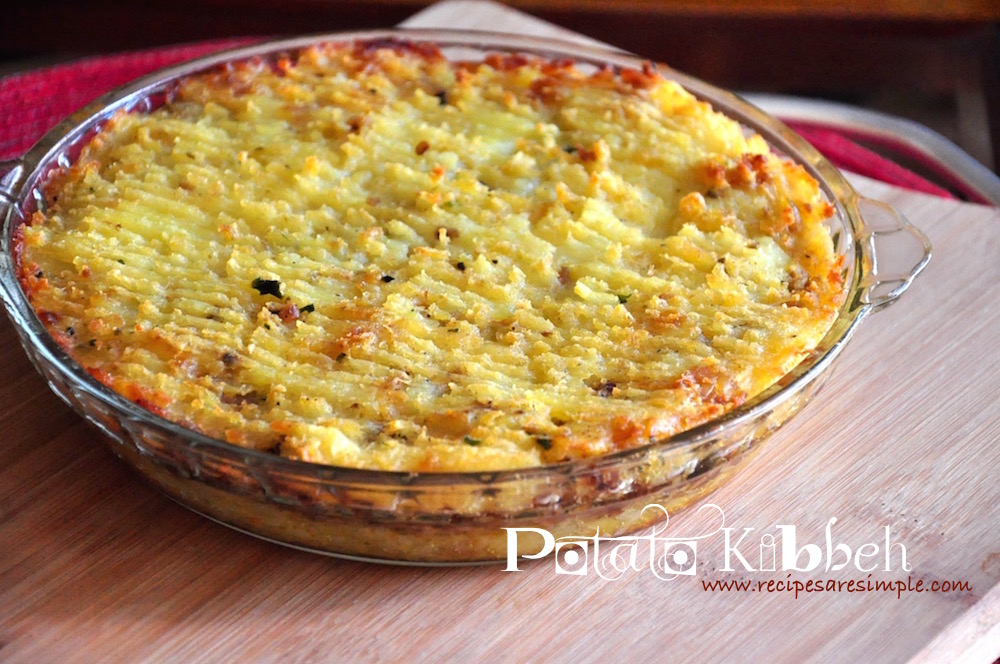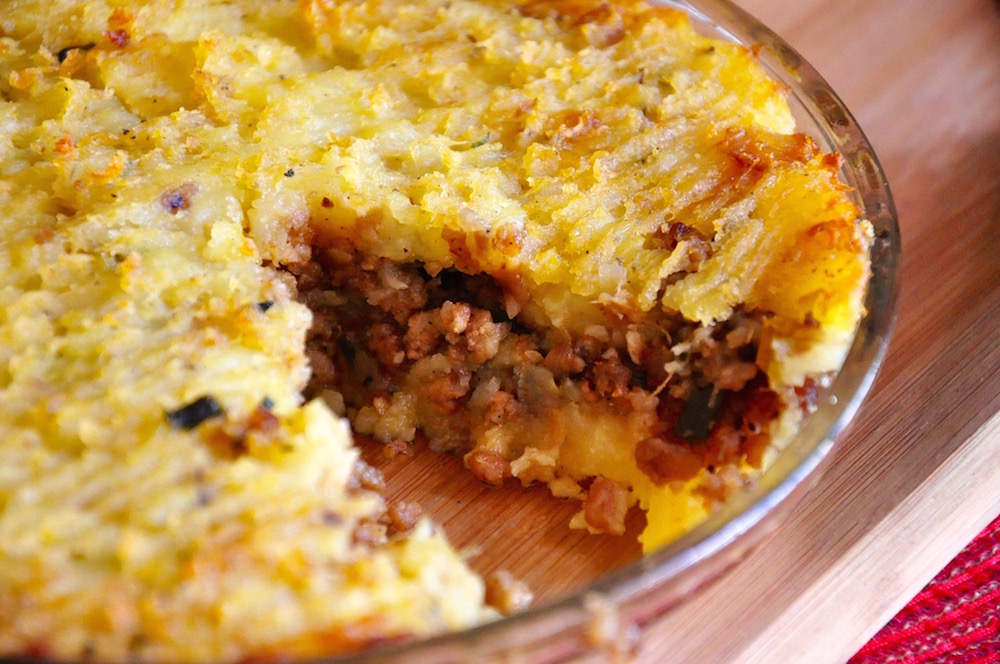 Baked Kibbeh Potato
Baked Kibbeh Potato is a twist on the traditional Lebanese Baked Kibbeh is made of beef or lamb mince  with cracked bulghur wheat. This recipe is developed by my mom. It is full of flavor and a meal in itself. You might call it a cottage pie with a unique aromatic blend.
 Its is absolutely delicious!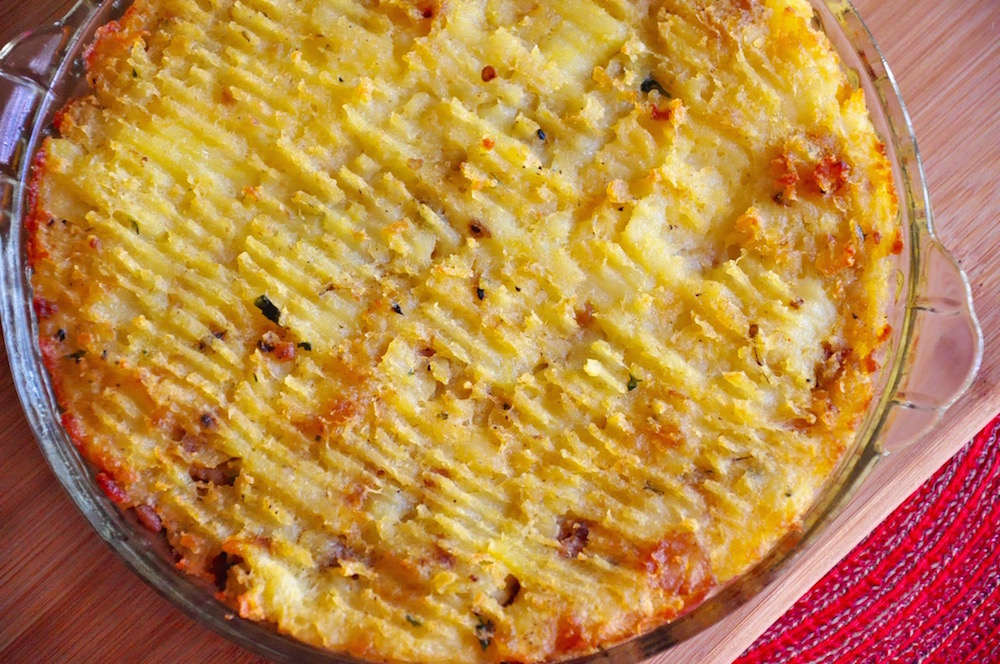 Baked Kibbeh Potato
Ingredients:
¾ kg good quality minced beef or lamb
2-3 Tbsp soya sauce
¼ tsp vinegar
2 Tbsp Ginger Garlic Paste (1 Tbsp each fresh ginger and garlic pounded to a paste without water)
3 Tbsp  garlic, chopped finely
1 ¼ cup shallots, chopped finely
1 Tbsp ginger, chopped finely
2 tsp coriander powder or more
1 tsp chilli powder
 ½ tsp of  ground allspice
3 green chillies, roughly chopped (remove seeds or use the less hot variety)
½  cup loosely packed spring onion (white and green parts), cut up into rings
¼ cup parsley, finely chopped (optional)
optional – ¼ cup pine seeds or  substitute with chopped cashew nuts
5 large potatoes
¼ cup sunflower oil
salt and pepper to taste
Marinate the mince in the soy sauce, vinegar and ginger garlic paste for 1 hour.
Place the peeled and cut up potatoes in a steamer with some water and microwave for about 12 minutes, stirring in between. Alternatively steam or boil till well cooked and strain.  Set aside.
In a non stick pan/wok, Heat the oil.
Add the garlic and fry till golden. Remove  with a slotted spoon and set aside for later.
Remove most of the oil from the pan, leaving a small amount to stir fry the shallots. Reserve the rest of the garlic oil.
Add the shallots and ginger to the pan. Stir fry till golden,then add the coriander, all spice and chilli powders. Stir till aromatic. Set aside with the fried garlic.
Preheat oven to 200ºc/390ºF
Wipe the pan clean if necesary. Add half of the remaining garlic oil and heat again.
Add marinated mince and stir fry with the green chilies, salt and pepper to taste. Fry till water evaporates and the mince is cooked tender without over drying the meat.
Return all the fried ingredients (garlic, shallots and ginger with spices) to the pan and stir to combine.
Add the spring onion and toss well. Remove and set aside.
If using pineseeds/cashew, toast them in the pan till golden. Add to the meat mixture.
Heat the remaining garlic oil. Add the cooked potato and stir fry till the oil is infused and the  potato 'just' starts to brown. Add salt and mash well.
Lightly oil a baking dish.
Layer half of the mashed potato. Cover with the mince mixture. Seal the top with the remaining potato mash. Make some designs in the potato with a fork.
Bake for 30 minutes.
Optional – Lightly beat the eggs with salt and pepper. Pour over the top and broil another 10 minutes   (oven heat only from top) till top is golden.
Remove from oven and alow to rest for 15-20 minutes before serving.
Baked Kibbeh Potato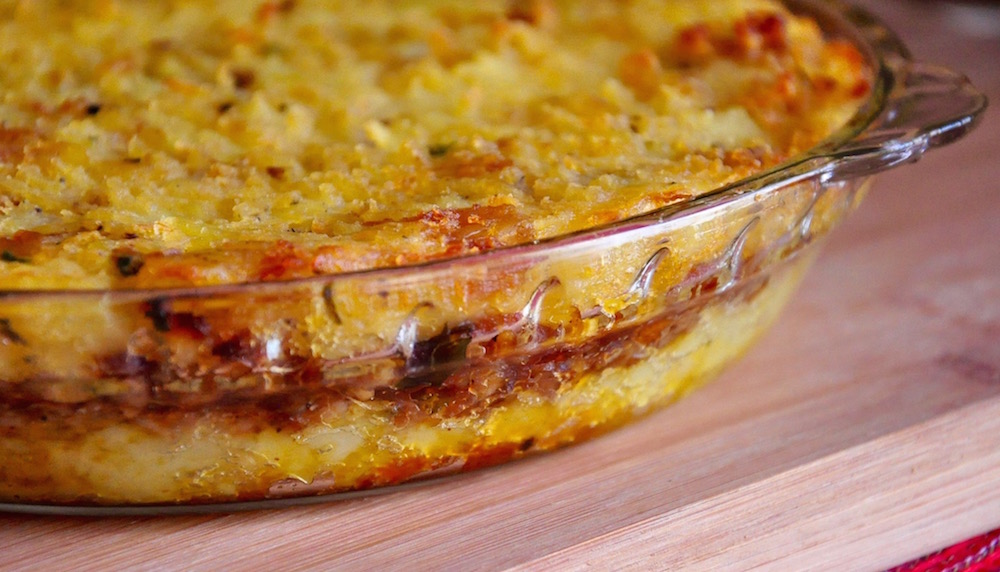 Notes:
Optional: Make the top potato layer smooth. Beat 1 large egg with salt and pepper and spread over the potato layer before baking.
Key Ingredients: Minced Beef/Lamb, Potato, Garlic, Shallots, Ginger, Spices, Spring Onion, Parsley, Salt, Pepper, Oil.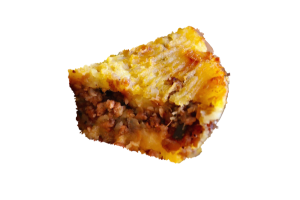 You May Also Like: Pasta Baked with Ground Beef and Cheese Sauce- Greek Pastitisio