31 July, 2014
Baked Beef Kebabs with Yoghurt Tahini Sauce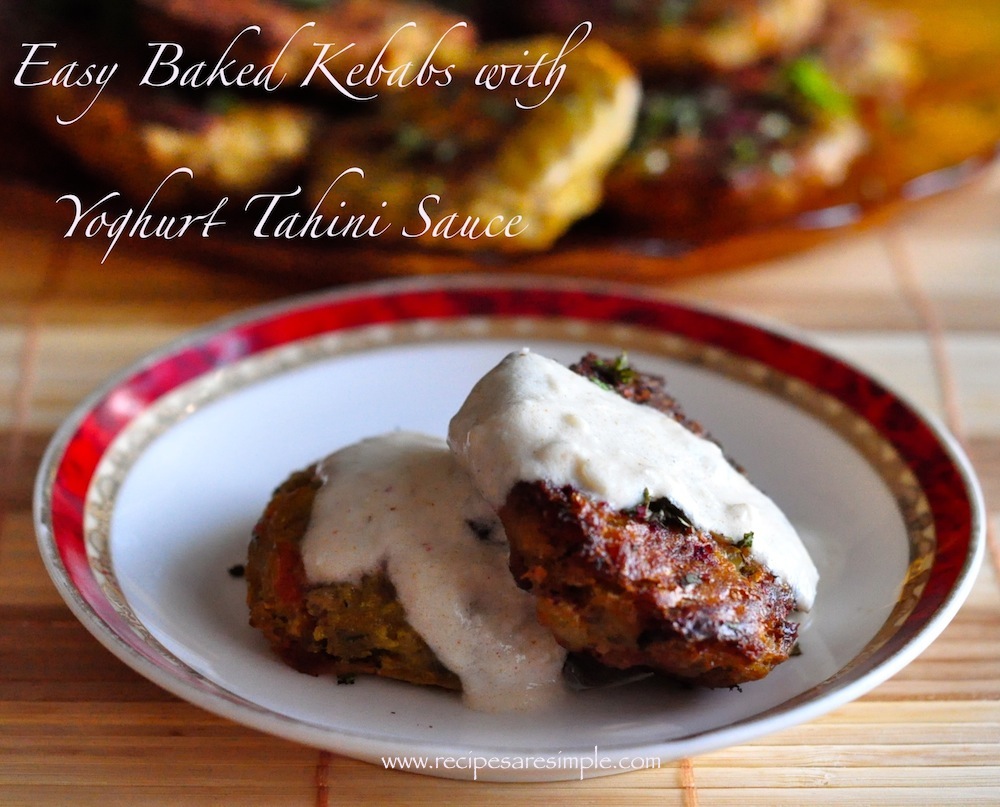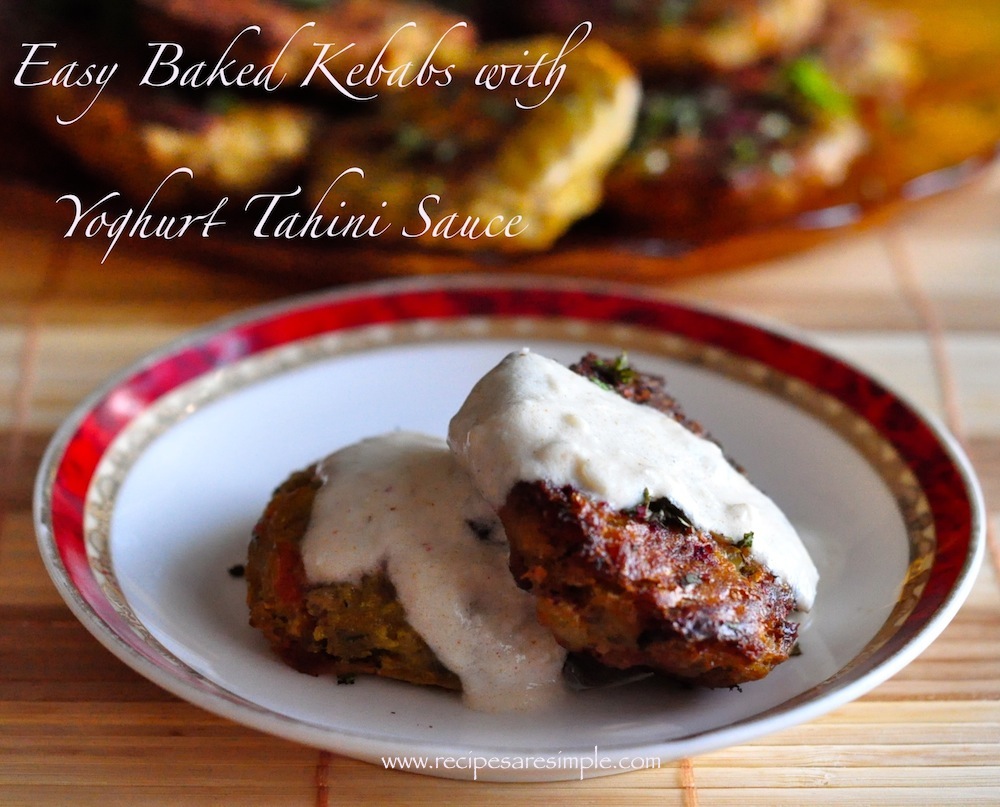 Baked Beef Kebabs with Yoghurt Tahini Sauce
  These Baked Beef Kebabs are a breeze to prepare. No splattering , no greasy pans to wash. No mess. Simple hot kebabs dipped in a lovely Yoghurt, garlic and tahini sauce. Great as an evening snack!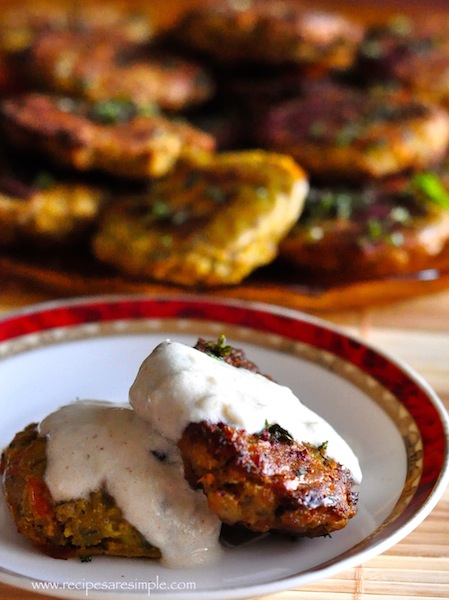 Baked Beef Kebabs with Yoghurt Tahini Sauce
Recipe Type: Beef / Appetiser

Author: Recipes 'R' Simple

Prep time: 10 

Cook time: 40

Total time: 50

Serves: 6 – 8
Ingredients:
500 grams beef
4  potatoes – boiled in salted water and mashed ( should be 2 cups when mashed)
1 small tomato, cut in 4
4 spring onion / scallion shoots
1  large handful of fresh coriander leaves / cilantro
¹⁄3 cup chick pea flour / besan plus a little extra if needed
2 large eggs
½ tsp freshly ground black pepper
½ tsp cumin powder
½ tsp coriander powder
¼ tsp turmeric powder
¼ tsp fennel/ aniseed powder
2 Tbsp fresh lemon juice
2 large eggs
1 – 1 ½ tsp salt ( to taste)
3 Tbsp Finely chopped mint leaf
Olive oil for drizzling
Method:
Cut  the beef into pieces. Rinse the beef thoroughly Leave to drain completely.
Preheat oven to 180º c/356º F
Line a baking tray with greaseproof paper.
Squeeze juice out from the tomato gently.
Add the meat to the processor and pulse till you get a medium mince.
Add all the remaining ingredients

except the olive oil and mint leaf

to a food processor and process till  mixed through evenly.
Add just a little more chick pea flour if the mixture is extremely wet and can not be handled.
Wet hands in a bowl of water.
Take scoopfuls of the mince and form into small balls the size of a lime.
Press gently into a flattened disk.
Drop onto the baking sheet, evenly spaced till the tray is full. (

You may need to bake in two batches if your oven is small).

Drizzle the olive oil over the kebabs and allow a little to run along the baking sheet.
Transfer the baking tray to the second rack from the bottom of the oven and bake around 40 minutes. around  Flip the kebabs over with a spatula when the bottom is golden, half way through the baking time and continue till the other side is golden as well.
Remove from the oven and sprinkle with the mint leaf.
Allow to rest 10 minutes before serving.
Serve with Yoghurt Tahini Sauce :
¼ cup tahini (sesame) paste – see home made tahini recipe
¼ cup yoghurt (greek style)
1-2 Tbsp fresh lemon juice – as per taste
¼ tsp salt or adjust according to taste
1 large clove garlic
2 Tbsp olive oil
Method:
Crush the garlic with salt using a pestle and mortar to a fine paste. Add to a bowl.
Add the tahini to the bowl and mix in the lemon juice till the tahini is loosened in texture.
Next whisk in the yoghurt and olive oil till smooth and creamy.
Adjust to taste.
Baked Beef Kebabs with Yoghurt Tahini Sauce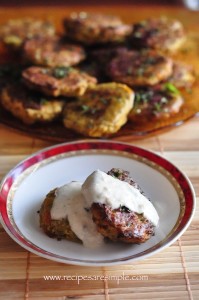 Try it and let us know – Baked Beef Kebabs with Yoghurt Tahini Sauce .
 You can process the beef last if you want to adjust the texture of the kebab.
Make sure the beef is drained and water free or it will be too wet a mixture.
You can use mutton in place of beef for this recipe.
Use these kebabs in wraps with the sauce, tomatoes and pickles – to make your own doner roll.
Note that the patty mixture will remain quite moist. Don't add too much flour to try and shape it by hand. They are meant to be dropped on to the baking sheet much like drop cookies. If you add too much flour to shape them into a perfect patty by hand, the flavor of mince will be overwhelmed by the flour and it will taste more like a fritter.