2 March, 2013
Baingan ka Bharta – Smoky Roasted Eggplant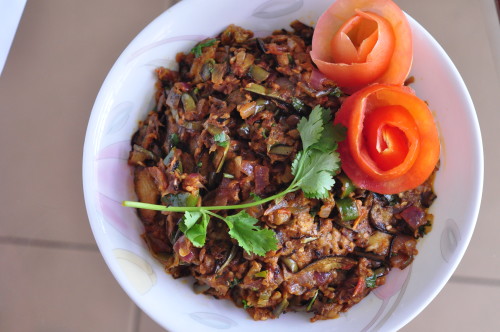 Baingan ka Bharta
Is it the fire grilled appetizing aroma, that makes  this 'Baingan ka Bharta' dish from Northern India so popular? A staple,
amongst the vegetarian menus. Serve with chapathi or nan. I personally like it as a side with our  Malabar Chicken Biriyani!
Baingan ka Bharta
1 large eggplant or 2 long ones
1 medium onion,chopped finely
2 tomatos,copped
2-4 green chillies sliced or slit
1 ½ tsp Corriander powder
1 ½tsp red chilly powder
¼-½tsp cumin powder
½tsp amchoor(dry mango powder)
salt to taste
½tsp sugar(optional)
¼-½ cup frozen green peas(thawed-also optional)
3 Tbsp oil
¼-½cup copped corriander leaves(loosely packed)
(Preferred method)Roast the eggplant on direct flame, turning  frequently,  till  the skin is completely charred all over.(Alternatively you can run some oil all over the eggplant and bake  at 400F for 30- 40 minutes  till skin shrinks and liquid starts to ooze out OR pan fry-see notes.

Peel

 (see notes) and mash to desired consitency. Set aside.
Heat oil in a non stick pan.
Add the onions and sauté for 3-4 minutes or till the onions turn a light golden.
Add the tomatoes and green chillies and sir-fry till you get a homogenous mixture.
Next add all the spices,sugar and salt sauté till the masala is cooked and the oil surfaces.
Add the mashed eggplant and mix well. If using, add the green peas now and cook a few minutes.
Add the corriander leaves and a little water to get a nice consistency. Serve hot.
Baingan ka Bharta
Did you enjoy our Baingan ka Bharta ?
Notes:
It is easier to remove the charred skin of a roasted eggplant if it is immersed in water ,after roasting.
No need to add sugar if using green peas as the peas tend to add some sweetness.
If  you are pan frying the sliced eggplant, soak the slices in salted water for a bit then press out excess water gently before frying. Use very little oil just wipe the pan with some oil and fry in batches till Golden on both sides.It is better not to include the skin for this recipe.
You May Also Like : Baba Ganouj, Eggplant Walnut Dip