26 May, 2014
Badam Milk Drink – Almond Milk with Saffron and Cardamom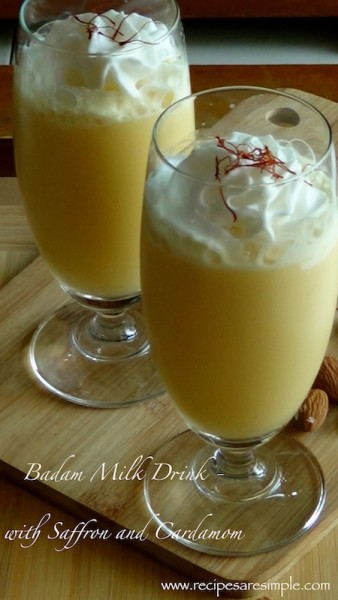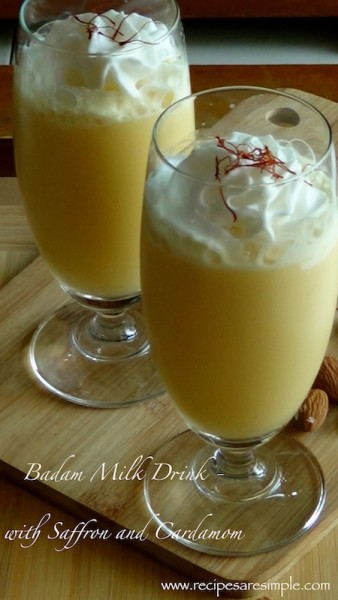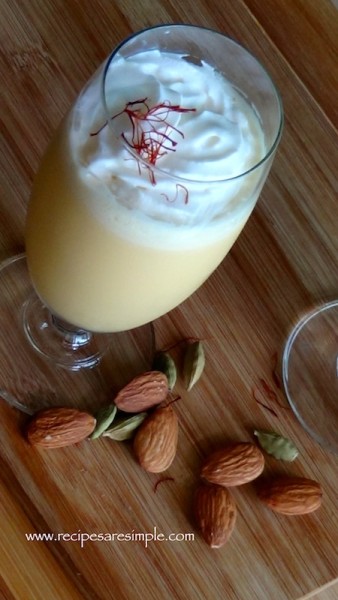 Badam Milk Drink – Almond Milk with Saffron and Cardamom
  You know how certain foods or drinks bring back certain memories or remind us of someone or some place. This refreshing Badam drink brings back the memory of a day out shopping with my sister.
We were out looking for material to have some outfits made. A long hot day and we scrambled through the busy broadway streets on our way home.
We saw a street vendor selling some Ice cold Badam Milk and quickly asked for two glasses. (When you are young, you aren't quite as wary of street sold drinks 🙂 )
That Badam Milk was one of the most refreshing drinks  I have ever had! Not to mention – delicious! I felt rejuvenated and  energized instantly! I have tried to recreate that drink many times without success.
Then one day I added a tiny amount of custard powder to the drink. Bingo! So that's what he used!  Ofcourse this drink can be served hot but I much prefer it ICE COLD.
Such a lovely memory of my childhood, with my dearest sister.
Badam Milk Drink – Almond Milk with Saffron and Cardamom
Recipe Type: Drinks and Beverages

Author: Recipes 'R' Simple

Prep time: 5

Cook time: 5

Total time: 10

Serves: 3
Ingredients:
2 cups skim milk
5 green cardamom, slightly crushed or use ½ tsp cardamom powder
1 pinch of saffron strands
30 Almonds
5 Pistachios – optional
6 tsp sugar or to taste
¾ tsp custard powder, mixed in 2 Tbsp water
½ cup ice
Method:
 Bring water to a boil. Pour over the Badam / Almonds in warm water for at least a few minutes. (Soaked longer, the almonds are easier to peel. They will also grind better)
Meanwhile, bring 1 cup of the milk to a simmer. Add the crushed cardamom.
Also add the saffron strands. Simmer gently for 3-5 minutes till the flavors develop.
Stir the custard powder in 2 Tbsp of water till mixed.
Add this to the simmering milk and continue to stir for a minute till the milk thickens.  Add sugar to sweeten. Set aside and allow to cool down to room temperature. (If making HOT Badam Milk, continue as follows without cooling down)
Peel the blanched almonds. Using the thumb and forefinger, squeeze to easily slide off the skin.
Add the peeled almonds to a small blender. Also add the pistachio, if using.

  (Using a smaller jar will give you a finer, smoother drink).

Add the remaining cold milk

( use hot milk if making hot badam milk) to the blender).

Also add ice (for cold badam milk).
Blend till  absolutely smooth. 1- 2 minutes.
Strain the scented, cooled milk and custard mixture into the blender.
Blend again.

I like to strain the milk again to get rid of any bits of almond. If you like some bite to the drink, omit this step.

Chill for at least 1 hour covered.
Badam Milk Drink – Almond Milk with Saffron and Cardamom
Try it and let us know – Badam Milk Drink – Almond Milk with Saffron and Cardamom.
Optional : Add a few drops of lemon yellow food coloring for added color and  a drop or two of vanilla or rose essence. 

Make sure to chill the milk 

covered

, or it will pick up  any  foreign food  odors from the fridge.
Another method of making Badam Milk : The ground almond mixture can be added to the milk in the saucepan and

cooked

as well. The milk mixture is then strained and chilled.