27 May, 2014
Badam Kulfi – The Delectable – Indian Almond Icecream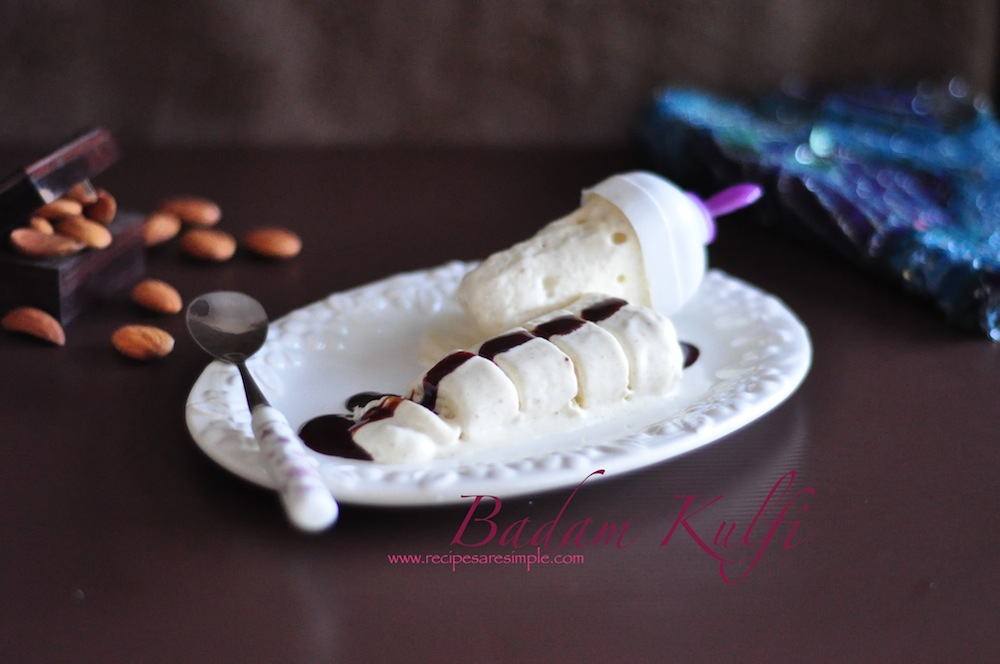 Badam Kulfi  – The Delectable – Ice cream made with Ground Almonds
  Kulfi – The delectable Indian Ice cream. It's one of those desserts that you enjoy – slowly, hoping it lasts just a bit longer.  Served in small portions (it's rich). It's a delectable treat and surprisingly easy to make. This is the classic Almond / Badam Kulfi. My mom learnt this  during her years in Mumbai from a neighbor.
My tip is to drizzle a tiny amount of chocolate syrup or even a strawberry/ rasberry coulis, if that's what floats your boat. The mixed flavors  elevates the Kulfi to a whole new level!
Badam Kulfi  – The Delectable – Ice cream made with Ground Almonds
Recipe Type: Dessert / Indian Cuisine

Author: Recipes 'R' Simple

Prep time: 20

Chill time: 

Total time: 20

Serves: 6
Ingredients for Badam Kulfi:
½ cup  flaked almonds

( or blanch dried almonds, peel and cut up into small pieces)

5 – 6 pistachios
¾ cup whipping cream / cartoned all purpose cream
½ cup sweetened condensed milk
¼ tsp cardamom powder
You will also need, 2 bowls, lots of ice and electric whisk for whipping.
Method:
Chill the whipping cream and condensed milk well before starting.
Keep  a sterile bowl and the whisk attachments for whipping the cream in the freezer till very cold.
Add the flaked almonds and pistachio (without any water) to a small grinder.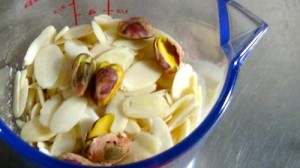 Grind to a fine grain.
Place 2 cups of ice and 1-2 cups water in a large bowl. Place the smaller chilled bowl into the ice bath.
Add the chilled whipping cream to the inner bowl. Whisk till stiff.
Add the condensed milk, cardamom powder and ground nuts as well. Whisk again till completely smooth & thoroughly mixed through.
MAKE SURE that no water from the bottom bowl splashes into the inner bowl. Water will cause crystallization, which will ruin the ice cream.
Pour the whipped mixture into Kulfi moulds or if you don't have that, use popsicle moulds.

You can also use a Kulfi Clay Pot 'Matka' if you have that.

Place in the freezer for 8 hours or overnight till the ice cream has set.
Place the moulds under running water or place in a bowl of hot water for 10 – 20 seconds, to release the ice cream.
I recommend, slicing the kulfi like a banana. It's easier to eat this way.
Very Lightly, Drizzle Chocolate Syrup or Berry Coulis over the Kulfi.

(Hershey's syrup is good)

Enjoy!
Badam Kulfi  – The Delectable – Ice cream made with Ground Almonds
Try it and let us know – Badam Kulfi  – The Delectable – Ice cream made with Ground Almonds .
You can garnish the Kulfi with chopped pistachio if you prefer.
You can add a few strands of saffron to the cream while whisking if you like.
Kulfi is rich so serve in small portions.