7 March, 2013
Baba Ganoush and Mutabbal (Middle Eastern Dips)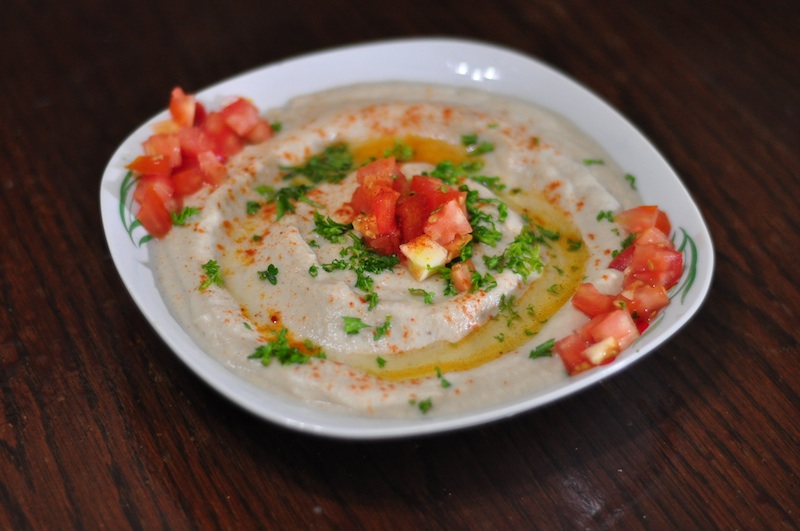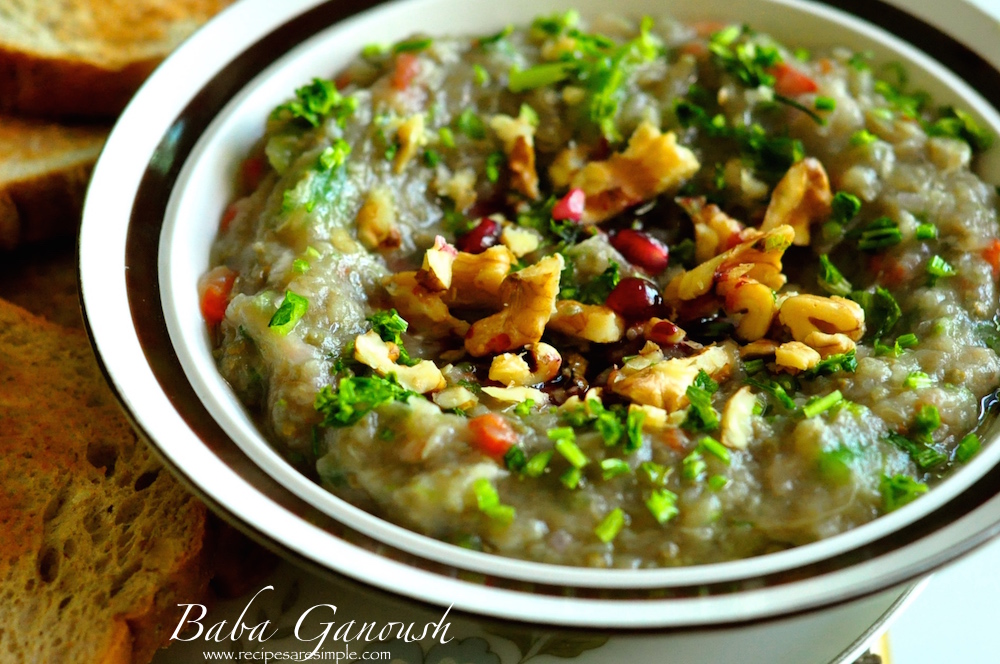 Baba Ganoush and Mutabbal 
Ba·ba gha·nouj  or Baba Ganoush is a middle eastern dip primarily made of eggplant(aubergines), with the addition of pomegranate molasses and olive oil. There is a widespread debate on whether or not Baba Ganoush should contain Tahini or not.. and in most places, especially the West, Baba Ganoush always contains Tahini.
I grew up eating the classic Baba Ganoush, which uses pomegranate molasses.
Baba Ganoush is often confused with Mutabbal .It also uses Eggplant but adds sesame paste (tahini), garlic, lemon juice and olive oil. In some cases, thick yoghurt is also added and sometimes tahini is substituted altogether with the thick yoghurt.
Loosely translated, the name 'Baba Ganooj' means 'Pampered Father'  and some may refer to it as the'Ugly step sister' of hummous, yet another delectable dip from the middle east. If you've ever roasted an eggplant and scooped out the innards for any dish you will understand why :). Not very pretty to look at!! However,the final product is divine… and I know of some ardent eggplant haters who have loved this dish and changed their opinion on the vegetable for good!
'Muttabal'  basically means "to add more flavorings and spices", which is exactly how Muttabal is meant to be made. The same applies to Baba Ganoush.
 Every middle eastern family makes their Baba ganouj and Muttabal a little differently. It's 'a little more of this 'or 'a little less of that to get the flavor and texture just right. Play around with the amount of sesame paste/yogurt and lemon juice and herbs if you like. My favorite versions are as follows. Try them and see which one you like..
Baba Ganoush and Mutabbal



Ingredients for Classic Baba Ganoush: Makes 1 Bowl.
Large variety of eggplant (about 300 gms ) –

I often use the longer eggplants

½  onion (red), minced – about ½ cup
¼ cup green bell pepper, 

finely chopped or minced

¼ cup red bell pepper, 

finely chopped or minced

1 Tbsp or more pomegranate molasses
Salt to taste
 1 – 2 Tbsp Flat leaf parsley,

chopped very finely

2 Tbsp walnuts, chopped
extra virgin or ordinary olive oil

– to taste

pomegranate seeds for garnish 

– optional
For simple Baba Ganoush: Simply use Roasted Eggplant, Salt, Olive Oil, Lemon Juice and chopped Parsley only.. 
Method:
You can cook the eggplant like for Mutabbal

 on open flame(see below)

OR I like to roast it in the oven sometimes too, as follows.
Rinse and pat dry the eggplants.
Place on grease proof paper in and oven tray. Drizzle a tiny bit of olive oil over the paper.
Place in an oven with heat from above and below. Heat to 200ºc and place the tray nearer to the top heat element.
Optional – place a piece of live coal with a little oil poured on it on a piece of foil in the centre of the tray.

This gives the eggplant a smoked aroma.

Roast for 50 minutes – 1 hour, turning the eggplant half way through.
When cool enough to handle, easily scrape off the flesh from the skin.
Add the flesh to a bowl and mash well with a fork.
Add salt to taste.
Stir in the minced onion and bell peppers.
Add walnuts, parsley and salt to taste.
Pour into serving dish. Create a circular indentation a little inside the edges to form a stream for the olive oil
Add as much olive oil as you like. Garnish with pomegranate seeds if you like.
 Serve with toasted or plain pita. I love it with wholemeal walnut bread.
Ingredients for Mutabbal: Makes 1 Bowl.
Large variety of eggplant (about 300 gms ) –

I often use the longer eggplants

1 Tbsp Tahini (sesame paste available in middle eastern sections can be made from sesame seeds. Get Recipe for Home made Tahini.
2-3 Tbsp thick Yogurt – optional
1 clove Garlic
1 Tbsp fresh lime/lemon juice
Salt to taste
Flat leaf parsley /mint to desired amounts about a small handful each or just the parsley, chopped very finely
½ tsp Paprika /mild chilly powder
¹⁄8 tsp cumin powder-optional
extra virgin or ordinary olive oil as needed



Method:
If using the large, fat type of eggplant : Prick the eggplant a few places so the steam has some place to go.( If the eggplants are longer and thin, I  skip this step )
Cook on direct flame /grill till all sides are charred and blackened. Immerse in cool water to be able to peel easily and quickly.
Put the peeled 'flesh' in a strainer for 15 minutes. This is to remove all excess liquid.
Put in food processor or blender with garlic. Pulse 2 -3 times.
Add the tahini paste, yoghurt (if using) and salt. Process/Pulse till desired consistency.

( I like it quite smooth).

Stir in the lemon juice to taste.

(I prefer very little)

Pour into serving dish. Create a circular indentation a little inside the edges to form a stream for the olive oil
Pour a little olive oil along this indented part. Sprinkle the Paprika and Cumin if you like.
I personally like a small sprinkling of coriander (1/8 tsp) with the paprika and cumin.
Add the chopped fresh herbs and your ready to DIG IN. Serve with toasted or plain pita.
Baba Ganoush and Mutabbal
Did you enjoy our Baba Ganoush and Mutabbal ?
Notes:
I had been advised  by friend from lebanon long ago that the seeds should be removed before pureeing or it will be bitter, But I have never removed the seeds and they've never been bitter. Perhaps for some varieties of eggplant, this may hold true.
Different varieties of eggplants will give slightly different textures, when it comes to baba ganoush and mutabbal.
For Muttabal – I also like to add finely diced (deseeded tomatos) as a garnish around the top. (maybe 1 small tomato)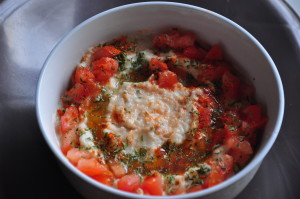 Baba Ganoush and Muttabal are often confused with each other. Even some eateries serve Muttable labeled as Baba Ganouj. I used to get this wrong fairly often. However, I really like the name BABA GANOUJ! So I tend to call them both Baba Ganoush.
Another lovely garnish is some pomegranate seeds in the centre.
You May Also Like: Hummus Bi Tahini