10 September, 2013
Aviyal – Kerala Onam Sadhya Recipe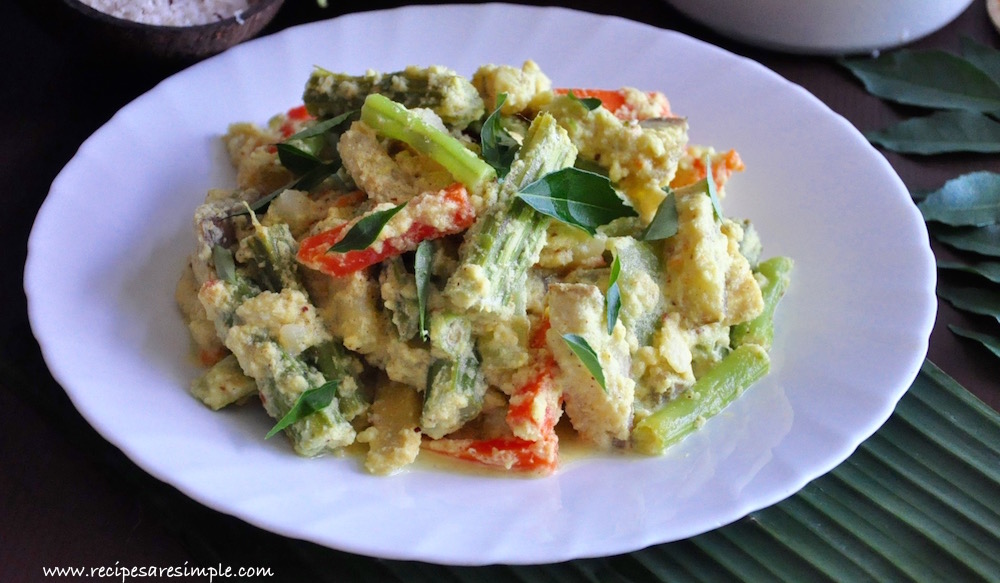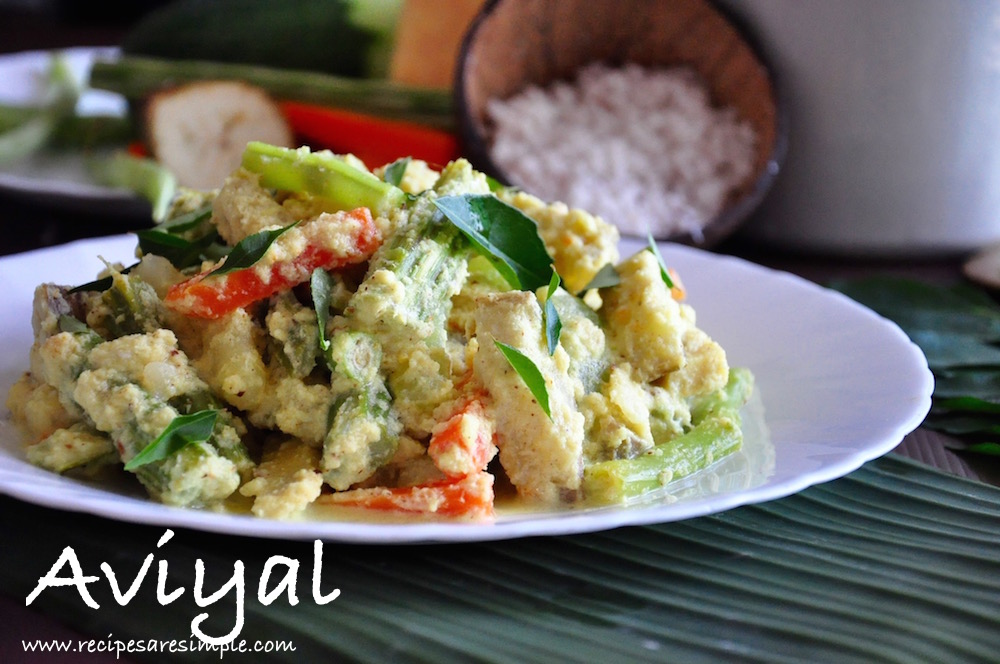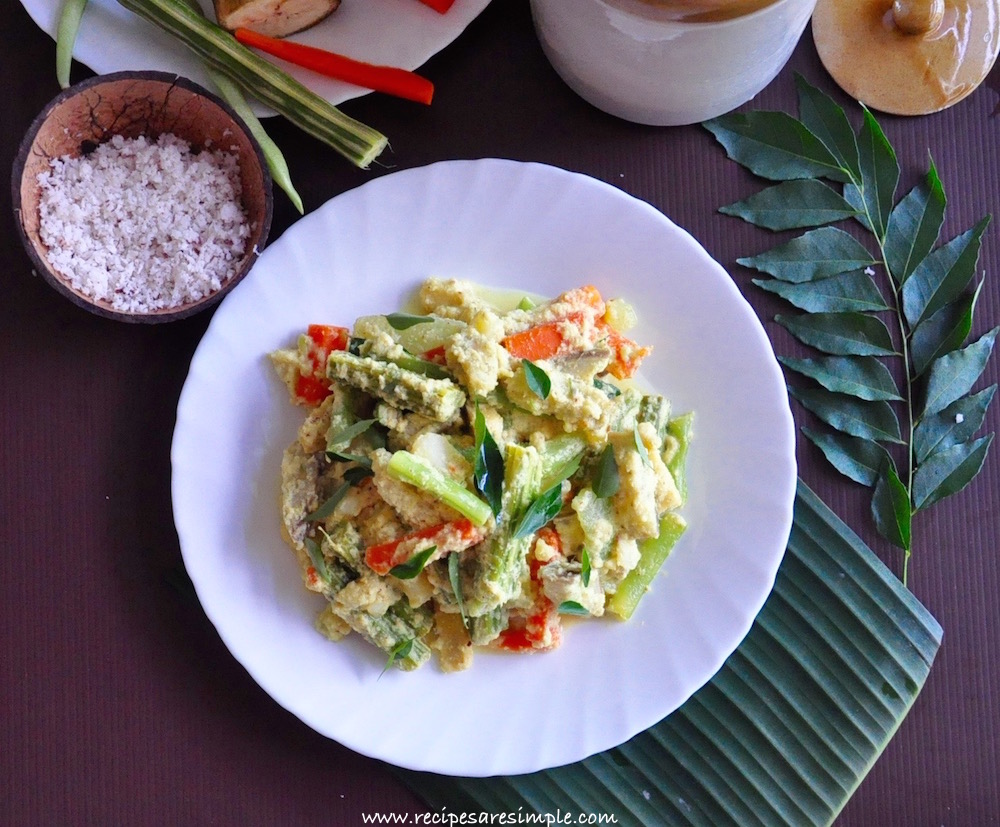 Aviyal
The essential medley of vegetables served up at Kerala sadhyas and feasts. Aviyal is a thick mixture of coconut, yoghurt and vegetables, flavored with coconut oil, cumin and curry leaves. Here is a lovely simple recipe. Aviyal is made differently from home to home. you can add more yoghurt for a wetter consistency, you can opt to use green mango instead of yoghurt for tartness, you can omit turmeric to make the aviyal white. You can also cut the vegetables in different ways to make it visually more attractive. Because Aviyal, combines such a mixed up medley of vegetables, in colloquial Malayalam, Aviyal means to 'Mix' or 'Mess up'.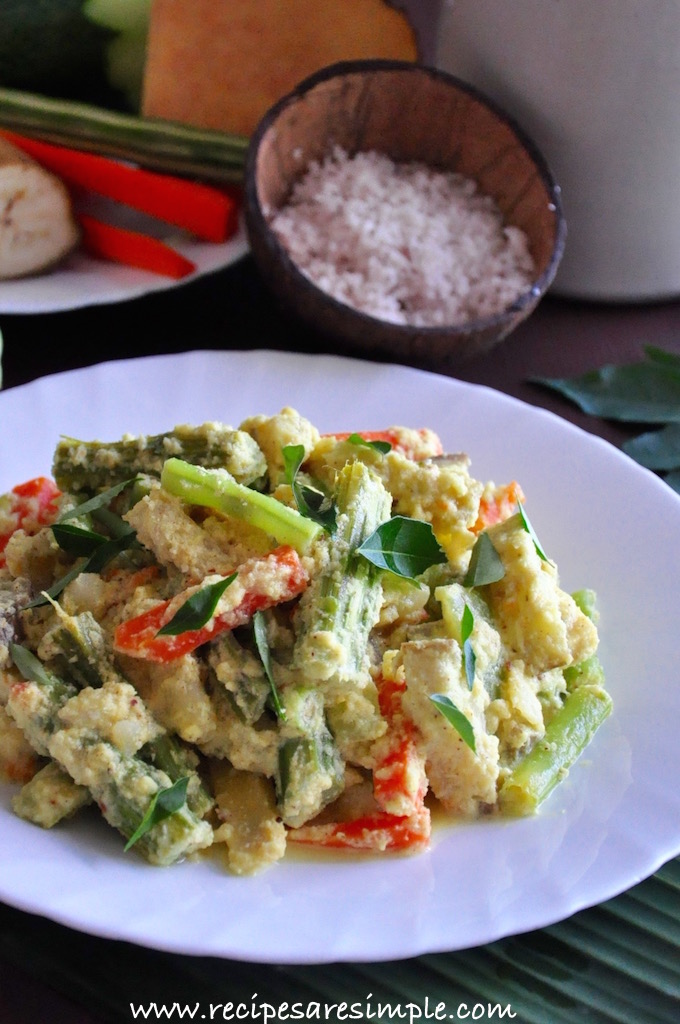 Aviyal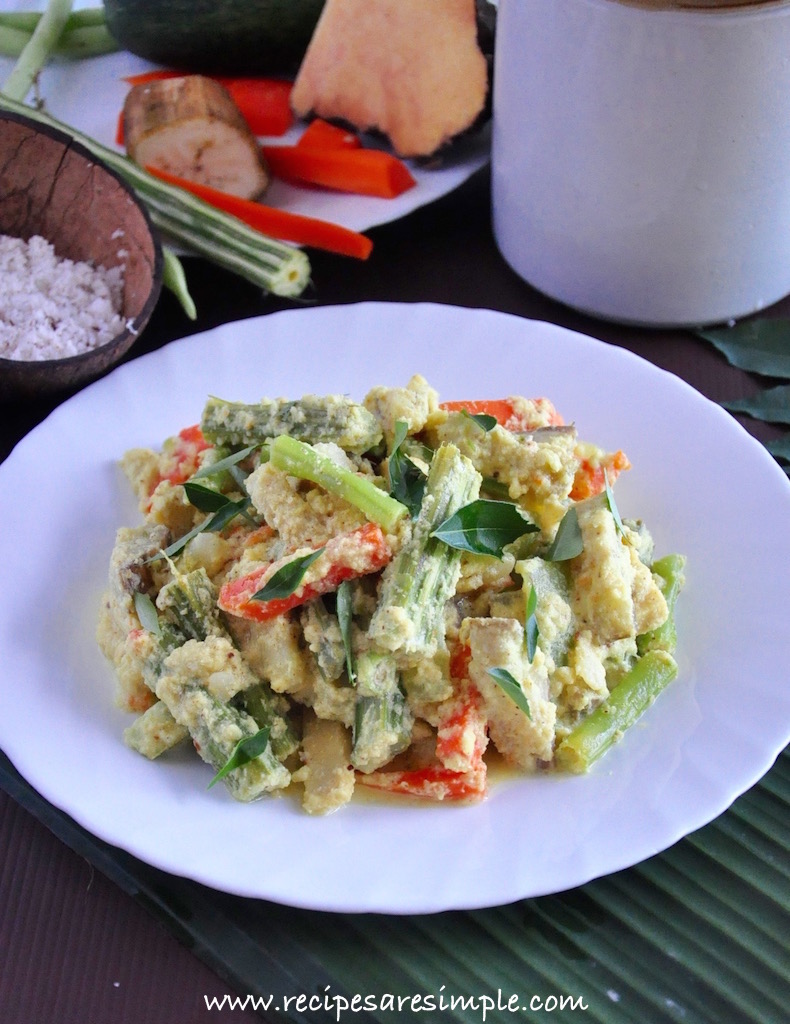 Author: 

Prep time: 

Cook time: 

Total time: 
Ingredients:
4 cups mixed vegetables of choice, cut into uniform lengths.
(Use any or all of the following carrot, french beans, potato,drumsticks, green plantain, snake gourd, elephant foot yam, vellari or cucumber, snake gourd)
½ cup freshly grated coconut
½ cup yoghurt / curd ( just perfectly sour)
¼ tsp mustard seeds
½ – 1 tsp cumin seeds
2-5 slit green chillies

(according to spice tolerance)

½ tsp turmeric powder
2 Tbsp curry leaves
2 Tbsp indian coconut oil
salt to taste (¾ – 1 tsp)
Method:
Cut the vegetables into even sized pieces. Usually 5 cm long and 1 cm wide.
The vegetables need to be cooked tender. If you have patience, cook each vegetable separately till tender but not mashed. Uniform cooking of the vegetables is vital

. Since all the vegetables cook differently, if you add them all together, some might get mashed a bit by the time the tougher vegetables are tender. If in a hurry: this is okay, just that your aviyal will be slightly mashed.

Cook the vegetables either together or separately over medium heat in a pan with half cup of water and  salt. Allow 90 % of the water to evaporate.
Grind the coconut, chillies, turmeric powder, cumin and mustard seeds into a rough paste with just a splash of water.
 Add the coconut paste to the cooked vegetables. Mix thoroughly but gently. Cook for 1 – 2 minutes, adding salt as needed.
Beat the yoghurt thoroughly to absolutely smooth.
Add the beaten yogurt. Mix well. Just heat though.Taste and add more yoghurt or salt if needed.
Crush the curry leaves between your palms and add over the hot aviyal along with the fresh coconut oil.
Aviyal is now ready to be served. Enjoy!
Aviyal
Notes:
Traditionally the vegetables are cut into the same lengths and width, but that is quite upto inividual preference.
I like to cut the pieces thiner and smaller because my kids eat it better this way.
Instead of using fresh curry leaves and coconut oil, sometimes mustard seeds are seasoned in the coconut oil along with curry leaves and the fried mixture, along with the seasoning oil is added over the aviyal. I prefer the fresh oil and curry leaves though.
Green mango can be used to replace the yoghurt for a different taste. Also very yummy. Make sure the mango is tart and firm.
Avoid adding too much yoghurt in proportion to the coconut paste. Add a little at a time if you would like a bit more sour taste.
When grinding the coconut paste, add a couple of shallots for added flavor.