30 October, 2016
Asparagus Dip | Creamy Simple Asparagus Spread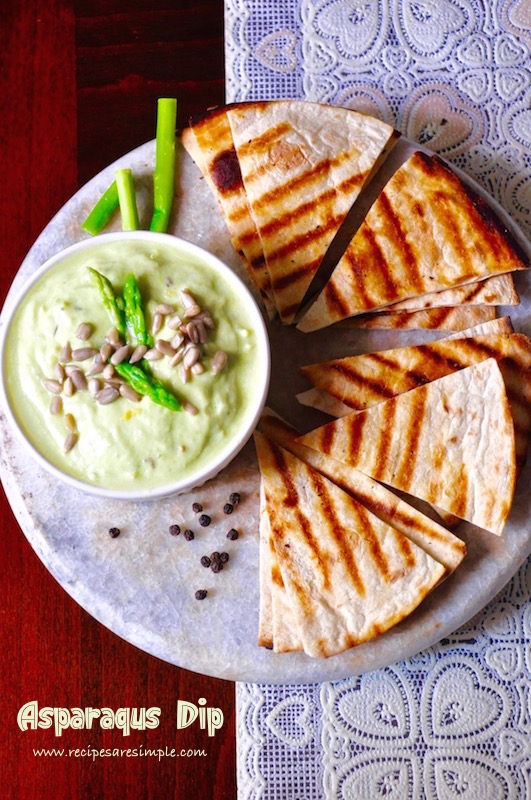 Asparagus Dip | Creamy Simple Asparagus Spread
This Asparagus dip, is extremely quick and easy to make! Quite tasty and even kids will enjoy this vegetable in spreadable form!  I am always looking for ways to get the kids to eat certain veggies.. Sometimes, a dip is the easiest way to achieve this. Creamy and tasty, its super, served with toasted pita wedges.
Asparagus is a member of the lily family and has been found to be an aphrodisiac, since ancient times.  It is packed with nutrients. High in vitamin K, folate, vitamin C, beta -carotene, vitamin E, zinc, manganese and selenium.
It's also especially rich in detoxifying compound, glutathione, which can help destroy carcinogens. For this reason, asparagus may help fight or protect against certain cancers.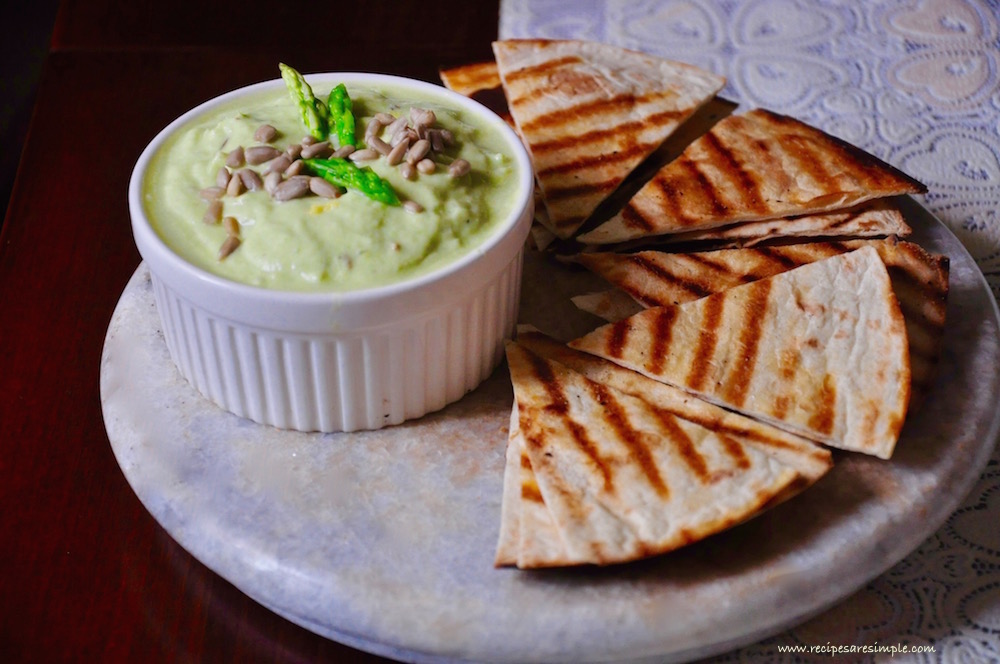 Asparagus Dip | Creamy Simple Asparagus Spread
You are here: Home > Vegetarian > Asparagus Dip
 

Recipe Name: Asparagus Dip | Creamy Simple Asparagus Spread

Author: Shana c/o Recipes 'R' Simple

Yield: (4 servings/ 1 large ramekin)
Ingredients:
200 gms tender, fine asparagus
half a red onion
2 cloves garlic
4-5 Tbsp sour cream
1 tsp prepared horseradish
1 tsp dijon mustard
½ tsp black peppercorns
¼-½ tsp cumin
½ tsp salt or to taste
1 tsp lemon juice
1 tsp lemon zest
sunflower seeds/ pumpkin seeds for garnish
Pita bread/ Tortilla for serving
Method:
Place the cleaned, rinsed fine asparagus in a saucepan and cover with water.
Bring to boil and cook for 3 minutes.
Drain the asparagus and put into a bowl of cool water.
Add the cooled asparagus, (reserving a few tips for garnish) along with all other ingredients (except pita bread and sunflower seeds!) into a blender and blend till smooth.
Pour dip into serving bowl / large ramekin. Garnish with sunflower or pumpkin seeds and reserved asparagus tips.
Toast the pita bread or tortillas just before serving, over a grill pan brushed lightly with oil. Cut into wedges.
Serve immediately with the dip.
Asparagus Dip | Creamy Simple Asparagus Spread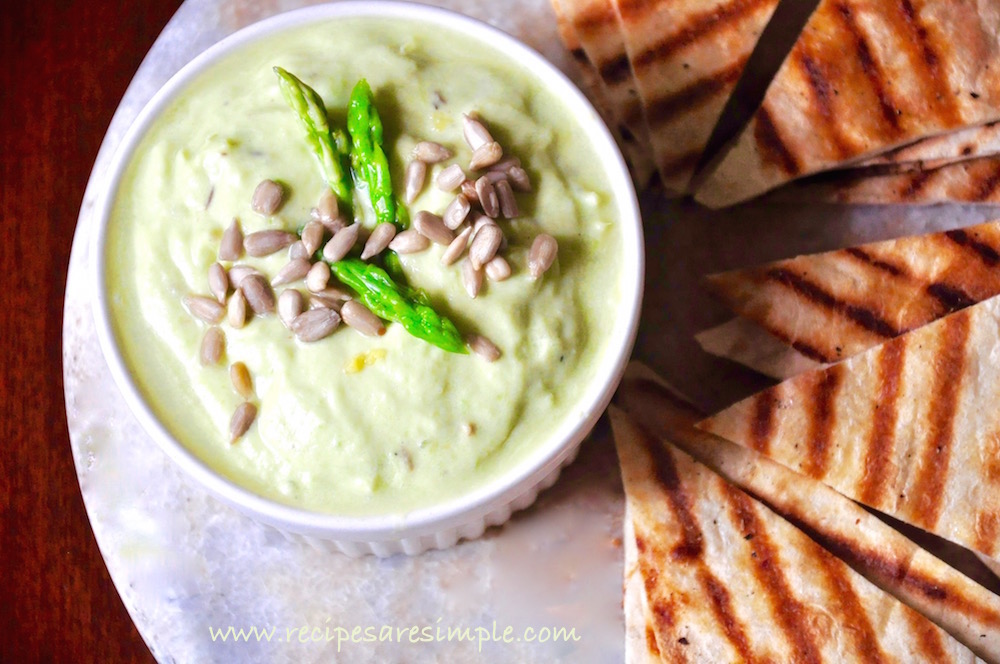 The dip may be refrigerated for  day in advance. Serve at room temperature.
This dip may be used as a salad dressing, it goes well with grilled fish.
Key Ingredients: Asparagus, Onion, Garlic, Sour cream, Horserasish sauce, Dijon mustard, Black pepper, Cumin, Salt, Pita bread, Lemon.
Leave a comment if you tried – Asparagus Dip | Creamy Simple Asparagus Spread .