16 July, 2015
Asian Chicken Cutlet Spaghetti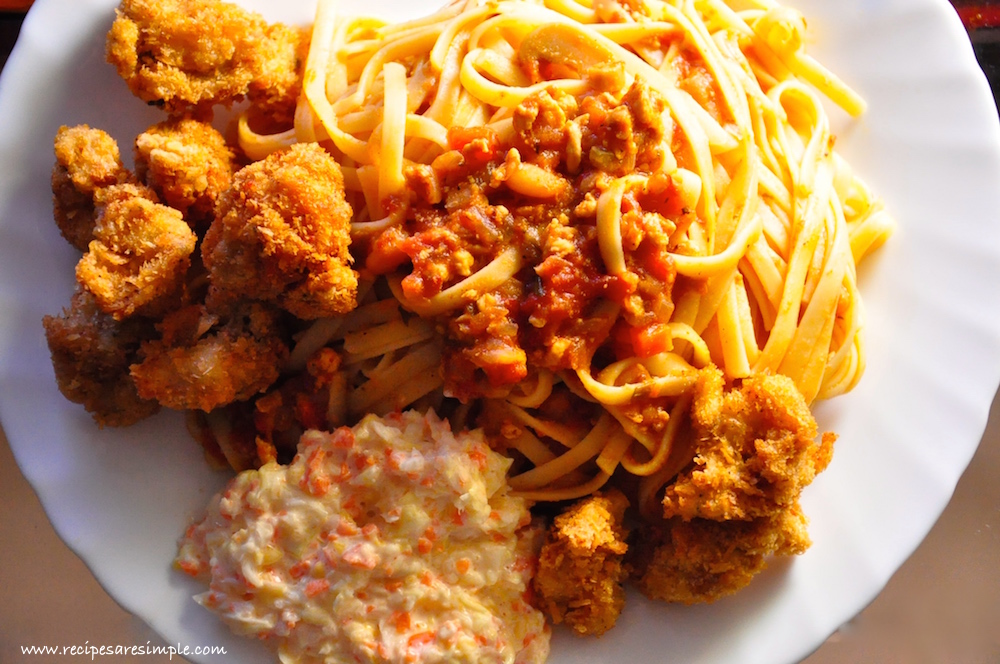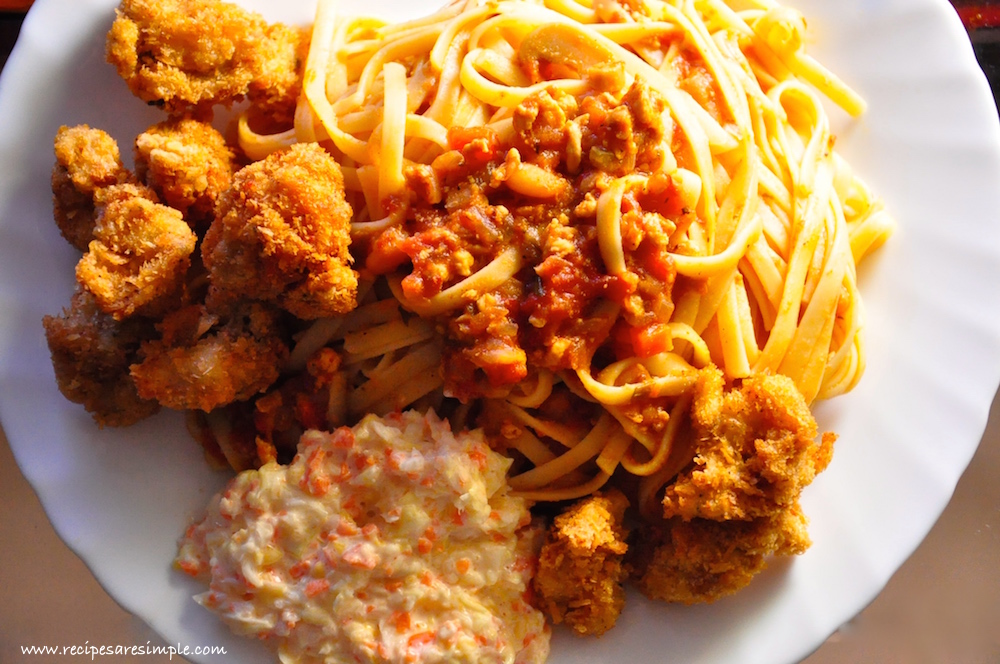 Asian Chicken Cutlet Spaghetti 
Spaghetti served with these mini Asian 5 spiced Chicken Cutlets makes for a really happy  and hearty meal! Kids love the tiny popcorn sized cutlets. The Chicken Cutlet Spaghetti is cooked slowly and the flavors are really yummy! Use spaghetti or Linguine. Some coleslaw, served on the side, compliment the spaghetti and chicken perfectly. This is a complete meal. Although the list of ingredients may seem long,it's actually quite a simple to do recipe.
You are here: Home > Pasta&Noodles > Asian Chicken Cutlet Spaghetti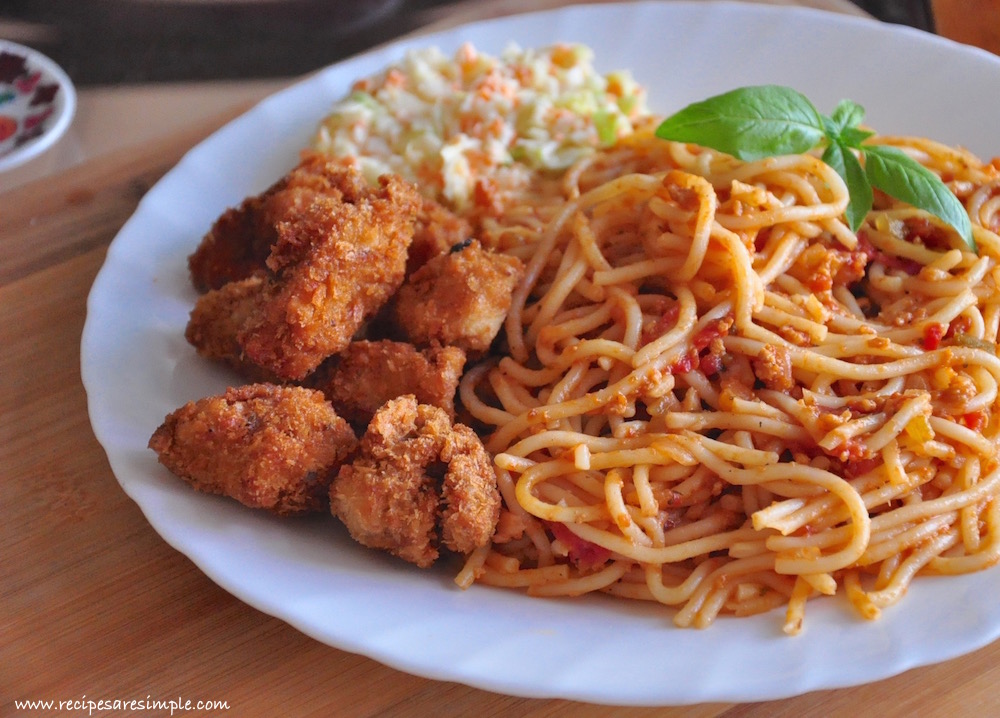 Recipe Name: Asian Chicken Cutlet Spaghetti 

Author: Shana c/o Recipes 'R' Simple
Asian Chicken Cutlet Spaghetti 
Ingredients:
For the Spaghetti or Linguine:
400 gms spaghetti or linguine
250 – 300 gms chicken mince
1 yellow onion (vidalia), finely chopped
¼ cup carrot, finely diced
¼ cup celery, finely diced
2 large cloves garlic, finely minced
½ cup sliced mushroom (swiss brown or canned)
2 bay leaves
¼ tsp grated nutmeg
1 – 1½ Tbsp fresh rosemary, chopped finely
¼ tsp of the following dried herbs/seasoning each ( Italian seasoning, thyme, parsley and black pepper powder)
1½ Tbsp butter
1½ Tbsp olive oil
1 can of stewed tomatoes (about 400 gms)
1 can tomato puree (about 400 gms)
¾ cup baked beans in tomato sauce
¾ cup full fat milk
1 cup clear apple juice
2 tsp extra butter
1 beef bouillon cube (knorr)
salt to taste – about ½ tsp
1 tsp mushroom seasoning powder or use any seasoning powder
For the Mini Asian Chicken Cutlets:
300 gms chicken fillet, cut into small popcorn chicken size pieces.
2 Tbsp meat tenderizer. Traditionally, chinese cooking wine is used.
1 tsp Chinese 5 spice powder. See recipe below.
1 egg
½tsp salt
1 cup plain flour
1 cup panko breadcrumbs
salt and pepper to taste
oil for frying
For the Coleslaw:
 200 gms cabbage

1 small carrot
¾ Tbsp vinegar
3 Tbsp Mayonnaise
1 ½ tsp sugar
½ tsp salt
1 Tbsp water
For Asian/Chinese  5 Spice powder:
1 tsp fennel
1 tsp cloves
1 small stick cinnamon
2 'petals' of star anise
¼ tsp sichuan pepper
Method:
Please read through the recipe. It may be long but it is actually quite simple.
Marinate the chicken for the mini asian chicken cutlets first: Start on the sauce next. (It needs to be slow cooked for one hour). Meanwhile prepare the coleslaw as well. When the sauce is half done i.e. after 30 minutes, you should start on cooking the spaghetti.
To make the 5 spice powder:
Add all the spices to a coffee grinder and grind to a powder. Use the amount required. This is a good seasoning for lots of dishes.
Marinate the Chicken Cutlets first:
Marinate the chicken pieces in tenderizer, egg, salt and chinese 5 spice.
Place covered in the fridge for at least 1 hour. Remove from fridge 20 minutes before frying.
The sauce:
Heat 1½ Tbsp olive and 1½ Tbsp butter in a large pot.
When butter is melted and before it changes color, add the onion. Sauté for 30 seconds.
 
Add the carrot and celery. Sauté for another 30 seconds.
Add the minced chicken and stir vigorously to break it up into the mixture.
Cook till  the juices are sealed and the pink mince changes into a uniform white color.
Add the milk, sliced mushrooms, nutmeg and bay leaf.
Allow the chicken to cook and absorb some of the milk.
Now add the canned, stewed tomatoes and puree.
Bring to a simmer. Gently mash the tomatoes to a pulp. (Simmer about 1 minute).
Add beef boiullon cube, salt and mushroom seasoning powder now. As both the stock cube and the seasoning powder are salted, do not add excess amount of extra salt.
Add the rosemary and garlic and bring to a simmer.
Add the apple juice.
Add the dried  italian seasoning, thyme, parsley and black pepper.
Also add the baked beans.
Now bring to a strong simmer. Then reduce heat to the laziest boil. I move the pot to the smallest burner. Cover and allow to slow-cook like this for 1 hour.
Add a little water once or twice upon checking to keep the sauce from going dry.
After one hour you have a delicious smelling sauce. Add a little boiled water to loosen if needed. Not more than ¼ cup.
Add just a knob of butter at the very end and set aside till the spaghetti/pasta is ready.
Cook the spaghetti or linguine:
Half way through the cooking of the sauce, Bring a large pot of water to boil
Remove the marinated chicken from the fridge now as well.
Add salt and the spaghetti. Cook till al dente and drain. Add a small known of butter to the spaghetti and mix.
Add this to the hot sauce and toss till well combined. Use a larger pot if needed.
For easy coleslaw:
Add the cabbage and carrot to a small processor and blitz to a slaw texture. (Or grate by hand).
Add mayonnaise, salt sugar, vinegar, water and toss well.
Chill till time to serve.
 Make the Mini Asian Chicken Cutlets:
By now our chicken should be at room temperature.
Add oil to a small wok or pan for frying the cutlets. Bring to heat.
Place plain flour mixed with some salt on one plate and panko breadcrumbs in another.
Remove each cutlet from the marinade and lightly coat with the plain flour. Use one hand for placing the chicken in the flour and the other dry hand for rolling.
Once all the cutlets are lightly coated, return them to the bowl of residual marinade and toss them in there to get them moist again.
Now roll them in the panko breadcrumbs to coat evenly.
Add the cutlets one by one into the hot oil. Add in batches that are not overcrowded. Leave undisturbed for initial minute. Then turn gently.
Fry till golden brown. Drain from the oil and set aside. DO NOT OVER FRY – or the chicken will turn tough and hard to bite. Test one, they should be tender and moist on the inside with a crunchy crust.
Asian Chicken Cutlet Spaghetti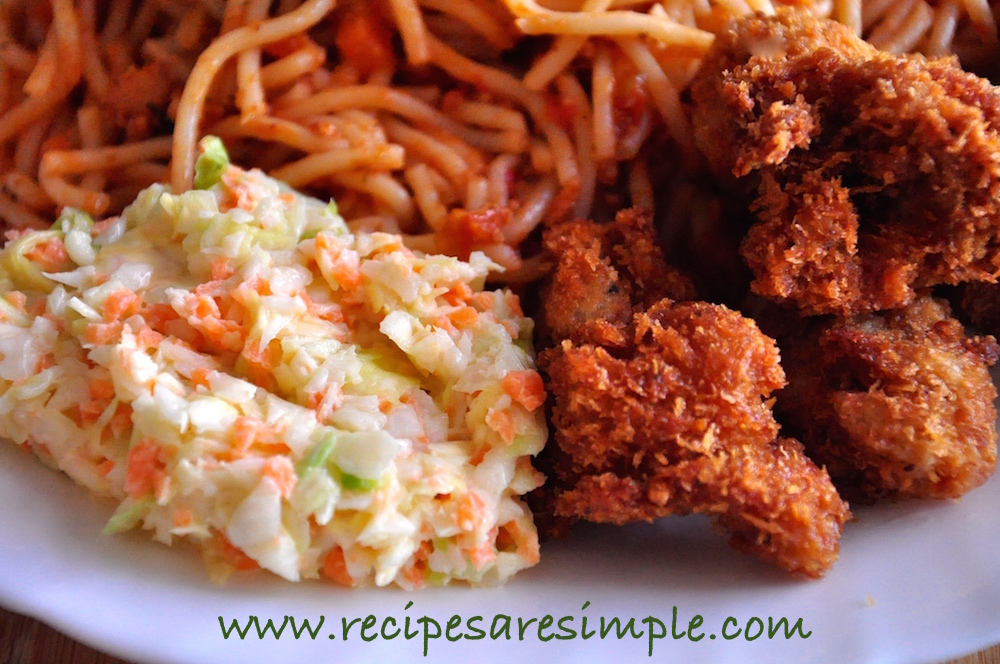 Traditionally, white wine is used instead of apple juice, but I find the apple juice works rather well too.
Key Ingredients: Spaghetti, Minced Chicken, Onion, Carrot, Celery, Dried Herbs, Seasoning, Pepper, Olive oil, Butter, Oil for frying, Chicken fillet, Cabbage, Flour, Breadcrumbs, Egg, Spices.
Let us know if you tried it – Asian Chicken Cutlet Spaghetti  . Comments from you provide motivation to keep up the driving force behind this blog, bringing you more delicious and perfected recipes regularly. Please do leave a comment. We love to hear from you.