17 June, 2015
Arabian Biryani – Pressure Cooker Chicken Biryani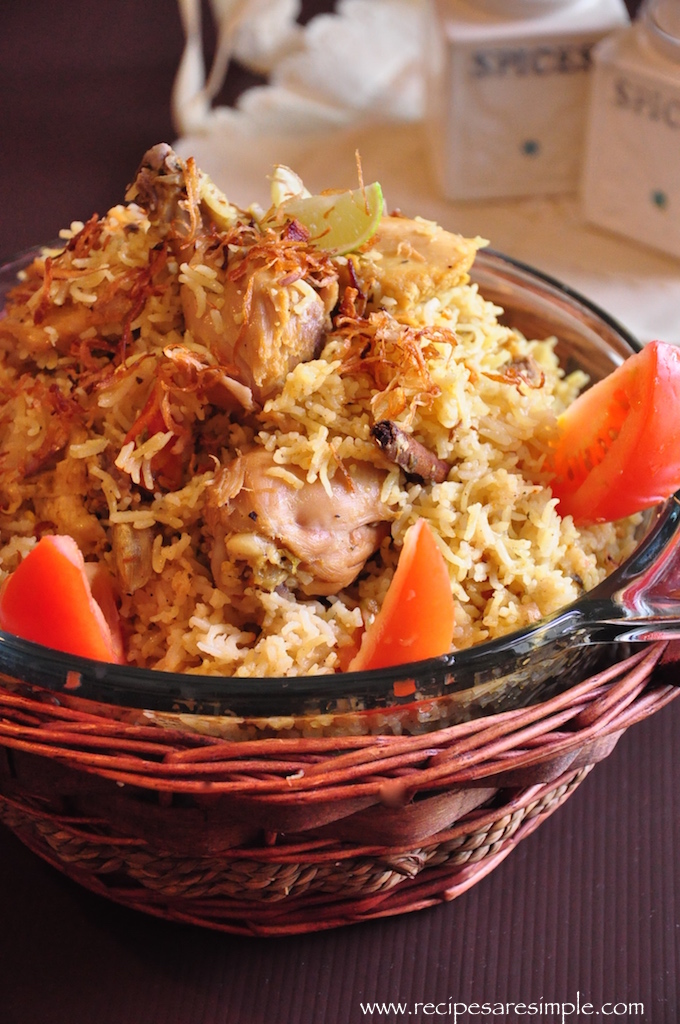 Arabian Biryani – Pressure Cooker Chicken Biryani
Ramadan 2015 is around the corner. I thought it's time to post a quick Iftar dish that can be prepared easily. The first few days, can prove challenging, deciding what to make for Iftar. This Arabian Biryani is a Delicious 'Quickie' Chicken Biryani that is made in the Pressure Cooker. The rice is moist and flavorful! One-pot rice dishes are always a great way to go, when you want a nice meal and less cleanup!
The recipe combines the flavors of Arabian Kabsah and Indian Biryani to create a delicious mild toned biryani, that is so simple to make. Won't you try it?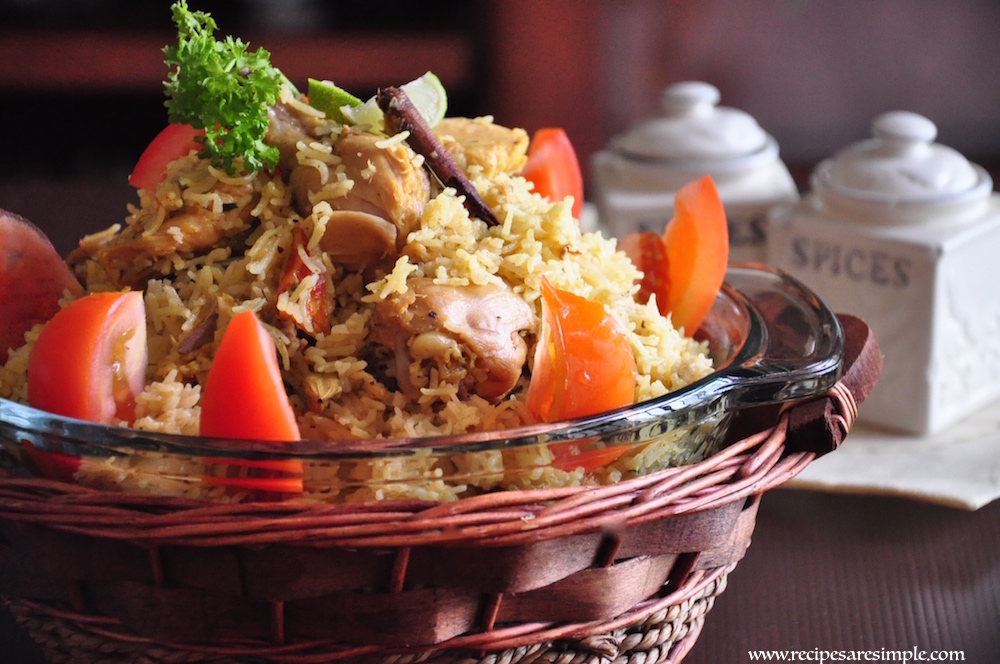 You are here: Home > Rice Dishes  > Arabian Biryani-PressureCooker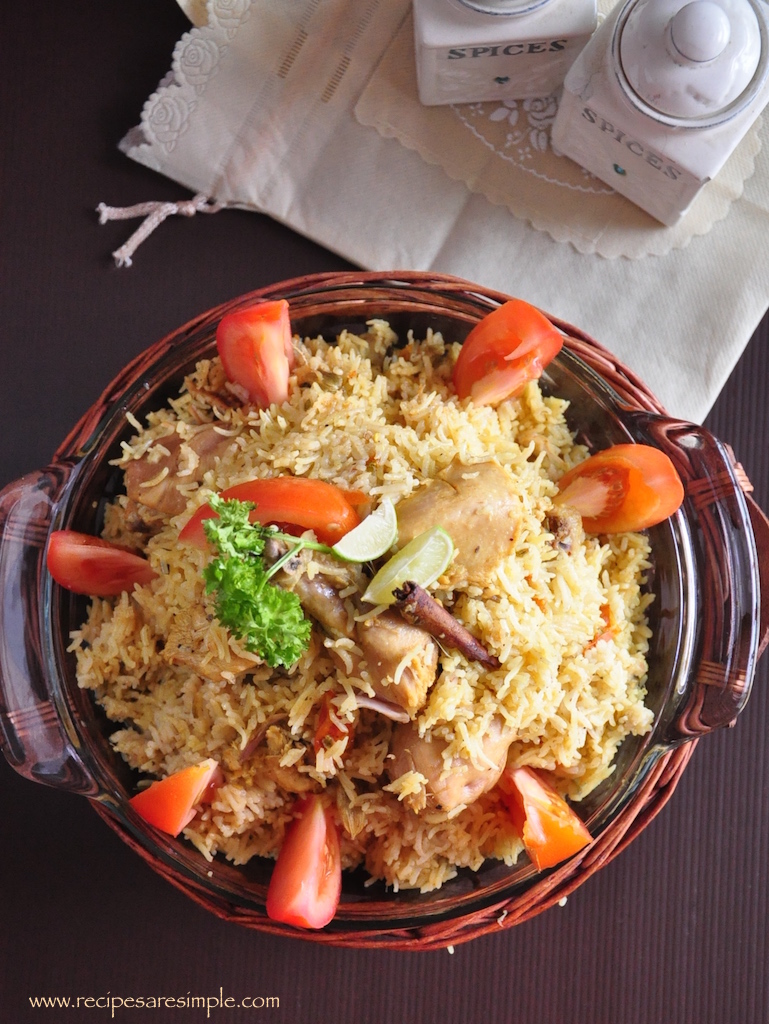 Recipe Name: Arabian Biryani – Pressure Cooker Chicken Biryani

Recipe Type: Rice / Chicken / Made in Pressure Cooker

Author: Shana c/o Recipes 'R' Simple
Arabian Biryani – Pressure Cooker Chicken Biryani 
Ingredients:  (You will need to use a pressure cooker with a minimum capacity of 5 liters)
4 cups basmati
1 large chicken, cut into medium sized pieces
1/4 tsp lime powder or dried lime
Boiled water, as required( to make 6 cups stock)
Toasted pine nuts or fried golden cashew and raisins for garnish.
For Marinating:
3 Tbsp Yoghurt

½ tsp turmeric powder

1 tsp salt
2 Tbsp chopped mint or 2 tsp dried mint
2 Tbsp chopped coriander or 2 tsp dried corriander
For Frying:
4 medium onions sliced very finely – for frying
Masala:
1 tsp green fennel seeds / saunf
4 medium onions chopped
2 ½ Tbsp garlic
2 ½ Tbsp ginger
4 small hot green chillies
1 long milder green chili
2 Tbsp curry leaves
¼ tsp turmeric powder
¾ tsp black pepper, freshly ground
1 tsp 'baharat' arabian spice or garam masala or biryani masala
¼ tsp dried lime powder or 1 whole dried lime
2 tsp tomato paste
2 large tomatoes chopped
4 cloves, 4 cardamom pods, crushed
2 small stick of ceylon cinnamon sticks
½ cup ghee
1 tsp lime juice.
2 Tbsp rose water
4 tsp salt
Method:
Marinate the chicken with the ingredients listed 'For Marinating' and set aside for 20 minutes.
Rinse the basmati well in cool water, several times till the water runs clear.
Soak for 10 minutes in fresh water. Drain.
Add the ginger, garlic and green chillies to a food processor and process

together

, till semi-finely chopped. Set aside.
In same processor, chop the onions for the masala as well. Set aside separately.
Heat ghee in the pressure cooker.
Add the finely chopped onions and fry till golden. (Keep close watch on it).
Remove before they turn dark with slotted spoon/ strainer and set aside on kitchen paper.
To same ghee, add the green fennel seeds and allow to crackle.
Add the chopped ginger-garlic-chili mixture and sauté for 1 minute.
Add the chopped onion and sauté till softened.
Add the curry leaves and marinated chicken now and toss on HIGH heat till the chicken turns white. Allow any moisture to evaporate.
Add the turmeric powder,  spice powder, black pepper powder and tomato paste. Toss to coat and color the chicken pieces evenly.
Add the chopped tomatoes and cook the chicken briefly in this mixture. (1 minute).
Close the cooker and pressure cook on medium heat  till  the cooker reaches maximum pressure ( 1 whistle).

No water added

.
Manually dispatch steam by holding the cooker under running water. Open the cooker.
Remove the chicken pieces gently to a plate.
Measure the gravy left behind in the pressure cooker.

I had about 3 cups.

Add enough boiled hot water to this gravy to make 6 cups.
Return the chicken pieces along with ¼ cup of the finely fried onions. Mix.
Add the measured stock to the cooker.
Bring to boil.
Add lime powder/ dried lime.
Add 4 tsp salt and a little lime juice.
Add the drained basmati rice now. Stir once.
Close the cooker. Replace the weight attachment.
Cook on medium heat till you hear 2 steam whistles.
Allow the cooker to cool on its own and immediately open and fluff the rice from the bottom gently.
Don't wait too long to fork/ fluff up the rice, or the bottom half will be overcooked.
Sprinkle the rosewater through the rice as you fluff it up.
Serve, garnished with toasted pine nuts or cashews and raisins as well as the fried onions! Delicious.
Arabian Biryani – Pressure Cooker Chicken Biryani
Do not overcook the chicken prior to the pressure cooking step. Add the tomatoes only after the chicken has turned white. These steps help prevent the chicken from becoming hard during cooking along with rice.
I like to fry some cashew nuts or almonds and golden raisins / kismis for garnish as well.
The onions for frying need to be sliced extremely thinly. Using a mandolin slicer is best.
To make quick Baharat Spice :  (¹⁄4 tsp ground cinnamon,¹⁄4 tsp ground cardamom, ¹⁄4 tsp red chilly flakes/powder ¹⁄8 tsp ground cloves & ¹⁄8 tsp cumin). Mix ground spices together or grind the equivalent whole spices together to make a powder.
If you do not have dried lime/ powder – try using extra lime juice, although flavor is different.
Key Ingredients: Basmati Rice, Chicken, Spices, Ginger, Garlic, Onion, Green Chillies, Tomato, Yoghurt, Herbs, Salt, Lime.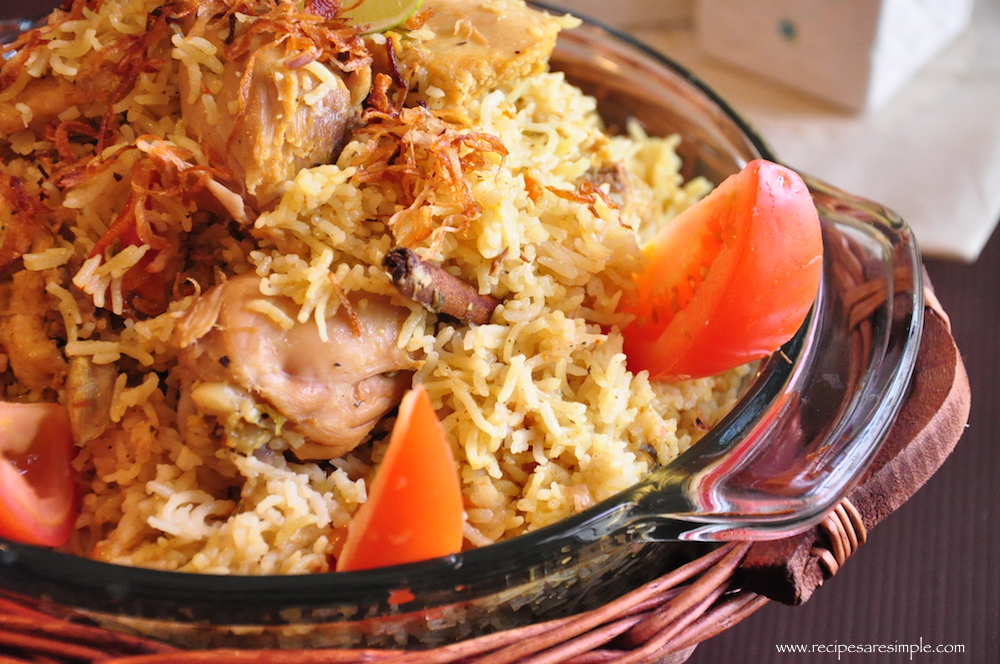 Let me know if you tried the – Arabian Biryani – Pressure Cooker Chicken Biryani . Comments from you provide motivation to keep up the driving force behind this blog, bringing you more delicious and perfected recipes regularly. Please do leave a comment. Love hearing from you.