25 August, 2015
Anna Pathiri |അണ പത്തൽ | Mutton Pidi – Coin shaped rice dumplings with Mutton Gravy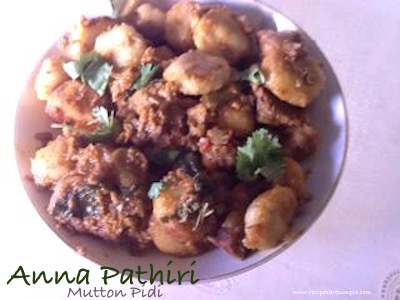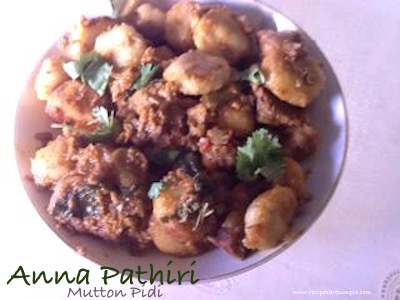 Anna Pathiri – Mutton Pidi  – Coin shaped rice dumplings with Mutton Gravy
Presumably, the word ' Anna' / 'അണ' in Anna Pathiri, relates to its size which is the same as the old Indian 'Anna' Coin.  These are usually made into small thick disks which are pressed with the thumb in the centre. The dough for these coins, is made similarly to how the 'Kerala Kai Pathiri' is made. Other names for this dish include: Anna Pathal, അണ പത്തൽ, Kunji Pathiri or Kunji Pathal.
It can be time consuming task, but very yummy indeed. Usually it is made for special guests, occasions or for Ramadan, when you only cook the one main meal.



Sorry about the picture quality here – I will try to get a better one next time.
Anna Pathiri – Mutton Pidi  – Coin shaped rice dumplings with Mutton Gravy
You are here: Home > Beef and Mutton  > Anna Pathiri
 

Recipe Name: Anna Pathiri

Author: Shana c/o Recipes 'R' Simple
Ingredients:
Gravy:
500 gms mutton
1 medium sized onion, chopped
3 tsp ginger, chopped
4 tsp garlic, chopped
2 mild green chillies, chopped
2 stalks curry leaves
1 tsp kashmiri chilli powder
¾ tsp turmeric powder
1 tsp coriander powder
1 tsp garam masa

l

a

½ tsp salt or to taste
2 Tbsp oil
1 ½ cups water
Fresh coriander for garnish
For Pathiri / Pathal / Coin Dough:
2 ½ cups par boiled rice
1 ½ cups fresh grated coconut
4 shallots
½ tsp aniseed / fennel seed/ perumjeerakam
 For coconut paste:
3 cups fresh grated coconut
4 shallots
1 ½ cups water
1 Tbsp oil
Method:
To make the coin dumplings:
Rinse the rice well and soak in hot water overnight. (8 hours).
Drain and grind with the other remaining dough ingredients.
You should get a thick dough.
Pinch off coin sized pieces and roll into smooth balls.
Press each ball in your palm to make a small dish and indent the centre with your thumb.
Place these on a plate and put into a steamer.
Steam over rapid boiling water for 10 – 15 minutes.
Allow to cool. Sprinkle lightly with cool water and separate the pieces gently.
Make the coconut paste:
Heat oil in a pan / wok.
Add freshly grated coconut and stir continuously, patiently till it becomes golden brown in color. ( DO NOT allow it to become charred/ black).
Add this toasted coconut to a mixer/grinder with the remaining ingredients for the paste. Grind to a paste as smooth as possible.
Gravy:
Cut the mutton into bite-size pieces. Rinse well and keep drained.
Heat oil in pressure cooker earlier.
Add onion and sauté till translucent.
Add the ginger, garlic, green chili and curry leaves.
Lower heat and sauté till the ginger and garlic smell cooked.
Add the spice powders and a dash of water. Stir till fragrant.
Add the mutton pieces and salt.
Toss to coat with in the spices.
Add water and bring to boil.
Cover cooker and place the pressure regulator.  Cook on high till you hear the first whistle.
Lower heat and cook for another 3-4 steam whistles.
Check if mutton is tender after cooling. (Cook on low if it needs some more cooking).
Add the coconut paste and bring to boil again.
Add in the steamed rice coins and coat with the gravy.
Remove from heat. Serve while hot, garnished with copped fresh coriander.
Anna Pathiri – Mutton Pidi  – Coin shaped rice dumplings with Mutton Gravy
Instead of soaked rice, you can also use rice flour and prepare dough as for
 kai pathiri
.
Key Ingredients: Rice, Mutton, Spices, Coconut, Onion, Ginger, Garlic, Curry Leaves, Oil, Salt.
Let us know if you tried it – Anna Pathiri – Mutton Pidi . Comments from you, help to keep up the driving force behind this blog, bringing you more delicious and perfected recipes regularly. Please do leave a comment. We love to hear from you.