22 July, 2016
American Potato Salad | Quick Salads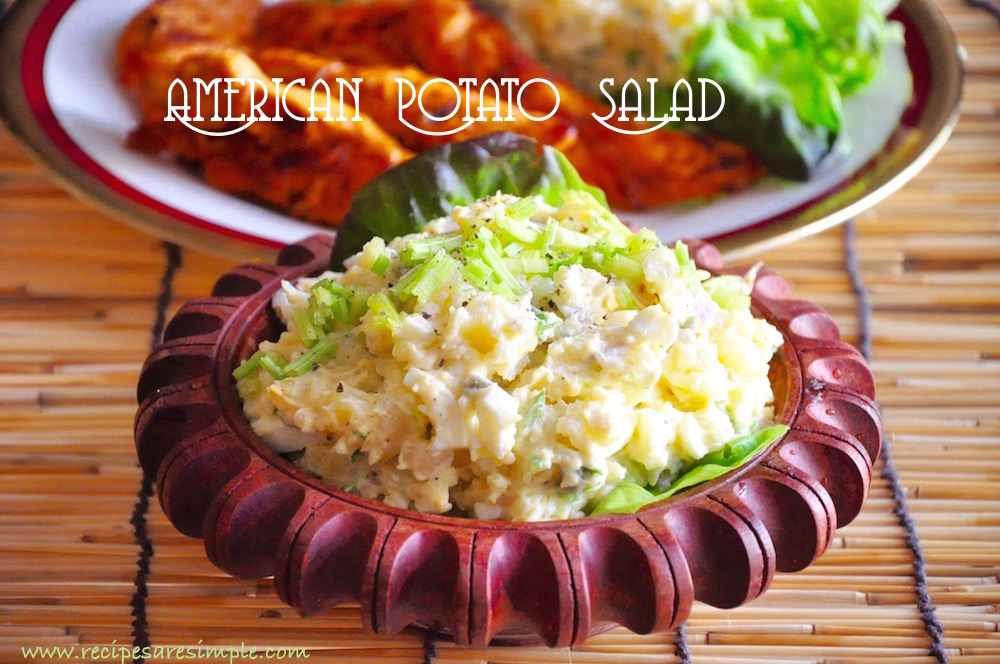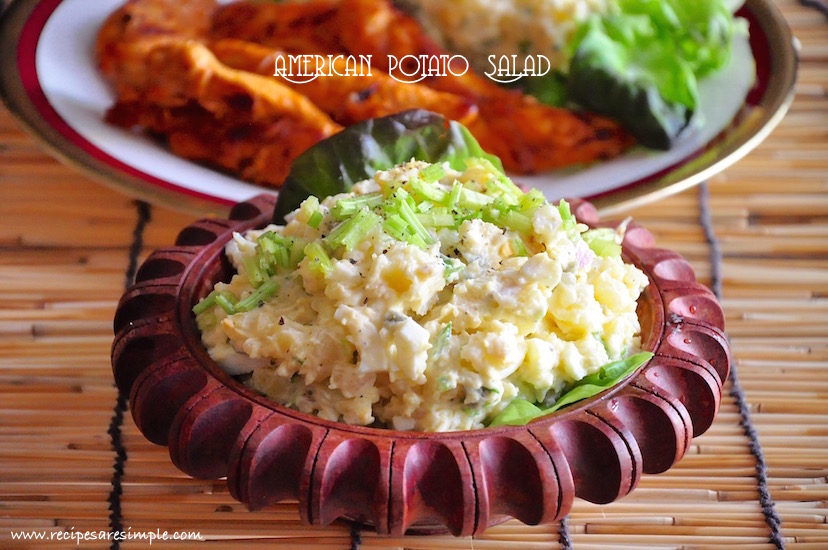 American Potato Salad | Quick Salads with Video
Growing up, I always came home to delicious food every day. My mom will always be the best cook to me.. I admit during my teenage years, I was quite fussy with food.. I had a lot of things that I didn't appreciate as much as I do now.  She always seemed to have time to fix me something that I liked. On the occasion that she would not be home when I came home, she would leave me something in the fridge. I would cleanup and hurry to find out what was in there for me. Cold Potato Salad was one of my favorites. I could have this just on its own or with some of her yummy chicken. This salad is a great side any day! Filling you up well till your next meal.
American Potato Salad | Quick Salads
You are here: Home > Salads  > American Potato Salad
 

Recipe Name: American Potato Salad | Quick Salads

Recipe Type: Salads / Vegetarian/ Egg Recipes

Author: Shana c/o Recipes 'R' Simple

Chill time: 2 hours
Ingredients:
5 large potatoes (Waxy potatoes are preferred over starchy ones for salads like this. Think Fingerling or All purpose instead of Russet).
5 boiled eggs
1 large purple onion, finely diced
3 Tbsp green onion (spring onion greens), finely chopped
3 Tbsp celery leaves, finally chopped
2 Tbsp pickled relish OR pickled gherkins, finely chopped
1 Tbsp green pepper, finely chopped
2 tsp lime juice
10-15 Tbsp mayonnaise ( as needed)
2 tsp original english

prepared mustard

(

Colemans) – I find this much better
than American mustard.
¼ tsp pepper
salt to taste
Method:
First of all, boil potatoes in their skin (with light cut all around the centre for easy peeling later), till tender. Allow to cool and peel. Dice and set aside.
Boil eggs, peel and dice.
Add the diced potato and egg to a bowl. Add all other ingredients.
Add enough mayonnaise to just coat the potatoes.
Salt and pepper to be adjusted to taste. Also add more mustard if you like.
Toss well till ingredients are evenly incorporated.
Chill till ready to serve.
Serve with Simple Smoky Grilled Chicken if desired.
American Potato Salad | Quick Salads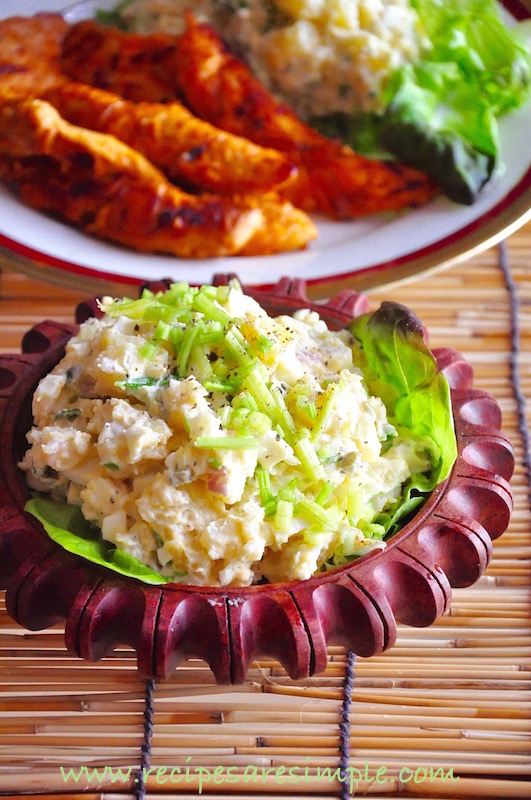 Key Ingredients: Potato, Egg, Mayonnaise, Prepared Mustard, Onion, Green Onion, Celery, Lime, Salt, Pepper.
Leave a comment if you tried – American Potato Salad | Quick Salads.
(function(i,s,o,g,r,a,m){i['GoogleAnalyticsObject']=r;i[r]=i[r]||function(){
(i[r].q=i[r].q||[]).push(arguments)},i[r].l=1*new Date();a=s.createElement(o),
m=s.getElementsByTagName(o)[0];a.async=1;a.src=g;m.parentNode.insertBefore(a,m)
})(window,document,'script','//www.google-analytics.com/analytics.js','ga');
ga('create', 'UA-47262870-1', 'auto');
ga('send', 'pageview');