8 May, 2015
Ambur Biryani / Arkot Biryani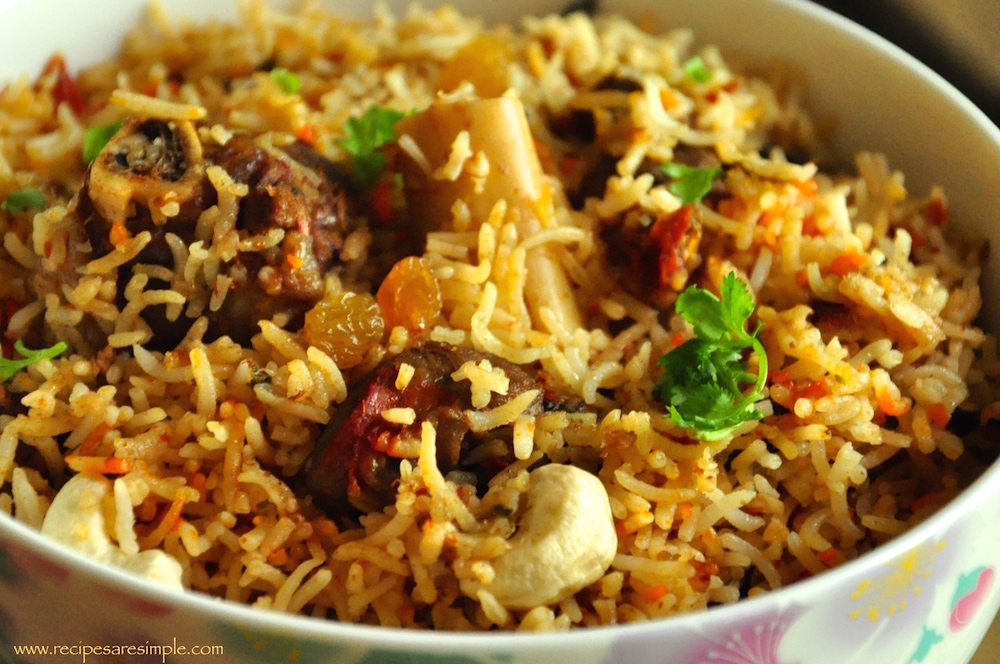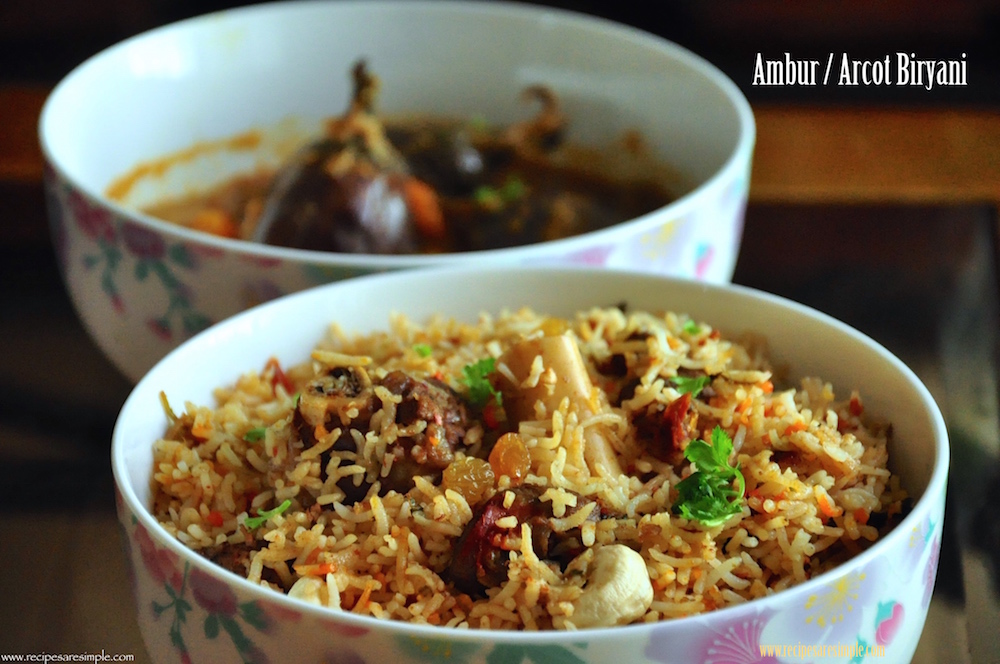 Ambur Biryani / Arkot Biryani
The "Ambur Biryani" is the best known variety of the "Arcot biryani" the generic name for all biryanis in the Arkot region. Arcot is a town of Vellore city in the state of Tamil Nadu, India. Located near the Palar River. An area which was once ruled by the Nawabs of Arcot. This area has numerous Biryani Houses and is very famous for the same. This derivative of the Mughal Biriyani is certainly distinct in its different flavor! I love all Biriyani's. I love learning about the way different Biriyani's are served from region to region and what sets them apart. I know most people have their own favorite type of Biriyani (Region Wise), but I really believe you should try all the different varieties you can if you are a lover of Biriyani!
This Ambur Biryani / Arcot Biryani is very tasty. The rice that is used (Jeerakasamba / Jeerakasala / Kaima) is one factor that sets it apart. In the picture above I have used Basmati. Next time I make it with Jeerakasamba rice, I will post the picture. It is also famously served with the Brinjal Curry / Enna kathrikai.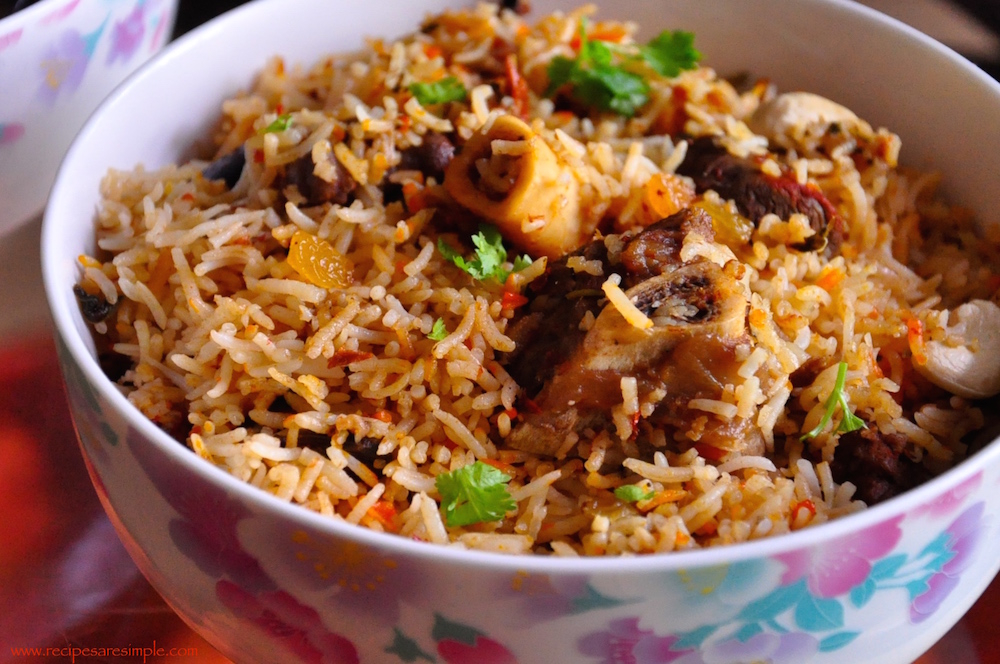 You are here: Home > Rice Dishes  > Ambur Biryani / Arkot Biryani
 

Recipe Name: Ambur Biryani / Arkot Biryani

Author: Shana c/o Recipes 'R' Simple
Ambur Biryani / Arkot Biryani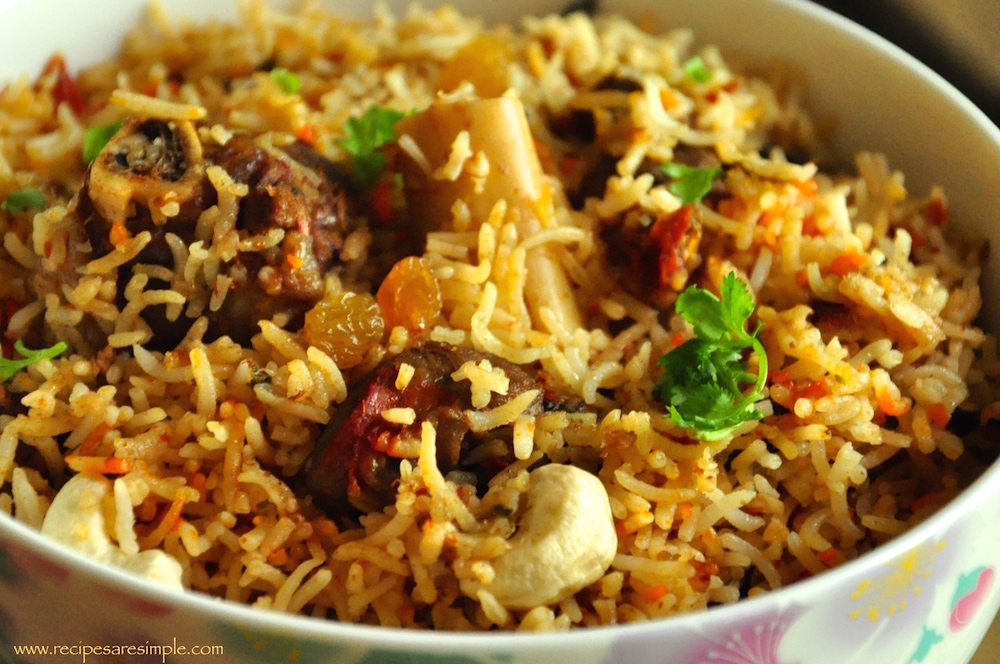 Ingredients:
For cooking the mutton:
500 – 550 gms Mutton with some bone
2 Tbsp ground nut oil
4 cloves
4 cardamom pods
4 tiny sticks of cinamon
3 petals of star anise
¼ tsp of aniseed
7 large cloves of garlic
same amount of ginger as the garlic
½ tsp Kasa kasa / White Poppy Seeds
2 medium sized onion, diced
2  medium sized tomatoes, diced
8-10 dried red chillies –

use the shriveled variety that is milder than the fat shiny ones. Use more if you want it spicier!

4 cashew nuts
¼ tsp turmeric powder
1 tsp rock salt.
¹/3 cup yoghurt.
4 Tbsp coriander leaves, chopped
3 Tbsp mint leaves, chopped
4 – 5 cups water (boiled)
For the rice:
2 ½ cups jeeraka samba rice – If you can not find it – use Basmati
2 tsp rock salt
For layering:
1 Tbsp coriander leaves
2 Tbsp fried shallots (golden and crisp)
4 Tbsp ghee
3 Tbsp milk
1 Tbsp rose water – optional
½ tsp garam masala – see my recipe for garam masala
For garnish (optional)
¼ cup kismis(golden raisins) fried in ghee
½ cup cashew nuts fried in ghee
fresh coriander
Method:
Boil the dried chillies in water for 10 minutes. Then keep covered in this hot water for 20 more minutes. Meanwhile you can prep all other ingredients.
Rinse the mutton thoroughly under running water. Leave to drain.
Rinse the rice thoroughly. Soak in water for 10 minutes and then leave to drain.
Grind the Ginger and Garlic with Kasa kasa  and 2 Tbsp of water to a smooth paste. Set aside. 

Pounding the kasa kasa before adding to the grinder helps. 

Remove the soaked chillies from the water, discarding the soaking water and any seeds that have fallen. Add to the same grinder used for making the ginger garlic paste along with 4 cashew nuts.
Grind to a smooth paste – without adding any water.

   (The chillies will have sufficient water in them from soaking). It should weigh roughly 55 gms after grinding to a paste.

Heat ground nut oil in heavy based pot.
Add the whole spices and allow to crackle.
Add only a Tbsp of the chopped onions now
Add all of the ginger garlic paste and 1 tsp of the yoghurt. Fry whilst stirring till the raw smell of garlic dissipates. (Adding a tiny bit of yoghurt, enhances flavor of the garlic and ginger paste).
Add a  

few

coriander leaves.

Now add the drained mutton and stir fry in the ginger paste on medium high heat for 5 minutes. Make sure no burning of ginger and garlic occurs. Adjust heat accordingly.

After 5 minutes, add

most

of the remaining coriander leaves .

Now add all the remaining chopped onion as well as the chopped tomato. 

Stir fry briefly till the onions are softened and the tomatoes have reduced into a pulp.

Now add the red chili paste.. Stir and cook till the oil separates- a minute or so.

Add the turmeric powder and stir through.

Now it is time to add the remaining yoghurt as well as 1 tsp rock salt

Stir well to incorporate the yoghurt smoothly and coat the mutton w

ell.
Add

rest

of coriander leaves. Also add the mint leaves
Add the hot boiled water, 1 cup at a time. Bring to boil and cover. Reduce heat and simmer. Add the next cup when the gravy becomes dryish… Repeat this till the mutton is cooked tender. Mine took 30 minutes. Check a piece of mutton to ensure it is tender before continuing. While the Mutton s being cooked you can par cook the rice.
Cook the Rice
Add 8 cups of water to a pot and bring to boil.
Add salt and drained rice.
 Cover for 5 minutes on medium heat. Open to stir occasionally. The rice should be only half cooked, it should still have some bite to it.
Quickly Strain the rice and keep aside.
Layer the rice and mutton together:
Preheat oven to 200 °C / 392 º F
Once the mutton is cooked tender and there is just a little gravy remaining, sprinkle the fried shallots over the masala.
Add some of the rice over the top. Sprinkle with garam masala.
Add the remaining rice and pour the ghee over the top.
Pour milk & rose water over the rice too. If the Mutton mixture seemed dry pour a little bit over water ver the rice – 1/8 cup or so.
Traditionally, a tight fitting lid is placed over the pot covered with live coals. It is then coked over a moderate wood fire for 20 minutes.
At home you can seal with aluminum foil and place in the preheated oven.
If using a european oven, allow heat from below as well as above. After 15 minutes, turn off the lower heat source so that only the top grill is on. Cook for 15 minutes more (30 minutes total).
Allow to rest in the oven (turned off) for at least 15 minutes.
Open the foil  and stir the rice so that the mutton and ghee is mixed through.
Garnish with Fried Cashews and Kismis. This is optional.
Serve hot with the Brinjal Curry.
Ambur Biryani / Arkot Biryani
Key Ingredients: Rice, Mutton, Onion, Chillies, Garlic, Ginger, Spices, Yoghurt, salt
Let us know if you tried it – Ambur Biryani / Arkot Biryani . Comments from you provide motivation to keep up the driving force behind this blog, bringing you more delicious and perfected recipes regularly. Please do leave a comment. We love to hear from you.