6 October, 2014
Aloo Paratha – Stuffed Indian Flatbread with Cooked Potato Filling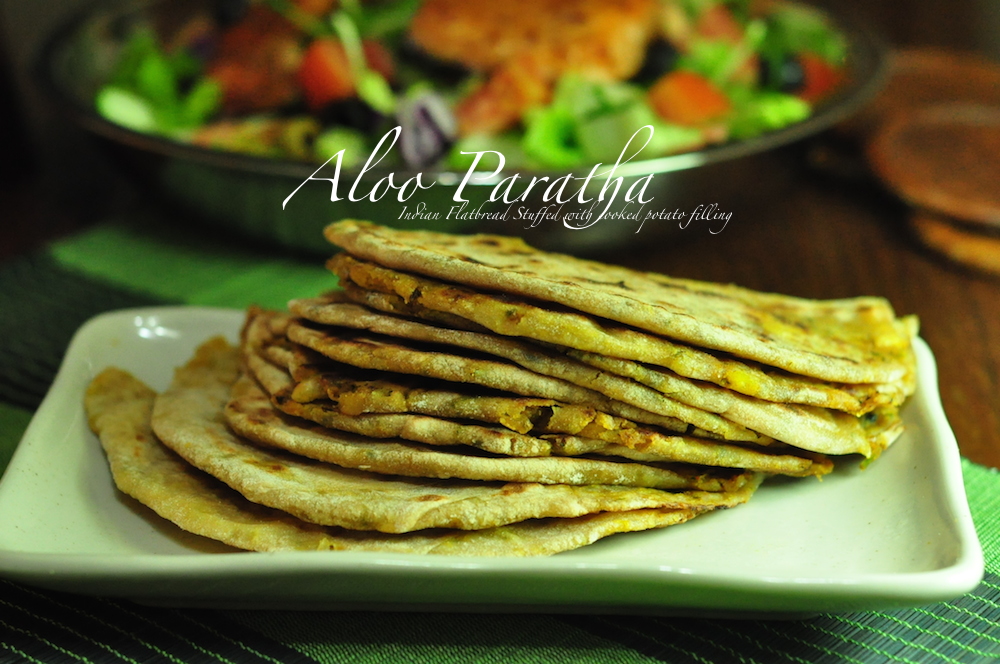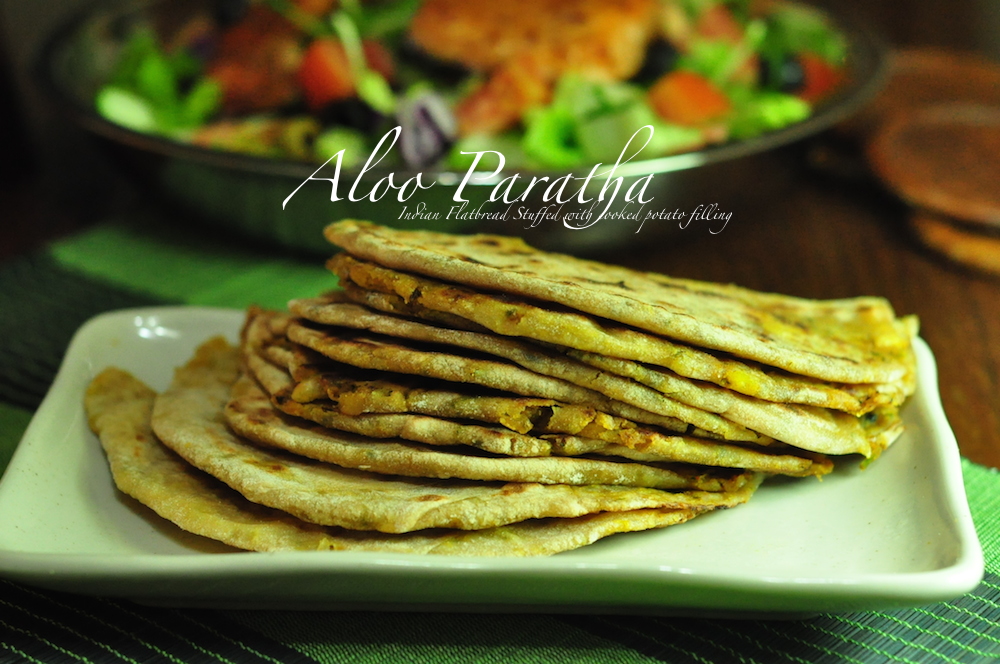 Aloo Paratha – Stuffed Indian Flatbread with Cooked Potato Filling
Aloo Paratha or Potato Paratha is Indian flatbread  that is rolled out, stiffed with a potato filling, folded into a little dumpling and then rolled out again to give you a stuffed flatbread. This is a hugely popular breakfast or anytime dish throughout the homes in Northern India. It enjoys popularity in western countries as well. Great for kids lunch boxes! Wholewheat flour is used and you can replace the stuffing with other vegetables like beets, cauliflower, peas or Indian Cottage Cheese (Paneer). SCROLL DOWN FOR VIDEO.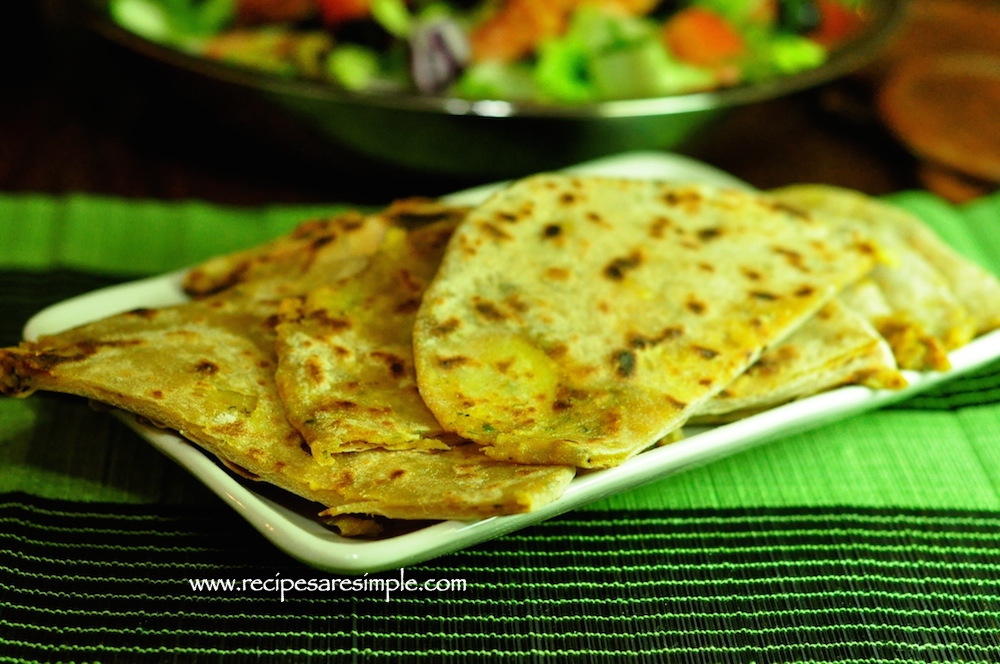 Aloo Paratha – Stuffed Indian Flatbread with Cooked Potato Filling
Recipe Type: Breads / Flatbread

Author: Recipes 'R' Simple

Prep time: 15

Cook time: 20

Total time: 35

Serves: 6
Ingredients:
3 cups whole wheat flour (aata)
1½ Tbsp clarified butter (ghee)
½ tsp salt
½ cup hot water
½ cup – ¾ cup plain water (AS NEEDED)
4 large russet potatoes
1 cup onion, finely chopped
½ cup garlic, finely minced
1 long green chili, seeded and chopped finely
large handful of coriander leaves, chopped very finely
optional 3 curry leaves, chopped finely
½ tsp mustard seeds
1 tsp cumin seeds
2 Tbsp coriander powder
1 tsp kashmiri chili powder
½ tsp turmeric powder
salt to tatse ( ¼ -½ tsp)
Method: You will need a rolling pin, board for rolling ( or use countertop) and a flat grill pan (tawa).
Cook the potato filling first. Peel the potatoes. Chop into a few chunks.
Add to a small pressure cooker with just a little water and pressure cook for 5-6 steams. Remove all the water and mash with the back of a fork. Set aside.
Heat oil in a non stick pan. Add mustard seeds and allow to crackle.
Add the cumin seeds. When fragrant, add the chopped garlic and sauté till softened.
Next add the onion and sauté till nice and golden without going brown. (Stir continuously on medium heat). Add the minced green chillies too.
Add the spice powders and cook till fragrant.
Add mashed potatoes and salt and stir through to thoroughly mix.
Also stir in the fresh herbs to incorporate.  Set aside.
Now  for the Paratha/ Chapathi
Add the wholewheat flour and salt to a large bowl.
Pour the hot water over it first. Stir this with a wooden spoon till it is mixed through.
Add the clarified butter.
Then add a little bit of the plain water at a time whilst mixing with your hand.
Add water till the dough begins to hold together. Knead till all the flour comes together as a ball. Knead for 5 minutes till smooth and elastic.

  The dough shouldn't be sticky. That's why you must only add the cool water a little at a time. If you have added too much water and the dough is sticky, just sprinkle a little flour till you are able to knead to a soft smooth dough

Roll the dough into a thick rope and pinch off lime sized balls from the rope.
On a lightly floured rolling surface, flatten the balls one at a time into a disk.

Only use wheat flour for dusting purposes.

Then use a rolling pin to roll out into a circle.
Add 1 or 2 spoons of the potato filling to the centre.
Pinch the rolled out circle towards the centre, over the filling in a pleating action, to resemble a stuffed dumpling.
Press the centre of the dumpling with gentle force, to achieve a disk shape once again.
Sprinkle lightly with flour and roll out again, applying pressure to the centre first and then to the sides.

Applying too much pressure will cause the filling to squirt out. Although it's fine for a little filling to be exposed, we don't want it jumping out in the initial rolling. This will make it difficult as your rolling pin and board may get stuffing on it making the consecutive parathas harder to roll out smoothly.

Heat the 'TAWA' – pan and once the paratha is rolled out to the maximum limit without  tearing, place the paratha on the dry pan.

( keeping the seam side up – the tucked side that was facing upwards while rolling)

Keep the heat on low-medium.
Continue rolling out the next paratha, while keeping an eye on the pan.
When you see slight bubbles on the surface, check to see if the bottom has light brown spots on it.
If it does, flip over. If not wait a few more seconds.
Once flipped over, take a regular tablespoon that has been merely dipped in clarified butter and rub the back of the spoon all around the paratha repeatedly.

This step helps the paratha to puff up very slightly in spots and be cooked evenly while at the same time adding a little moisture from the ghee.

Once the second side has light brown spots on it, remove the paratha to a heat proof casserole dish or a basket lined with a large kitchen towel.
By this time you have rolled out the next paratha or two so continue to roll and roast side by side.
Place the parathas on top of each other in the casserole.

This step helps to soften the parathas further.

Once done, cover the casserole dish or wrap up with the cloth.
These parathas can be served for breakfast with some pickle and yoghurt or for dinner with some light side dishes or plain in lunch boxes or as a snack.
Aloo Paratha – Stuffed Indian Flatbread with Cooked Potato Filling
Try it and let us know – Aloo Paratha – Stuffed Indian Flatbread with Cooked Potato Filling .
If you like a tart flavor you can add  ½ tsp of mango powder (amchur) along with the other spice powders.
While mashing the potatoes, tiny chunks are okay, as long as they are not big enough that they will tear through the paratha upon rolling. Also ensure the potatoes are cooked tender so that they are easily mashed. The mashed potatoes should not be runny. Drain all water before mashing.