21 February, 2014
Indian Chicken Curry – Ultimate Recipe Loved by All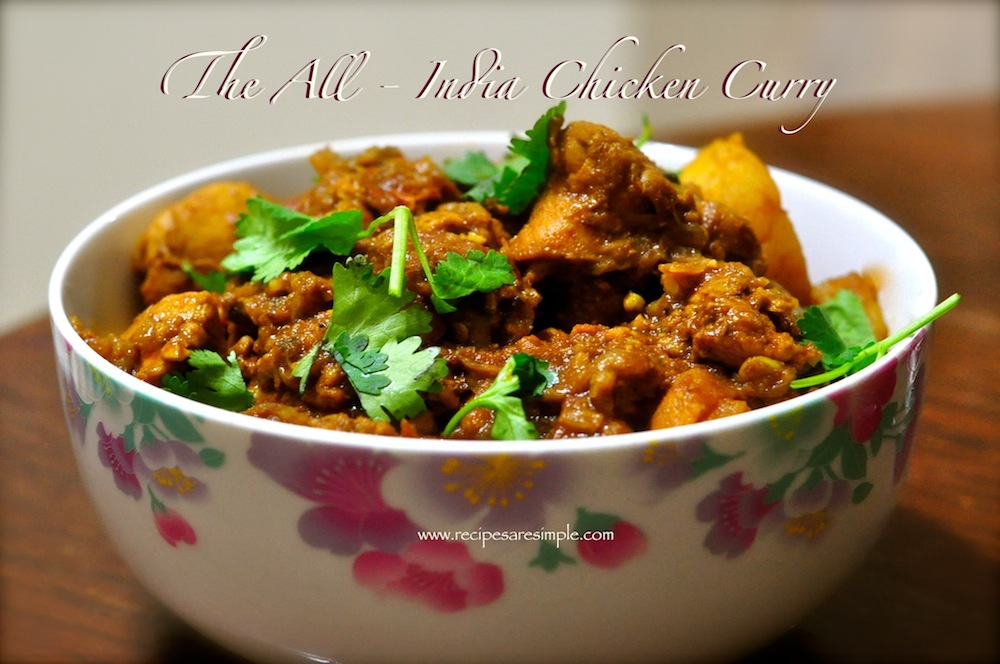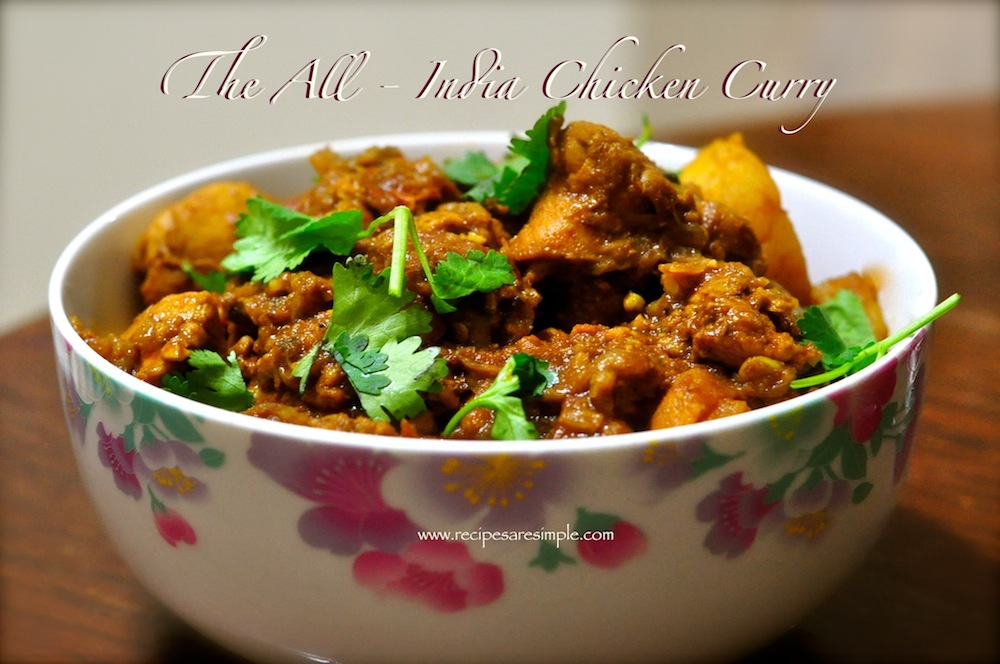 Indian Chicken Curry
When it comes to a great Chicken Curry that is loved by all, this one fits the bill to perfection. I call it the All India Chicken Curry! There are curries that are distinctly North Indian and there are those that are unmistakably South Indian. Many people will be in the mood for this or that. However, this curry is certain to please the masses, whether your in the mood for North, South, East or West. The use of milder Chili Powder or Paprika also makes it more Globally appealing as well. The curry is of a thicker consistency,  gravy coating the chicken sublimely. Potatoes are optional. Check out the video on how to make the ultimate Indian Chicken Curry!




Indian Chicken Curry
Recipe Type: Curry- Main

Author: Recipes 'R' Simple

Prep time: 

Cook time: 

Total time: 

Serves: 4

Ingredients:
1 whole chicken, cleaned, skinned – cut into small to medium pieces ( with bone)
4 medium sized onions, sliced thinly
3 Tbsp Garlic, chopped finely
2 Tbsp Ginger, chopped finely
3 small Green Chillies or 1 large, sliced into rings
1 ½ – 2 Tbsp Coriander powder
1 ½ Tbsp Mild Red Chilli powder/ Paprika
1 Tbsp Garam Masala (Get My Recipe For  Garam Masala – it really makes this dish awesome)
¼ tsp freshly cracked black pepper
2 large tomatoes, chopped
4 green cardamom – crushed to expose the seeds  (Make sure they still smell good)
2 handfuls of fresh coriander leaves, chopped
1-2 potatoes, cut into large pieces- Optional
about 1 ½ tsp salt or to taste
½ tsp turmeric powder
2 Tbsp – or as little as possible Sunflower/Vegetable Oil ( do no use too much oil for this curry)
You will need a pressure cooker
Method:
Cut the cleaned, skinned and rinsed chicken into small to medium sized pieces. Rinse well and drain.
Marinate the

drained

chicken with about 1 tsp salt and the turmeric powder, while you chop up the remaining ingredients.
Heat the oil in the pressure cooker.
Before the oil gets too hots, add the garlic and stir .
A few seconds later, before the garlic turns dark add the ginger and stir as well.
Once aromatic, add the sliced onions and saute well, till the onions are softened.
Add the marinated chicken and on HIGH heat, toss the chicken well in the sauteed ingredients. Allow the chicken to fry a bit, and turn white all over ( no more pink). Allow any excess moisture (water) to run dry as well.
Next add spices; coriander powder, chili powder, garam masala, cracked black pepper and toss again to coat the chicken thoroughly and also cook the spices.
Once the oil separates, add the tomatoes. Toss and add the seeds of the Cardamom.
 Allow to cook down for a while.
Add the coriander leaves, reserving some for the garnish, Fold in.
Now add some more salt to taste ( about  ½ tsp more should do) .
Add potato pieces now, if using. Toss into the masala.
Do not add water, the chicken will release its own juices.
Close the cooker. Apply the pressure regulator (weight) and cook on medium high till you hear the first whistle.
Reduce the heat to low and cook for the remaining 2 steam whistles.  (3 in all)
Turn off heat and allow to cool by itself.
Open the cooker, if there is too much liquid, continue to simmer till the gravy thickens slightly.
(This may vary according to moisture content) – if the gravy is already thickened, add some more coriander leaves as garnish.
Enjoy this delicious curry with rice, roti, parata, naan etc.
Indian Chicken Curry
Try it and let us know – Indian Chicken Curry.
You can make different variations of this curry by using different varieties of Garam Masala. However I recommend my

Garam Masala Recipe

for a very tasty curry.

I like this curry without potatoes, my husband likes it with potatoes. Make sure if you are using potatoes to select those with low sugar content or it could result in a sweetened curry. Russet potatoes work well.