9 September, 2013
Ada Pradhaman – Famous Kerala Payasam with Home made Ada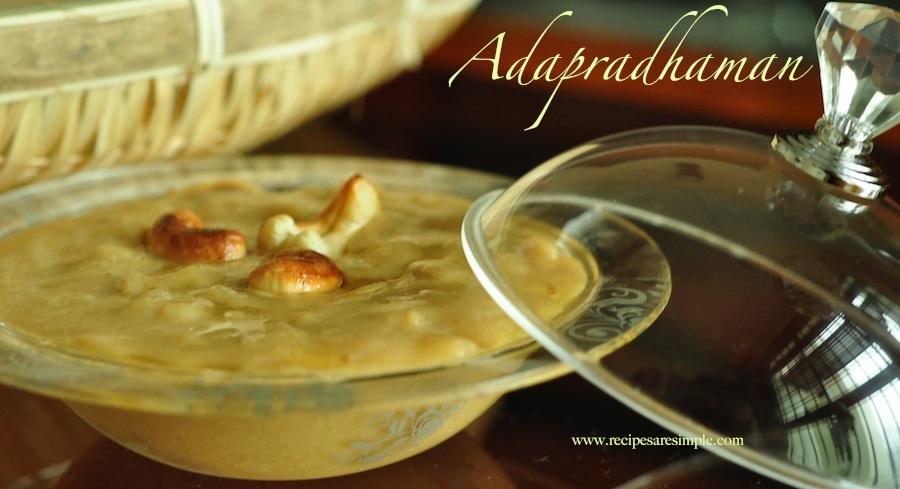 Ada Pradhaman – Kerala Payasam
Ada pradhaman -This is the most classic coconut milk and rice flake dessert 'Payasam' from Kerala. An elaborate version of Rice pudding, where rice or rice flour is made into a batter which is then intricately steamed into thin flakes. These flakes are then simmered to perfection in a sweetened coconut milk dessert/pudding. Mildly spiced with cumin, cardamom and dry ginger. In the video, you can see how to make Home made Ada from scratch. 
Ada Pradhaman – Kerala Payasam
Ingredients:
if making home made 'ada'
1 cup rice flour, sieved

(Or Traditionally, rice 'Unakkalari' is soaked and then powdered along with ghee to make a smooth batter)

1 Tbsp ghee or more for brushing
2-3 large banana leaves
Water as needed
For Prathaman:
2 cups very thin  2nd extraction of coconut milk
1 cup milk
½ cup first extraction coconut milk

(see notes)

¾ cup jaggery

(the darker variety is better)

½ tsp cardamom powder
¼ tsp ground dry ginger (chukku)
½ tsp dry roasted cumin powder –

this may be omitted if you don't like cumin

1 Tbsp ghee
¼ cup cashews
Method:
To make 'Ada'
In a small bowl, mix the sieved rice flour, adding enough water to make a thick batter, thicker than pancake batter.

Make sure it is smooth and pourable.

If using 'Unakkalari' or even Red Rice: soak for  for 4 to 5 hours and rinse till the water runs clear. Grind / Pulverize the rice with

just enough water

to make a very smooth, silky paste. Add water only a little at a time, just enough to assist in smooth blending. Avoid adding too much water and making the resulting paste too thin.
Wash the banana leaves, cut into sheets 5-6 " in width. Wilt while still damp on gas flames. 

This keeps the leaves from getting torn during the ada making process.

Heat water in a steamer  fitted with a steaming rack.
Brush each sheet with some ghee, evenly.
Then pour some batter over each leaf. ( Not too much or it will overflow).
Roll the sheets into secure bundles and place in the steamer.
Cook covered for 8- 10 minutes.
Drop the rolls into a pot of cool water to easily remove the ada. Drain or scoop and set aside.
If your ada is thicker, you can unroll the sheets and cut them with a sharp knife into small squares as well. Both methods work.
If using store bought ada:
Fry the ada in some ghee according to package directions first. Continue as follows. See this post for the recipe using Instant Rice Ada.
To make the pradhaman:
Heat the jaggery with 1 ½ cups water till you get a thickened syrup. Strain to remove any impurities.
Add the jaggeryy syrup along with the prepared ada and bring to boil. Simmer till thickened.
Add the  thinnest extraction of coconut milk (2 cups) and allow to boil and thicken well.
Add the spices.
Once thickened and 'ada' is cooked well, add the thick coconut milk and remove from heat. stir well.
Pradhaman often gets thick as it sits, In this case Add fresh cows milk to loosen or adjust consistency. It also helps to soften the coconut milk flavor. (I prefer to add milk to adjust consistency as adding too much coconut milk might result in a heavy pradhaman).
Heat ghee in a small pan and fry the cashew nuts till golden.
Add to the Pradhaman. Serve warm or cold as per desire.
Notes:
The first extraction is the milk obtained from grinding the coconut with minimal water- it is the thickest milk, we drain this milk and grind the coconut twice or  even thrice to get the second and third extractions respectively ; each more dilute than the previous)
If you are using fresh coconut milk, do not boil after adding the Ist extraction (thickest) coconut milk. Not applicable if using coconut milk powder.
*The ada should have a certain bite to it. If it simply melts in your mouth, the batter probably was not thick enough.
You May Also Like: