3 September, 2015
Ada Pradhaman with Instant Ada (Rice Flakes)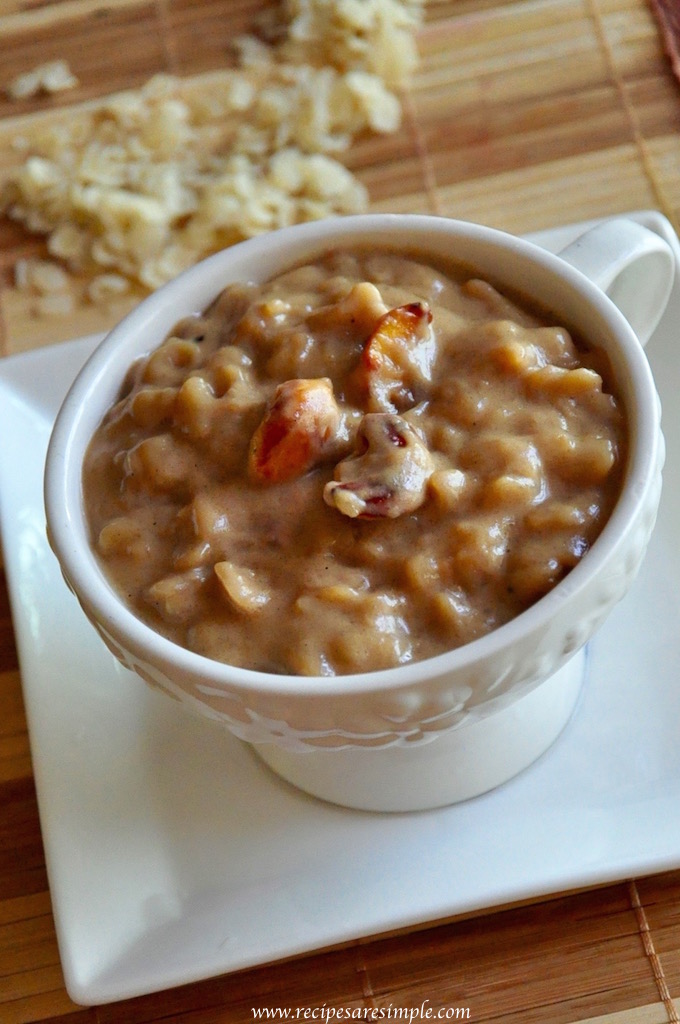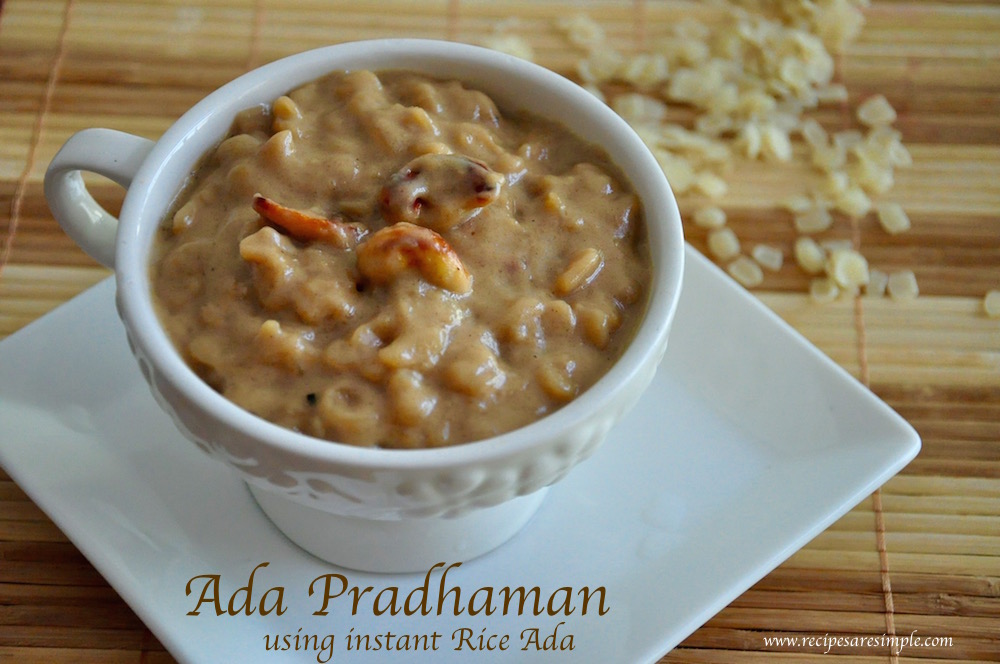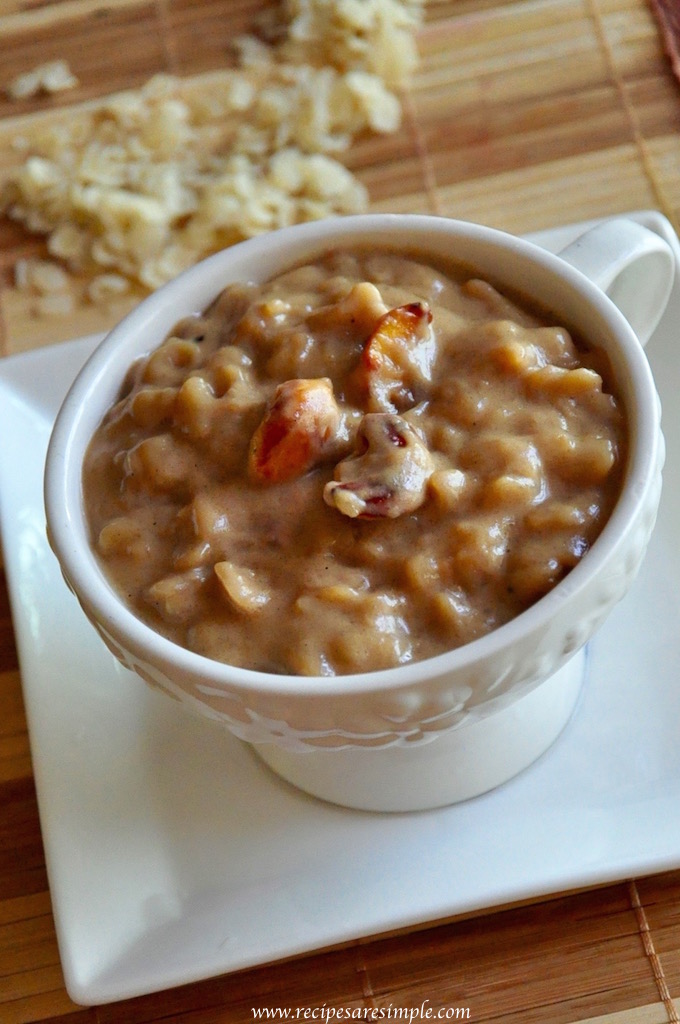 Ada Pradhaman with Instant Ada (Rice Flakes)
Ada Pradhaman is one of the most sought after Payasams when it comes to Kerala feasts and Onam Sadhyas. Here is how to make it easily and deliciously with the store-bought instant ada. The Payasam thickens after resting a while, like in the picture. The texture can be loosened to a desired consistency bu adding light fresh milk and heating through.
Here, you can find the post on how to make Ada pradhaman with home made Ada
Ada Pradhaman with Instant Ada (Rice Flakes)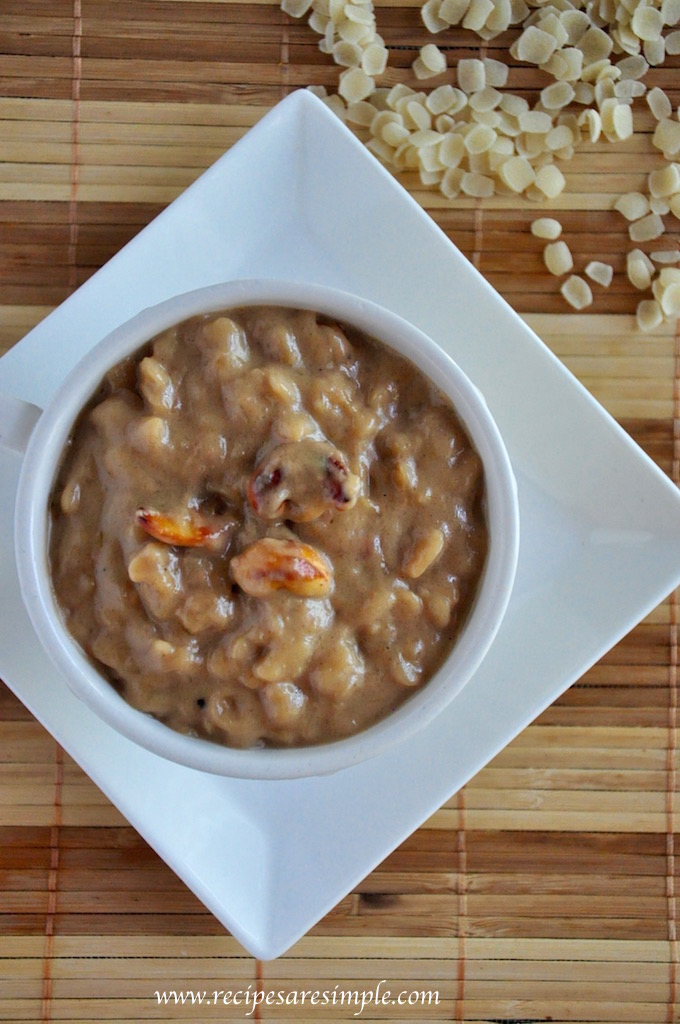 You are here: Home > Desserts  > Instant Ada Pradhaman
 

Recipe Name: Ada Pradhaman with Instant Ada (Rice Flakes)

Cuisine: Kerala

Author: Shana c/o Recipes 'R' Simple
Ingredients:
1 cup instant RICE ada ( I used Bambino Rice Ada)
 1 generous Tbsp pure ghee ( clarified butter)
2 cups thin coconut milk –

freshly squeezed is best

¼ -½ cup jaggery- powdered

(use to taste, add ¼ cup first and add to taste)

½ tsp ground cardamom ( fine powder)
¼ tsp ground ginger (chukku)
½ cup thick coconut milk
fresh milk (cows milk) to adjust / loosen consistency as required.
Optional: 1 Tbsp ghee, a handful of cashew nuts and a spoon of raisins for fried garnish.



Method:
Heat the ghee in a skillet. Add the instant ada.
Fry whilst stirring  for a couple of minutes till the ada becomes slightly pale white or opaque. (No browning).
Add the THIN coconut milk, powdered jaggery, cardamom and ginger.
Bring to a simmer and cook for 10 minutes or so on low-medium heat, till the ada is tender and cooked well.
Add the thicker coconut milk and bring just  to a boil, Remove from heat.
Fry cashew nuts and or raisins in a little ghee if desired and add to the Adapradhaman.
Add fresh cows milk to loosen consistency  is it has thickened after resting. Add just a little and heat through, stirring well.
Ada Pradhaman with Instant Ada (Rice Flakes)
Key Ingredients: Store-bought Ada, Coconut Milk, Jaggery Cardamom, Dry Ginger, Milk.
Let us know if you tried it – Ada Pradhaman with Instant Ada (Rice Flakes) . Comments from you provide motivation to keep up the driving force behind this blog, bringing you more delicious and perfected recipes regularly. Please do leave a comment. We love to hear from you.