22 September, 2013
Ada Pradhaman with Pineapple – Steamed Rice Flake Dessert with Pineapple in Coconut milk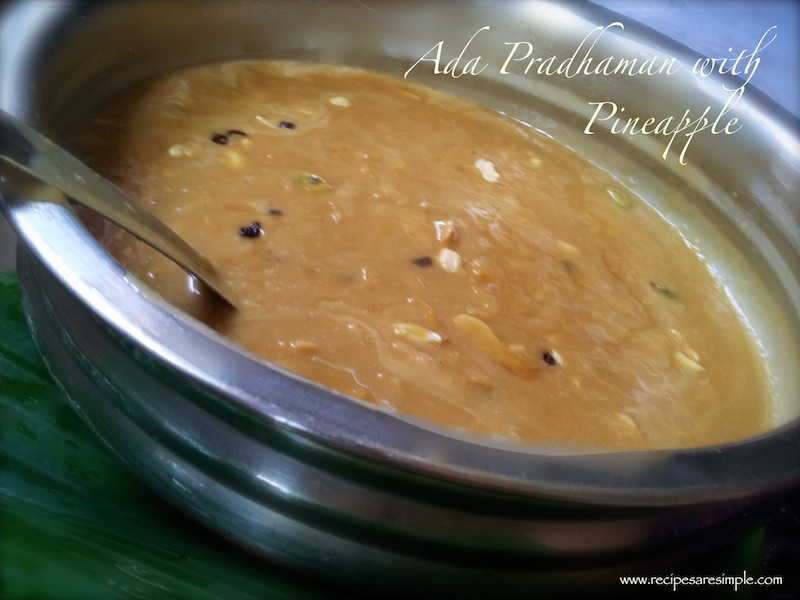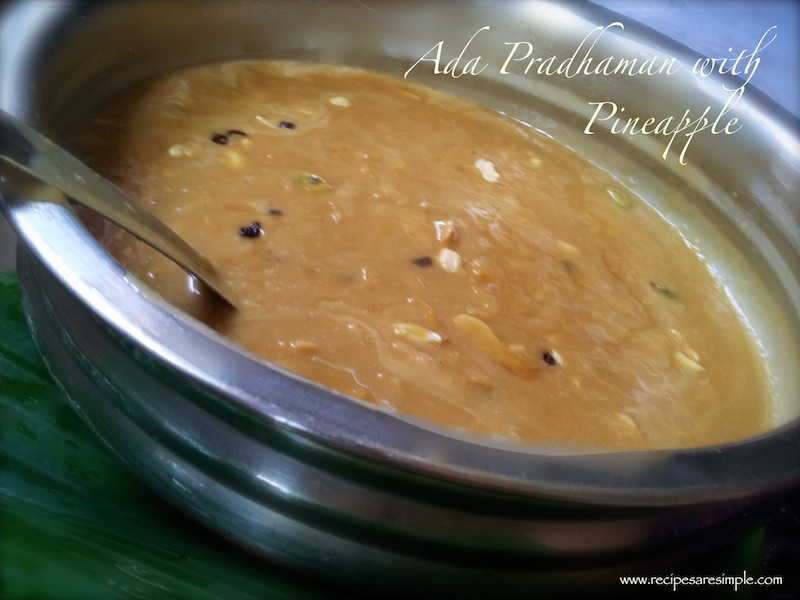 Ada Pradhaman with Pineapple

By Anuja P G

Everybody will love this Ada Pradhaman.  Here we post the recipe of same old  &  good  'Ada Pradhaman' with a Pineapple Touch…..
Ada Pradhaman with Pineapple
This was an entry in the Onam 2013 Contest.
Author:
Prep time:
Cook time:
Total time:
Rice Ada – 200 gram
 Jaggery (brown) – 400 gram
Ghee – 4 tea spoon
 Cardomom (elaikka) – 4 nos.
 Cumin Seeds (Jeeraka) –  a pinch
 Dried Ginger (Chukku) powder – a pinch
 Honey – 1 tablespoon
 Coconut Cream – 200 gram
 Pineapple – 1 medium sweet pineapple
 Dried grapes & cashew nuts.




Method:
Dissolve Jaggery  in water (adequate water) and heat. Once the Jaggery is dissolved, remove from the flame and strain it so that there is no impurity.
Add 1 liter of seperately boiled water to ada in a vessel. Cover it for 10 minutes and later remove the hot water. Then add plain water to the Ada.
Put the Jaggery water in a thick bottomed vessel and heat it. Once it starts to boil, add 1 spoon of ghee and rice ada (only take the ada from the cold water) and cook it properly.
In a seperate pan, saute finely chopped pineapple pieces in ghee until the ghee seperates from the pineapple.
Add the pineapple to the Jaggery and Ada mix in low flame.
Mix 100 gram of coconut cream with 1 glass of water and add to the Ada/ Jaggery/Pineapple mix
Crush the cardomom and add it to the mix. After the mix starts to thicken, taste for sweetness. (if required, add more jaggery water/ sugar)
take out from the flame, add rest of the coconut cream, 1 spoon of honey, crushed cumin seeds and dried ginger powder.
Fry dried grapes & nuts in ghee and add to the Ada Pradhaman.
Ada Pradhaman with Pineapple
Did you enjoy our Ada Pradhaman with Pineapple  ?
You May Also Like: